Folks, this is a GREAT and very important guest post. It could save your life so don't skip over it! A huge thanks to Mindy for writing it!
This summer I tragically lost a friend when she was hit by a distracted driver while on a run through the neighborhood. Her legs were crushed and she sustained severe brain injury – they took her off life support within a day. In trying to heal from this, I have decided to do something positive with this event by using it to bring attention to how important it is for us, as runners and walkers, to always watch out for ourselves. Hopefully, by passing along this advice, we keep the rest of our community safe on the streets!
Part 1: Assume You Are Invisible
· The only safe assumptions you can make are: No one sees you & no one will stop for you.
· Even if you have the right a way … don't go until you make eye contact with the driver and the driver waves you on. If you are concerned about your pace and don't want to stop, choose a route where you won't cross a street.
· Run opposite traffic. That way you can see who is coming towards you and are able to move as needed.
Part 2: Make Yourself Seen
·
As runners, we are not known for our fashion sense … embrace that! Wear bright colors and outfits that don't match … STAND OUT! Kris says he'd rather have drivers laughing at his outfits but seeing him, than go unnoticed and have to dodge cars. (Kris would also like to point out that is NOT him in the picture.)
· When running in low light and at night – wear reflective gear and flashing lights. Draw attention to yourself. (Photo was taken with the flash from an iPhone- car headlights would illuminate me from a good distance away!)


(This is an example of a great reflective vest you can find from www.ruseen.com)
Other Safety Tips:
· Stay off the streets as much as possible. If available, run on trails, canal paths, greenbelts … places where there aren't cars.


(Greenbelts are GREAT! There are usually a lot of people around – playing at the parks, running, walking, bike riding. They also normally have restrooms and water available at some point. And, most importantly – no motor traffic!)
· If you must run along a street – use the sidewalk and/or stay as far from the road as possible. I know people think it is better for you to run on the asphalt than on cement … studies show most of us will never notice this difference! It isn't worth the risk!
· As much as possible, run with a buddy … The more eyes you have scanning for trouble, the better. Plus, if anything were to happen – you have help!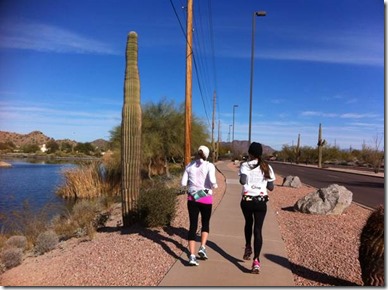 · Wear a RoadID
· Take a cell phone or at least tell someone where you are headed and when you should be back.


(We found our love of trail running this summer. There is something very peaceful being out there! But, make sure you plan ahead – if you can't go with someone; tell someone where you'll be and when to expect you back! Also, carry a trail map or make sure you familiarize yourself with the area so you don't get lost.)
· If you must run near the street – don't wear earbuds! You want to have full use of all your senses. I can't tell you the number of times Kris and I have scared runners while on our bikes because they had no idea we were coming their way even though we announced our presence. This is another reason to run opposite traffic and stay out of the street – most of the runners we encounter are running in the bike lane, with traffic – they then don't hear us coming because they are listening to music and we have to put ourselves at risk by moving into the traffic lane. Cyclists and pedestrians should be working together to keep everyone safe!
If you remember nothing else, remember this: It doesn't matter if you had the right a way … if you get into a battle with a car, the car will always win. I know it's frustrating and there will be times you want to prove your point because drivers don't always give us space and respect we deserve … IT'S NOT WORTH IT! Ultimately, when we hit the streets for a workout, our main goal should be to make it home safe!
Please be safe out there!
-Mindy
You can find Kris and me at www.raceeverystep.com or on twitter @raceeverystep
Get Your Free Printable Set!
Sign up to get my free printables on goal setting & fitness tracking.