Good morning!
As a Gone for a RUN ambassador, I will be doing reviews from time to time of their products. I have met these guys before at race expos and own several of their items, and they are super sweet and have quality gifts. I thought this would be a fun product review for right now since everyone is thinking about runDisney events with marathon weekend around the corner. a lot of people are looking past that and on to Princess weekend, which is in February. I have a GREAT gift idea for you, or if you know someone running (or for any runner you know!)
Gone for a RUN has created a really cool bib display frame for you to proudly display your running achievements in your home or office. You can even customize them and add your own text!!
I however, picked out a princess one, and I plan to add in my bib after the race.
You can set them up on a counter or dresser, or hang them from a wall by the two hooks provided.
The screws were very simple to unscrew with a flat head screw driver, and I had my display ready to go in no time. I know it's meant for bibs, but I also thought it would be a cool race photo collage, maybe with the bib and a photo or two cut out and put in as well. There are a ton of options!
Look how adorable this one is:
For the non princesses (who are THOSE people? I kid.), check these out: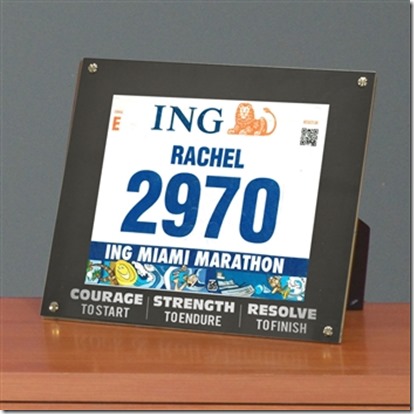 The words/pictures are laser engraved, and the display is made form high quality acrylic. I love how the bibs just "pop" against the background. I have mine sitting on a shelf in my office next to my medals that are hanging on my wall. it's a great conversation starter, and fabulous gift!
Who wants a discount? THLG readers can save through January 6th when they order a bib display. Just enter in LOOKINGGLASSBIB at checkout to receive 10% off your own display. Happy shopping!
QOTD: How do you display your bibs right now?
Disclosure: I was provided with product for this review, however opinions expressed are my own
Get Your Free Printable Set!
Sign up to get my free printables on goal setting & fitness tracking.