Last weekend, I hosted a #DisneySide at home dinner party for some friends and family. We had a couple of people not able to make it at the last minute, but we still had a lot of fun!
Travel With the Magic was sent a #DisneySide party kit which I then used to help decorate and prepare for the festivities, at no cost to me. (All opinions are my own).
I am sure you have seen that Disney launched it's #DisneySide campaign earlier in the year. Basically, Disney is encouraging everyone to "show your Disney Side", and that can mean so many different things. You can show it through food, a favorite Disney character, how often you visit the parks, watching your favorite animated classic, and more.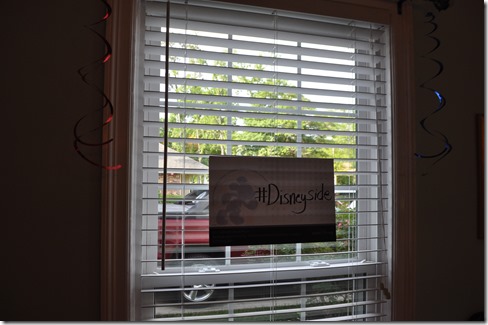 The colors were bright and fun, and I added a few of my own decorative pieces as well.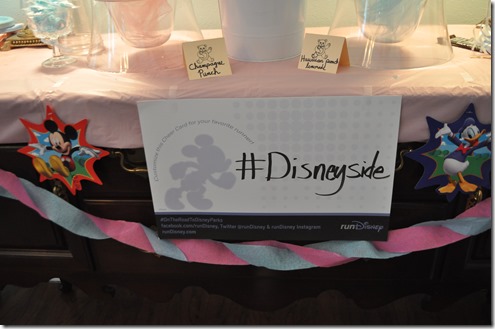 The kit included some party favors and door prizes which I handed out after dinner.
On the menu was pulled pork, chicken, corn, salad, potato salad, and cake! Do you see the hidden Mickey?
As we ate (oh by the way, I asked everyone to wear Disney clothing to the party to show their #DisneySide!) we all went around the table and shared our favorite Disney memory. It was so much fun to hear the similarities and differences in everyone's favorite moments. I love that my friends and family love Disney as much as I do, and that we can all share magical moments and special times together!
Moments spanned from runDisney races, to watching fireworks with family, to getting some "extra" pixie dust from cast members. It took me some time to think about mine because I have so many favorite moments, I wasn't sure which to pick!
After dinner, we played Disney bingo, and used Hershey's Kisses as the game pieces.
Our winner! Bingo!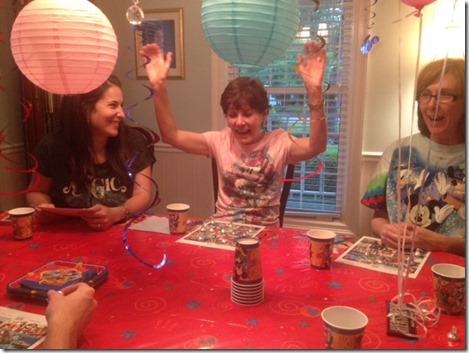 I took some time to thank everyone for coming, and handed out door prizes.
Karen won a prize!
Then, it was time for some cake! The plates, cups, and napkins were a big hit.
I even got my dad to wear his Mickey ears, his way of showing his #DisneySide.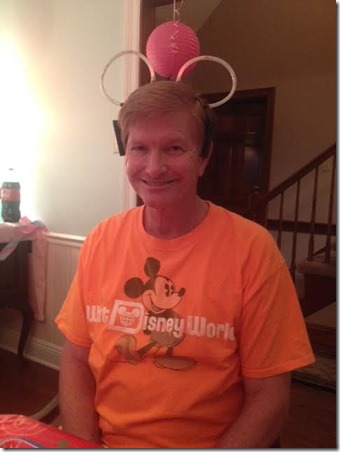 *Be sure to check out the Disney Side home celebration page for ideas, activities, and themes for throwing your own party! Be sure to tag photos with #DisneySide, and I would love to see them as well! (@HeathersLG or @TravelwtheMagic and we can retweet your photos!)
QOTD: How do you show your #DisneySide? What is your favorite Disney memory?
Get Your Free Printable Set!
Sign up to get my free printables on goal setting & fitness tracking.