When I was contacted by Fiber Choice about joining in their 30-Day Get Picky Challenge, I was immediately intrigued because I have never been able to find a fiber regimen that I was crazy about. They always seem to swing from one side of the pendulum to the other, and I was looking for some middle ground that wouldn't upset my stomach, but would still be beneficial. I was cleared by my OBGYN to join in the challenge, and was so excited to receive my product in the mail. I will be switching to the Fiber Choice products for 30 days and at the end of the challenge will evaluate my thoughts. So far after a few days, I will say I really enjoy taking my supplement! These babies taste good! It's like eating candy so I don't mind (and never forget) to take them.
On and off in my pregnancy I have struggled with constipation, so I am curious to see what happens in these 30 days. You can take up to 3 servings a day, but I started at one as to not overwhelm my system with too much fiber at once, and will be working up to taking more.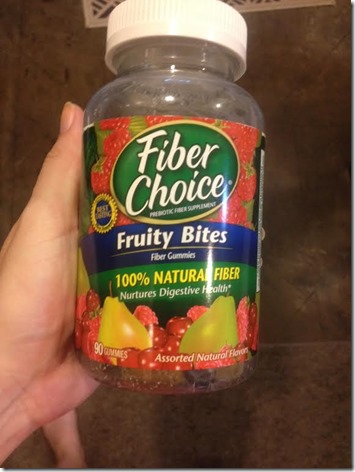 I chose to try the Fiber Choice Fruity Bites for the challenge. These are chewable fiber supplements in gummy form with natural flavor and colors. Not to mention, they taste great! The supplements Fiber Choice makes contain 3 grams of fiber per serving (two gummies in my case). The natural fiber helps support your immune system and digestive tract, and can be taken every day.
A lot of Americans do not get enough fiber in their diets. (Recommended intake is 25 to 35 grams). Choosing to take a supplement is something that is important to me, especially since I have been very picky about my food choices since being pregnant.
All of the Fiber Choice products contain a prebiotic fiber called inulin, which is a 100% natural fiber found in fruits and veggies). These prebiotics help the good bacteria (probiotics) grow and support our well being. Fiber choice products are also gluten free, and are available at most mass merchandisers, drug stores, and grocery stores.
I will be posting about the challenge at the midway point and at the end, and will let you know how I am feeling. So far so good! Be sure to follow Fiber Choice on Twitter for news and updates!
*Always be sure to consult with your physician before taking any new supplements.
QOTD: Do you take a fiber supplement? Do you think you get enough fiber in your diet?
Disclosure: I was provided product and compensation for this challenge, however all thoughts and opinions are my own.
Get Your Free Printable Set!
Sign up to get my free printables on goal setting & fitness tracking.