There are times when I crave something that doesn't exist. Sometimes a version of it exists but it's still not exactly what I have a taste for. Then I have no choice but to try to develop a recipe for it. That's exactly how my Grilled Drunken Barbeque Shrimp came into being. While Heather's off enjoying some major fun in the sun, I wanted to share this with you just in time for grilling season. I'll have the complete recipe at the end.
There are really only two tricks to this recipe. Number one, use good, quality shrimp.
I live in Tennessee, about as far from an ocean as possible so I don't have access to fresh shrimp. I did get the best thing I could find, and these guys are colossal!
Next, the thing that really makes these shrimp fab is the sauce. You'll want to make it an hour or so before you add the shrimp. Otherwise, if you add the shrimp to the heated sauce, you'll end up boiling them, and grilled is what we are going for here, not boiled.
About the sauce, as you are heating it, be careful not to let it boil over. I really just heat it until the butter is melted and the beer is incorporated well.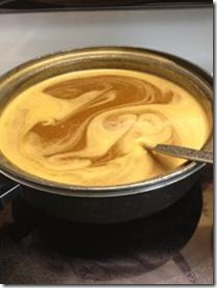 Don't be squeamish about the whole stick of butter! Remember, this is more of a marinade and most of it will end up getting tossed anyway. The same holds true for the beer. Even though you won't cook the sauce long enough for the beer to evaporate, once you grill the shrimp, there will be no alcohol left. Even the little ones can eat them. You will also notice I have cayenne pepper in the recipe. It's not really enough to make them too spicy, but it does add a slight kick. It can be omitted if you want zero heat. If you want more, add more. I've also used Tobasco sauce before so whatever heat source you like will be just fine. You will also notice that this sauce recipe works for 1-4 pounds of shrimp. It works for 4 pounds, and it's just easier for me to make the whole thing even for just 1 pound.
I also sprinkle my shrimp with salt and pepper and let them sit in the fridge for about 20 minutes before adding the sauce. If you add the sauce right after seasoning, the salt and pepper will just sort of wash off of the shrimp and become a part of the sauce. Once I add the sauce, I let them bathe in it for anywhere from 20 minutes to an hour. Any more than that will completely overwhelm the shrimp, and sauce is all you'll taste. Since there's lemon juice in the sauce, you also run the risk of making the shrimp mushy if you let them sit too long.
Once you are ready to grill, make sure your grill is at the right temp. They are going to go FAST! About the time you have them all on there, it's going to be time to turn them.
What you are looking for is for them to start curling (yes, I know they are already curled, but they will curl even tighter once they start cooking) and for the edges to start turning opaque. About 1-3 minutes is all this is going to take. Then you just flip and repeat.
These are best served hot right off the grill. I don't anticipate that being a problem because every time I've made them, they've been eaten about as quickly as I can get them off. Enjoy!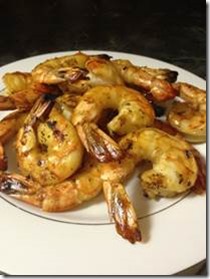 Grilled Drunken Barbeque Shrimp
Ingredients
1-4 pounds of shrimp, peeled and deveined
1 17.5 oz. bottle of your favorite barbeque sauce
1 12 oz. bottle of beer
1 stick of butter
Juice of 1 lemon
½ teaspoon of cayenne pepper
Salt and pepper to taste
To make the sauce, heat the barbeque sauce, beer, and butter just until the butter is melted and the beer is incorporated. Add the cayenne pepper and lemon juice and let the sauce come to room temperature.
Season the shrimp with salt and pepper and let it rest in the fridge for 20 minutes. Then add the cooled sauce and let it marinate for another 20 minutes to 1 hour.
Heat your grill to 300-350 degrees and grill the shrimp for 1-3 minutes per side.
You can also reserve some of the sauce before you add the shrimp, reduce it by half (just keep cooking it in the pot until you have half the liquid you started with), and use it as a dipping sauce or drizzle over the cooked shrimp if you want even more sauciness on your shrimp.
So pull up a lounge chair, crack open your favorite beverage, throw these shrimp on the grill, and maybe you, too, can at least feel like you're on vacation!
Be sure to stop by my blog at http://www.myglasssneaker.com/
QOTD: What is your favorite way to eat shrimp?
Get Your Free Printable Set!
Sign up to get my free printables on goal setting & fitness tracking.