A bit more timely this month with the goals, day four as opposed to ten. I am getting better! Last month, I set a few mini goals for myself and want to review how I did and give you my June goals.
I must say, I rocked this months goals and am pretty darn proud.
1.) Build my running base up to 7-8 miles (A-) I completed a 7 miler, and was SUPPOSED to do an 8 last weekend but thanks to my IT band flare up it didn't happen. However, I am proud I got to 7 and am building my base back up. Fingers crossed I am back up and running (har har) soon.
2.) Cook a new recipe (A+) I cooked a new spaghetti recipe Bobby and I both ended up really liking, and I know I will make it again. Score!
3.) Back up my photos (A+) We bought an external hard drive and I have put all of my photos on it. Wahoo! I feel better knowing they are safe if my computer dies. Which it better not. I would be sad.
4.) Stretch (B+) The second half of the month was better than the first, and honestly out of necessity. With my IT band acting up, I have been stretching non stop, multiple times a day. Hopefully I will keep at it and be more proactive.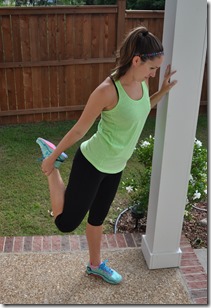 June goals:
1.) Heal my IT band. Pretty self explanatory. I am icing, stretching, foam rolling, and straightening.
2.) Get on track with Dumbo Challenge training. I was supposed to s art my training plan yesterday, but obviously that isn't happening with my injury, but I would like to get on track this month.
3.) Get back to my happy weight. After the Princess half in February, I took some time off from distance running and hard workouts, so I put on a couple pounds. When I was on vacation and a a work trip for 2 weeks, where I put on a couple more. I really want to get back to my happy weight before we go to the beach in July.
4.) Stop Worrying. Oy. This is a big one for me. May brought a few changes and disappointments, and I am tired of letting my circumstances change my mood so much. Must stop worrying and just be.
QOTD: What is a goal you have for June?
Get Your Free Printable Set!
Sign up to get my free printables on goal setting & fitness tracking.