Yes yes, I am a week behind with my goals for April and my review of my March goals. What can I say, I had a lot to talk about last week! First let's take a look back and see how I did in March.
1.) PR in the 5k distance (officially): (A+) Done! Three times! I PRed in the Run for Relief, then again by one second on a hot day for the St. Patrick's Day 5k, then again on a training run (27:30). Feels so great o get an A+ on a mini goal!
2.) Stretch: (D-) Oh boy. This one is ugly and starting to take it's toll. My IT band has been really angry at me lately, and I am not as flexible as I would like to me. I know this one is so important though, so I must try again this month.
3.) Continue with Body Pump: (A+) Yes! I went every Monday in March, then followed it up by missing the first Monday in April. #fail. Oh well, I still went four times in March and am really proud I stuck with this new class. Will be back tonight!
4.) Update the races page on my blog: (F.) Hhhhmmm…..No was around this one folks, it just didn't happen. With the re-launching of my blog in March and getting all the kinks worked out I just didn't have time. However I did finally publish my runDisney tab on my blog. Check it out!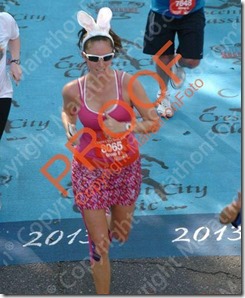 I also PR'ed in the 10k distance at the Crescent City Classic
Onward to my April goals. Let's see….
1.) Stretch. I am putting this one at the TOP of the list because I really need to get back on top of this. I don't want an injury.
2.) Cross train twice a week. You can join my Cross Train or Remain the Same challenge if this is an April goal for you! Like stretching, this is also important for my overall health and strength.
3.) Cut back on the sweets. I know myself well enough to not say "cut out sugar completely (hello, what's the point of living?!?) But I DO need to get a handle on the Easter candy consumption. Especially since it's almost swimsuit season here. Yikes!
4.) Run two more races. Sadly racing season is coming to an end down here, but I would love to get in a couple more short distances races before the heat really sets in. We will see what I can find locally!
Race I ran 2 years ago in May. May races are HOT here. I was not happy.
QOTD: What is one of your goals for April? Did you accomplish any March goals?
Get Your Free Printable Set!
Sign up to get my free printables on goal setting & fitness tracking.