It's so great to be here on one of my favorite blogs! I've read Heather's blog for awhile now, and after meeting her during the 10K at the Disneyland Half (well, running up to her and screaming "Heather! Heather" is sort of meeting her, right?;)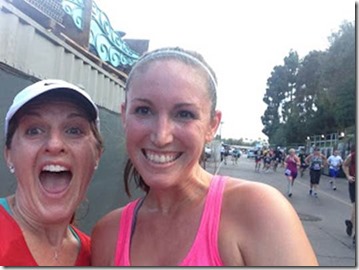 I can tell you without hesitation that she is as kind and authentic in person as she comes across on this blog. You're good people, Heather, and I so appreciate the opportunity! And if you'd like to come see me on my blog, you can find me at www.runningpastormom.com. I'd love to have you!
Years ago, when I first started running, I had young kids, a husband who traveled, a full time job that I loved, and a crazy, over-scheduled life just like most of you, I'm sure. I started running as a way to stay sane, to ward off depression, and to bring some balance to a very off-kilter life. You see, I was giving everything away and keeping nothing for myself, and I was depleted, burned out, and stressed beyond belief.
Something had to give. So when a friend suggested I start running, I'm sure I looked at her like she was completely crazy. Excuse me? I don't have time to sleep, or eat, or use the restroom like a normal human being. How IN THE WORLD do you expect me to run? But run I did, and it gave me more than I could have expected. It gave me energy, and peace, and a space in my day just for me where I can think and solve the problems of the world! I was finally taking care of myself so I really could take care of everybody else.
But even I get burned out sometimes. This year alone, I've run the Disney World Marathon, the Princess Half, the Irving (Texas) Half, and the Disneyland Half. And I've got Wine and Dine coming up in just a few weeks! I haven't had a significant break from training in, well, years. So I know a few things about burnout and those days when you are just bored with running.
I've done lots over the years to try and overcome and get over a rut. Here are the top things that have worked for me:
Don't run. Yup. Tell yourself you're not allowed to run for at least a week, longer if your rut is really deep. I'm just stubborn enough that I will enjoy this for a few days, and then be mad that I "can't" run and break my own rule, and love every minute. A couple weeks off is often a great solution for when you just don't want to anymore. You could try something new like swimming or biking or just walking the dog to stay fit, but you may just need to not run at all to remember that you love it.
Set a new goal. Maybe you've completed several 10K's and it's time to move up to the half or maybe for you it's time (gulp) to tackle a full! Whatever next challenge scares you to death is a great motivator and if it can be a fun dream race, like Disney or Chicago, all the better! If you've got a fun trip planned around your goal you'll be even more motivated and excited to train well so the race and trip can be as fun as possible! I've also done some crazy personal challenges like this past May when I ran a 5K EVERY DAY for 30 days. It was fun and different and really motivated me! (ps it's good to publicly announce something like this on FB and your blog –  your friends can cheer you on and kick your fanny if you are tempted to quit!)
Run with no goal. And with no technology. In other words, run naked;). Not literally (especially if you live in a cooler climate!) but taking a break from charting and graphing every mile, checking every split and following a detailed training plan can be life-giving. You can get out there and just run for fun and by effort, not looking to set a PR or meet a goal. Just run for the love of running!!
I'm proud of all of the races I've completed and all the miles I've logged, but honestly, the thing I'm most proud of is that running has become a natural part of my everyday life and I don't ever want to let that go! So when I feel a rut coming on, I employ a trick or two and wait for brighter, more motivated days. They will come! Just be patient and listen to your body.
Happy Running!
Jen
Get Your Free Printable Set!
Sign up to get my free printables on goal setting & fitness tracking.