At some point, not too long ago, I realized that the people I encounter discuss their limitations a lot. Often is in the form of what they cannot do and how they must stay within their limitations for whatever reason. However, there are some people who like to talk about finding their limitations or pushing their limitations. I made a conscious decision (although it is partially in my nature) to seek to push my own limitations. To find out how far I can reach and how much I can do and handle.
I don't want to be the person who is explaining what I can't do and why. I want to be the person that says, "let's find out if I can do that." I have to be somewhat honest when I say I am often surprised by how far I can push myself and how much I can do. And, I find so much joy and satisfaction in doing something that I thought was outside my reach.
In early 2013 I decided to challenge myself to doing "13 in 13." The goal is to complete 13 events (run/walk) in 2013. Most of my family thought I was crazy. Some even told me not to attempt it. But, I don't like naysayers and their negativity only fueled me. I am proud to say that so far I have completed 10 of my 13 events and will complete my final 13 before December even rolls around.
As a side note, you'll probably be surprised to know how hard it was to choose which events to do! Since I limited myself to only 13 (I know…13 in a year as a limit), I had to choose carefully. I attempted to choose events that had a purpose or meaning that was important to me.
These are the events I chose to do and why I picked them.
#1 Disney Princess Half Marathon in Orlando, Florida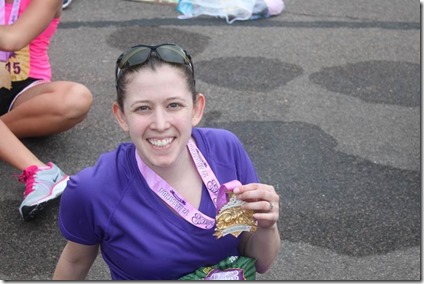 I got a bit of late start with my first race in February 2013 at the Disney Princess Half Marathon, but was energized to just keep going. I chose the Princess Half before I decided to complete the challenge. This was a great event and although I was super slow it was my first event done solo. My mom came down to Florida with me and we enjoyed our time together – something that doesn't happen as often now that I am married.
#2 Harvest Health 5k Color Splash in Carlisle, PA
The Princess Half inspired my mom and she joined me for event #2 – a local 5k Color Splash. The run/walk happened to fall only a few days after the sudden and unexpected death of my grandfather. We considered dropping out and not doing it at all. However, my grandfather (aka Pappy) took almost daily walks and was a silent advocate for doing so. I think it was really good for my mom to be doing something physical at that point in time. My mom's goal was to "not be the last one to finish."
#3 & 4 Hershey 10k in Hershey, PA and Nike Women's Half in DC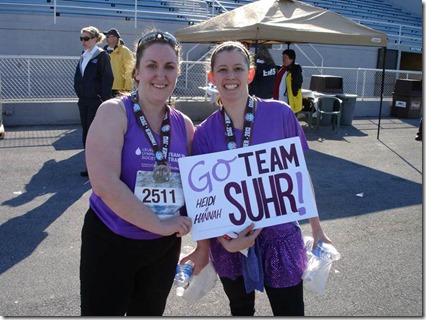 In April, my sister in law and I completed two events. A local 10k race and the Nike Women's Half in DC. We signed up to raise funds for the Leukemia and Lymphoma Society through Team in Training. We had both completed events and raised funds with TnT previously so for these two we took it on as a team effort. If you have never done TnT, I highly recommend checking out the organization. If there is another cause near and dear to your heart, see if they offer a similar opportunity. My sister in law's father passed away about 10 years ago so we ran in his honor. We are also honored and humbled that friend allowed us to use his brother as our honored teammate and wear his photo on our shirts for the half marathon. He passed away only 5 days before we completed the race. A seven time Ironman whisked away by cancer less than a year after his initial diagnosis. Aside from these reasons, I also LOVED running the DC Half. I highly recommend this race to anyone looking to run half marathons. The course was beautiful and the weather was amazing. I lost my SiL after about mile one and ran most of the race by myself. However, Nike races and races done with TnT are never truly "alone."
#5 Movie Madness 5k in Grantville, PA
At this point I was getting a little worried about my goal and the costs of all these events. I signed up for a local 5k just for fun. My cousin ended up signing up and found out on facebook we were both running.
#6 William F. Foran Colon Cancer Prevention 5k
In June, my SiL, mom and Aunt all completed a local 5k that raised funds for Colon Cancer Prevention Awareness. My maternal Grandmother passed away more than 30 years ago from colon cancer. The continued public education on prevention and treatment has saved countless lives. This is a topic I can talk about for hours, but I will just say to talk to your doctor and make sure you are taking the necessary steps to get checked.
#7 Philly Color Run in Philadelphia, PA
I had been trying to get into a true color run since the one back in March wasn't quite as "colorful" as expected (it was their first try). So for my 7th race I signed up for the Philadelphia Color Run. I tried to get others to do this with me, but no one jumped on the bandwagon. My mom happened to be scheduled for a conference the next day in Philly so she came down a day early with me and cheered me on. It was so much fun! I can imagine it would be even more fun with a group of friends! I highly recommend sunglasses and a bandanna over your mouth you decide to check one of these races.
#8
My first race of the year with my husband! I keep roping him into things… I first heard about zombie 5k's last year, but the local races either conflicted with our schedules or were sold out. When this year's schedule was posted for Run For Your Lives, I immediately signed myself and my husband up. We ran the 5k in the morning and then signed up to be zombies for the afternoon. It was so much fun! My husband especially enjoyed it. I wouldn't be surprised if he signs up for some more obstacle course events in the future.
#9 & 10 Disneyland 10k and Disneyland Half Marathon in Anaheim, CA
Disneyland! Oh man. I HAD to do a half marathon in Disneyland as part of this challenge. How could I pass up the opportunity for my coast to coast medal after doing the Princess Half in February? Then they announced the Dumbo Double Dare Challenge. Umm … 4 medals in one weekend – yes please! Again, people said I was crazy. My husband harped on and on all summer that he was concerned I'd hurt myself. I didn't. I had a blast. It was incredibly hot, but tons of fun. A good friend signed up to do the 10k – her first ever race and my husband agreed to do the half marathon – his first half. It was so fun to experience these firsts with my friend and husband. I am incredibly proud of both of them. And, I love my four medals!
#11 Hershey Half Marathon in Hershey, PA
My next race is only a few weeks away. It is a local half marathon. My husband still thinks I am crazy. I'm not too worried about it. My SiL will be running for TnT again for this half marathon. I think we will try to stick together this time. However, I am hoping to PR so I am not sure how that will work out.
#12 Half Marathon as part of Philadelphia Marathon in Philadelphia, PA
Another half marathon – in Philly, during the Philadelphia Marathon weekend. I found out my cousin will be running this race as well. But, we will not run together. She is much faster than I am and I'll be taking it easy for the race. I hear this is a great course so I'm looking forward to it! I'm also looking forward to completing my fifth half marathon for the year, and 6th overall – yup, I just started this crazy train.
#13 ???
My last race is still up in the air. I have considered a few different events here and there. I think I am settled to do a 5k Turkey Trot on Thanksgiving morning, but I haven't signed up yet. I am trying to convince a friend to do it with me. I would like to have an event that is after my last half marathon. I would also like to end on a fun note. Something quirky and not serious at all.
#14 2014 Walt Disney World Marathon
I know… I said 13 in 2013. But here's the deal. I got it in my head that if I can do all this, I can do more. I have refused to add more than 13 events in the 2013 calendar year. However, I convinced my husband to do a full marathon with me. In January we will be tackling the 2014 Walt Disney World Marathon! If you look at my timeline, that has me completing 14 events in less than a year.
Since I started this challenge I have learned and experienced so many things. I have learned that there are so few things that I cannot do if I put my mind to them. I have learned that digging in and committing to something for me, and not for anyone else, is awesome, and that I don't need anyone else's validation of my efforts. I've learned that grief sucks, but getting up and continuing on is important. I've learned that running/walking/physical exercise makes me feel great and helps me process some difficult stuff. I've learned a lot more, but I won't bore you.
I've experienced my first solo event; my first walk with my mom; grief that knocks you to your knees, but forces you to stand on your own two feet; watching a good friend and my husband go farther than they have gone before; getting over the biggest fear of my life; and so many more things.
I encourage you to set goals and reach for the stars. Find out what your limitations are or find out what they aren't. I'm still trying to figure it all out.
See ya real soon!
PS – Yes, I do wear the same outfit for most of my events. :o) I like the continuity
QOTD: What is your favorite race you have run?
Get Your Free Printable Set!
Sign up to get my free printables on goal setting & fitness tracking.