After the post I wrote about starting your own blog, I had a lot of questions along the lines of "ok, I started my blog, but how do I get readers?" Great question. Keep in mind it won't happen overnight. The numbers I used to get excited about for a whole day on my blog are now what I get in an hour. But it took time, and lots of hard work. Here are a few simple things you can do to start building your pageviews.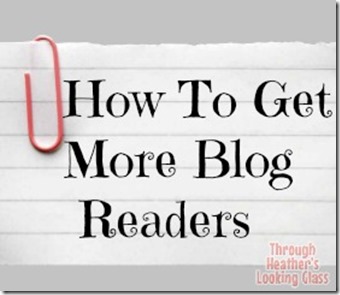 1.) Pinterest Pin It Button for Images. Pinterest is a great way to get traffic, but you have to use it effectively. That is a whole other post in and of itself, but this free WordPress plugin puts a pin it button on your picture when you hover over it (like on my blog) so readers can pin any photo on your post.
2.) Comment on Other People's Blogs. While you are sitting around waiting for a blog comment…so is everyone else. So take some initiative, and go comment on some blogs! I try to hit at least 5 in the morning and 5 in the afternoon/evening, more if time allows. Also I try to read NEW blogs and mix them in with old favorites. You will start to see people clicking over to your site from a comment you wrote on another blog!
3.) Interact with your readers. No one wants to feel like they are talking to an empty void, so try and reply to comments when you can.
4.) Be active on Twitter. I avoided Twitter like the plague when I was first blogging because I didn't understand it, but now it's my preferred form of social media and I get a ton of pageviews from it daily. Don't just talk about your stuff, but engage in conversation with other people and make some friends! Also, twitter chats are a great way to get exposure, more followers, and readers.
5.) Host a giveaway. This may cost you a little money, but could be worth it. You may even be able to get someone to donate a product. Put a post up announcing your giveaway and have people enter, and share about the giveaway as an additional entry. That way, you get extra exposure! (I use Rafflecoptor, so easy!)
6.) Write a guest post. A lot of bloggers will put out a call on their blog or on their Twitter or Facebook asking for guest posters. This is a great opportunity for you to be seen by new readers and get exposure on a more experienced blog. It takes a little time to write that extra post, but is definitely worth it if you are guest posting on more known blogs!
7.) Sprinkle in other forms of social media.  There are so many to choose from. Instagram, YouTube, Periscope, Facebook, etc. are all great ones to get involved with to make new friends and get new followers.
don't forget, I highly recommend becoming self hosted. I use Bluehost, and WordPress is free through them, and the prices are very very reasonable, and it is pretty user friendly. Click the image below for more info:


QOTD: What is your best tip for getting more pageviews on your blog?