Morning lovelies! This week I slowly started to get back to running. My knee still gets sore after, but it isn't really bothering me when I run.
Love my new hearts! Get 15% your runningskirts.com order with code "SKIRTSASS"
I am going to continue to stretch and strengthen plus foam roll and hope it all works itself out. Even though I did slowly start running again this week. I made sure to take more rest days so I didn't overdo it on my body. I wasn't feeling good this week so I let myself sleep 9 hours at night and took a nap on Saturday after my run. It was glorious. Here is what the week looked like:
Sunday: rest
Monday: 1 hour elliptical, weights
Tuesday: 2 miles outside, weights
Wednesday: rest
Thursday: weights, 30 minutes stationary bike
Friday: rest
Saturday: 4 miles outside with Bobby
I am hoping to go back to body pump this week and just take it easy with the lunges/squats and any twisting around. Also Hopefully I will run a five miler on Saturday as my long run, as well as two shorter runs in the week. Fingers crossed I keep healing up and getting stronger!
Also, HAPPY FATHER'S DAY to all the dads (and fur dads) out there! I am so thankful for my dad and everything he has done for me and my family over the years!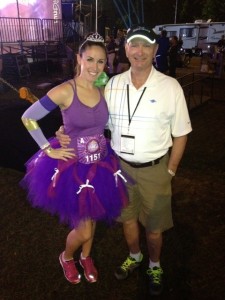 QOTD: Would you rather sleep for 3 hours a night on a comfy bed or as long as you want on a cold hard floor?