Awhile back, Lesley contacted me and told me she was raising money for Girls on the Run. I just happen to LOVE Girls on the Run. When I ran the Rouge Orleans relay race a couple years ago, our team raised money for them and they were just so sweet and thankful. Well, Lesley had the great idea that not only could runners get the satisfaction of giving money to charity, but they could get a really fun product in the process!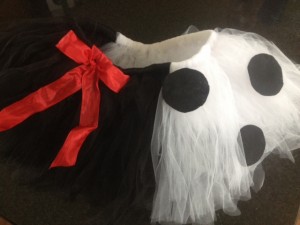 -Between now and October 6th, she will be selling adorable running tutu's for $20 and 100% of that will go to Girls on the Run. Shipping is included in the USA. Shipping is $5 outside of the USA.
-To purchase you just need to send her an e-mail at [email protected] From there you will discuss your custom design and how to pay.
-All tutu skirts and headbands are made completely by hand-no sewing machines. Therefore, each piece is unique!
Who is running runDisney's Tower of Terror (villain anyone?), Wine and Dine, marathon weekend races, Tinkerbell, or Princess races? There are so many events coming up, so getting a CUSTOM handmade tutu for $20 including shipping is an AMAZING offer. Lesley is super creative and can help you come up with a design of your choosing. I just so happened to want to be a villain for he Tower of Terror….so Lesley made me this amazing Cruella de Vil tutu for me. I love it!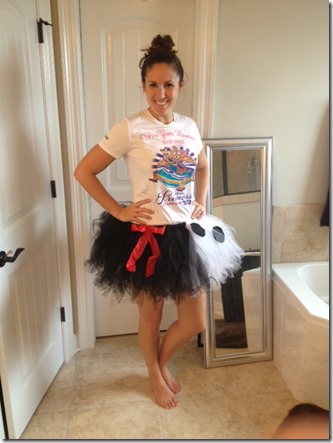 Excuse the wrinkles, I was so excited to take photos I didn't fix it just right from being shipped, but will for the race!
Hidden Mickey on the back, adorable!
I have some other outfit "components" but I want them to be a surprise so you will just have to wait and see. A huge thanks to Lesley for making this for me, and I do hope you will choose to support Girls on the Run with Lesley!
QOTD: What character would you have a tutu made after for a race?
Get Your Free Printable Set!
Sign up to get my free printables on goal setting & fitness tracking.