Good morning from Georgia! We go home today, so sad. It was such a quick trip but hope to come back and visit soon.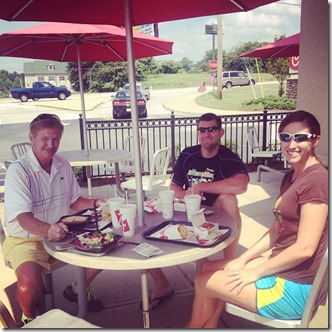 We have had a wonderful time. Sadly, I didn't workout at all while we were here, but that's ok my body probably needed the break. Here is what I did this week:
Sunday: rest
Monday: 3 mile run
Tuesday: 45 minutes stationary bike, upper body weights
Wednesday: 3 mile run
Thursday: rest
Friday: rest
Saturday: rest
Definitely not a great workout week, so I will be hitting it hard this week. I have got to start building my mileage back up. My right knee is STILL somewhat sore, but I am going to keep foam rolling and stretching!
QOTD: Do you cut yourself slack with workouts on vacation?
Get Your Free Printable Set!
Sign up to get my free printables on goal setting & fitness tracking.