Thanks for all the feedback on wanting to hear my Katrina story, I will try to have it up Thursday.
Today I wanted to share some things that I am loving lately!
1.) Cascadian Farms new chewy bars with protein: I have always loved their chewy bars, they are a great snack to fit in my purse. However,  always did wish they kept me feeling full a little longer and had some protein in them. Well, my wish was granted! Lookie what they sent me in the mail! These babies have 9 grams of protein and come in yummy flavors. One of my favorite snacks is now seriously pumped up to keep me going in between meals. Instant love.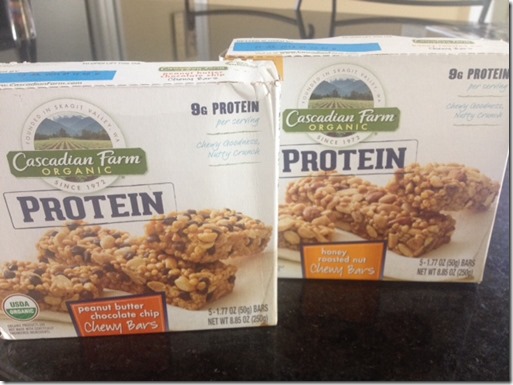 2.) Fit Pregnancy: Awhile back Jen sent me a link for a free digital subscription to Fit Pregnancy, and I have enjoyed reading it the past couple of months. I have learned several new things, and it keeps me motivated!
3.) Old Navy Maternity clothes: There is a special sale going on right now through April 9th where if you use your Old Navy credit card (or Gap or Banana) you get 30% off your entire purchase plus a free tote bag! We saved over $50 on the clothes my mom bought for me between that discount and some sale items. I was pretty stoked! (Discount works online, too!) So besides the awesome price, their clothes are super comfortable and they have some great spring colors.
4.) Caramel Coconut coffee creamer: It is girl scout cookie time, but also girl scout cookie creamer time! This caramel coconut has a great flavor and I have loved adding it to my half-caff cup of coffee in the mornings. Yum!
5.) Spring flowers: Spring has definitely sprung aorund here, and everyone is busy planting beautiful flowers in front of their house. We haven't done that, but all of our flowering bushes have come to life, and I can't wait for the Gardenias to bloom later on.
QOTD: What are you loving this month?
Get Your Free Printable Set!
Sign up to get my free printables on goal setting & fitness tracking.