I have been asked by several people which runDisney race is my favorite. This is SUCH a hard question to answer because I love them all for different reasons.
In this post, I will attempt to break down things I love and don't love so much about each race in an attempt to help you figure out which race you want to sign up for! The runDisney races I will be comparing are:
Marathon weekend
Princess weekend
Star Wars weekend
Wine and Dine weekend
Marathon Weekend: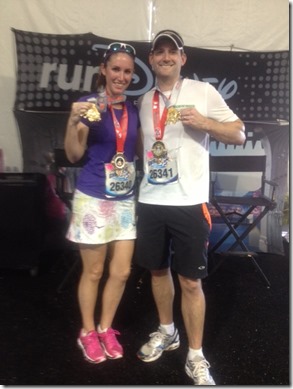 I have participated in marathon weekend 5 times. In 2010 I ran the half, in 2011 I ran the full, and in 2013 I ran Goofy's challenge. Then in 2014 I ran the inaugural Dopey challenge, and in 2016 I ran the half. RunDisney races hold a special place in my heart since they were my first half and full marathon, and marathon weekend, in particular, was my first runDisney race.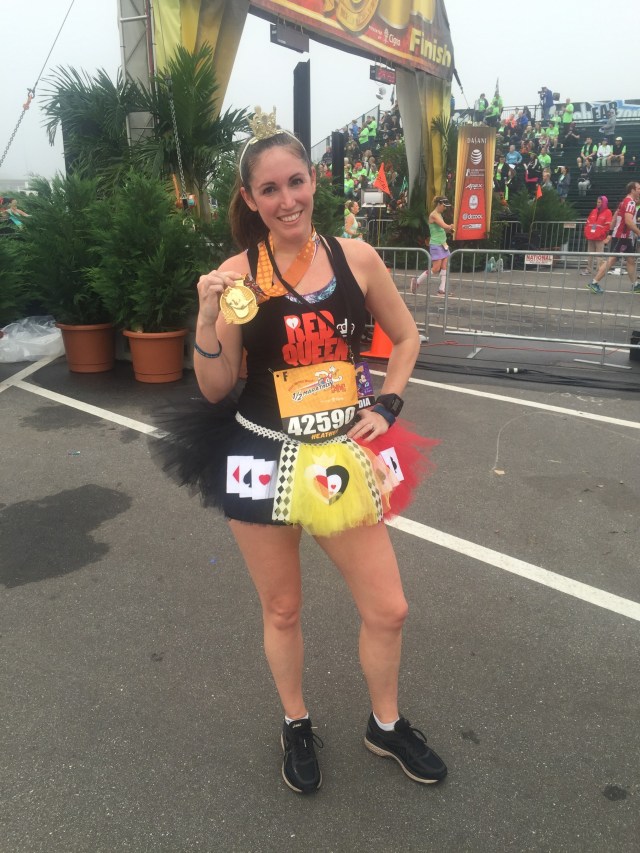 Pros: Big crowds equal lots of friends, runners, and excitement! Several distance options are available for every level (5k, 10k, half, full, goofy and dopey along with kids races). This weekend seems to be talked about and advertised most/made a big deal. The weather is usually mild in January, although there have been some very warm and very cold runs. It's also a great time of year to visit Disney. Other than the weekend itself, there are lower crowds and good weather for park-going. Also, it's in value season so you can get a cheaper price for rooms on property. It's also something to look forward to after Christmas, and for southerners, it's nice to train for a race in October/November/December in cooler weather. Of course, there is also great bling.
Cons: It is such a big race, the weekend itself is very crowded at the parks and the expo. Some people would rather run smaller races with less corrals and hoopla. Also, Northerners may not want to run long runs in November/December in the freezing cold to prepare for this one. It can also be harder to take time off from work or school so soon after the Christmas holidays. This race weekend seems to draw the most "serious" runners so corral placement can be a bit tougher than other weekends.
Princess Weekend:
I have participated in Princess weekend seven times (in a row!). In 2012 I ran the 5k and the half, and in 2013 I did the same. Then in 2014 I ran the glass slipper challenge (10k and half) plus the 5k. In 2015 I ran the half, in 2016 I ran the challenge, and in 2017 I ran just the half. Then in 2018, I ran just the 10k.
Pros: For us women folk, this is a super fun race to do with your mom, daughter, or a group of girlfriends. Bling and tiaras everywhere, and lots of people dressing up as princesses! There is a "girls just wanna have fun" excitement about this race that just makes me smile. The medal is always adorable, and this race seems to be a less pressure sort of race, and I am not even sure how else to explain it. This time of year usually has great weather as well for running and park hopping. Lots of good 'ole girly-girl fun with this race, a great weekend for first-timers.
Cons: This race is during peak season pricing, so hotels are more expensive. If you are a guy, you may want to sit this one out unless you like all the attention.
Depending on where you live, training in the cold may not be so fun. This race also tends to be very crowded and has tight squeezes in spots where there is a lot of walking in the further back corrals. Work hard and train to get a better placement if you don't want to get trapped walking through tight spots!
Star Wars Weekend
I have done this one twice as well. In 2017 I ran the half, and in 2018 I ran the challenge (10k and half). Emma Kate has also done the kids race.
Pros: I love the time of year for this race. April is a great time to visit the parks, and crowds aren't too bad. The race day is usually warm and beautiful, but not too hot yet. There are usually SO many characters on the course which is a lot of fun! This race isn't as large so there isn't as much crowding.
Cons: If you aren't a Star Wars fan, you definitely won't have quite as much fun here because the usual characters aren't out, and it's literally all things Star Wars. Honestly, other than some not liking the theme, there really aren't many cons to this race! It has grown on me!
Wine and Dine weekend:
I have participated four times. In 2011 I ran the 5k and the half, in 2012 and 2013 I ran just the half. Then in 2017, I ran the two-course challenge.
Pros: If you like food and wine, this is the race for you. Not only can you enjoy the Food and Wine Festival while you are in town, but there is a special after-party at EPCOT for all the runners after the race where you can partake in foods from around the world. This race used to be at night which was my absolute favorite, but they have since switched it to daytime, but the after-party is still that night.
Cons: This race does not run through the Magic Kingdom which is always a favorite of mine. Also, it is now in the morning instead of at night which I think takes away a lot of the fun. The afterparty is on Sunday night which is hard for people who check out on Sunday/right after they run….a lot of people just don't get to go. Also, in early November it's still very warm in Florida so this race can be very humid and sticky.
——————————-
As you can see, there are not many "cons" to each race, and they mainly have to do with factors like weather and hotel pricing. All of the runDisney races are amazing and you are sure to have a blast! So, what is my favorite runDisney race? This is HARD yall! Ok, let's do this. I am saying, Princess. That's as close to a single favorite as I can give you, they are all so awesome. Things to keep in mind: Many of the races sell out the day registration opens. Follow @runDisney on Twitter and check out the rundisney.com website so you can stay up to date on information like registration and capacities for your runDisney race.
QOTD: What is your favorite runDisney race, or which would you like to run?