Whew! Yesterday was an insane day of playing catch up at home. I did 5 loads of laundry in between answering emails and chatting with clients. SO glad today is Saturday though and I get a slight break to catch up. Also glad it's football time! You can bet I will be parked in front of the TV for the better part of the weekend…after my workout of course.
Next week is going to be loaded with fun runDisney posts, I can't wait to share everything from the meet up to the races, but I thought today I would start with the hotel.
We were lucky enough to stay at Disney's Grand Californian. It is a beautiful resort steps from the parks (my favorite perk!) with a rustic theming. We had a gorgeous view of the pool and part of California Adventure park (Grizzly peak is so cool looking!)
We were on the fifth floor and had two queen beds.
Yummy fruit for us that was replenished daily (note: this was a special gift from the hotel.)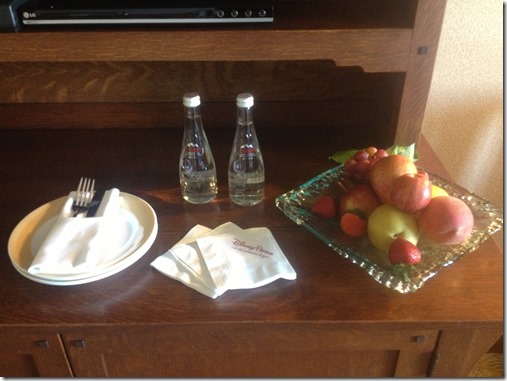 We also got to hang out in the concierge lounge on the 6th floor where they had food and drinks for us.
It was nice after a hot day in the parks to relax, look at the mountains and have a snack.
I may have even bumped into a buddy in the lounge.
The balcony of our room was nice to relax on, and I enjoyed people watching from it.
The convenience of the hotel cannot be beat, especially when you are used to Walt Disney World like me where you have to drive everywhere. The resort also has two great restaurants that we ate at, Storyteller's on the first night and Napa Rose (much more formal) on the last night.
Both were great for different reasons I have outlined in this post.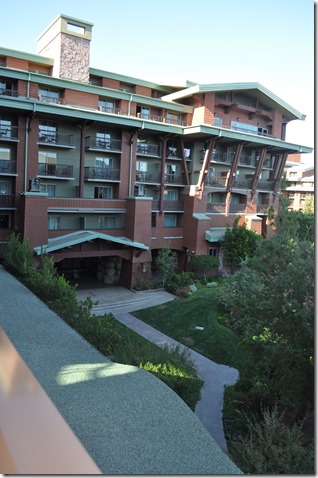 I plan to stay here in January for Tinkerbell and cannot wait to go back.
QOTD: What is your favorite Disneyland hotel? Or Walt Disney World Hotel?
*Don't forget to enter my Raw Threads giveaway! 
I would love to book your Disney trip for you at no extra cost to you. Email me at [email protected] for details!
Get Your Free Printable Set!
Sign up to get my free printables on goal setting & fitness tracking.