Hello friends! Can you believe that we are less than three months away from the Rock 'n Roll New Orleans marathon and half marathon weekend? I am just getting back into running after having my baby, but can't wait to rock through 13.1 miles in my hometown.
I have a fun announcement for you today and a giveaway opportunity. First of all, one of the bands for the after party was announced, the KONGOS! (<—-Check out the link to learn more about them.) They will be part one of the Finish Line Festival lineup. Yall, trust me when I say New Orleans knows how to throw a party, and finish line festivities at races are no exception!
Don't forget that live music will be performed throughout the race course. Think of them as mini concerts, and as much as you will want to stop and listen, don't forget to keep running.
***Also guys, don't forget to use code LOOKINGGLASS at registration checkout for $10 off the half or full marathon, or LOOKINGGLASS10k for $5 off the 10k distance).
———————————————————
Ok, so who wants to win a Rock 'n Roll New Orleans t-shirt? These shirts are gender specific and super soft! All you have to do is register for one of the New Orleans races using my code (LOOKINGGLASS or LOOKINGGLASS10K), and email me at heathers[email protected] telling me that you did so, so that we can look you up to confirm. The first 5 people who do this starting today (past registrations don't count) will get a FREE t-shirt. You know you have been on the fence about registering, and who doesn't love free stuff? The men's shirt is royal blue and the women's is navy blue, they both have the same design on them. Check out Bobby modeling the men's version: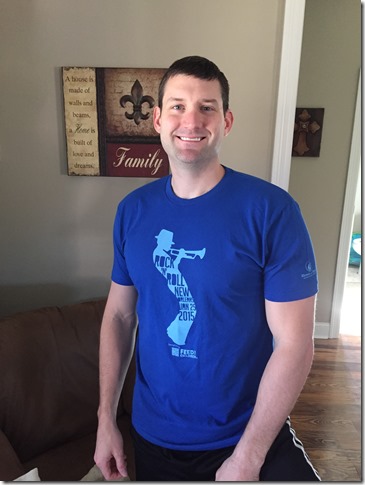 QOTD: If you could have any band perform at the end of a race for you, who would it be?