Good morning! Today I wanted to share with you something that has been in the works for me. I have taken on the task of working with a great company called Sociercise. I will be running things for them on the social media and ambassador side of things, and wanted to share with you a little bit about them because it is an AWESOME concept and phone app!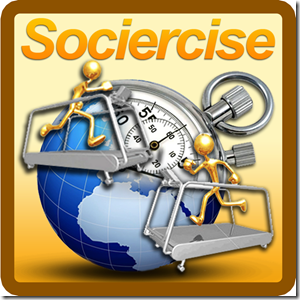 What is Sociercise?
Sociercise is a way to exercise socially or a form of social exercise. It consists of the website and the FREE Sociercise Real Time Running Races app for iPhone (Android coming soon) that allow individuals to compete in real time races and virtual charity races.
What does Sociercise Include?
*Real Time Running Races – Users can run in a real time race against other users from any location. In these races participants can track their progress in real time against other real runners. They can hear audio prompts when they get passed and they can see their course through integrated Google Maps.
* Virtual Charity Races –  Through virtual charity races organizations can raise money through an athletic event without the risks, expenses, and difficulties associated with hosting a traditional 5K or fun-run. Plus the Virtual Charity Races on Sociercise allow participants to collect pledges for each mile that they complete as well as minimum and maximum donations through our Fun and Fair pledge process on our website. As an event occurs virtual charity race participants can run anytime, anywhere, and as often as they want to log miles using our iPhone app. At the conclusion of the multi-day racing period our system will calculate and process the donations based upon the pledges per mile and the distance completed by the runner. Also, there are PRIZES for different categories like most miles run and most money raised.
Awesome running shoes are one of the prizes for the next race!
*Individual Workouts– So you aren't in a competitive mood but you still want to run…No problem with Sociercise you can go for an individual workout, set your goal distance or do a free run and the app will track your time, pace, and distance as well as your course on a Google Map.
*Workout History and Goal Setting – What good is a great running app without the ability to set goals and track your progress?Sociercise created several ways to track your progress from graphs for each distance, a complete history log, and a goal setting process that allows you to set and track goals for time, distance, calories, and weight loss.
Want to know more? Here are some videos that show some more about Sociercise:
As you can see, it's a great concept and an easy way to raise money for charity without having to travel or worry about meeting super high minimums just to compete. You race from home over several days! The charity we are currently working with is the Wounded Warrior project. Won't you come and support these soldiers? it's easy to sign up and tell your friends about it via social media and collect pledges!
Want to follow Sociercise on Facebook and Twitter? We would love to hear from you!
QOTD: What are your thoughts on running a virtual race for charity via a phone app? Will you sign up and help us raise money?