Walt Disney World vacations are magical and fun, and should obviously be documented with lots of picture taking. The problem is, if you go in without a plan of what Disney World photos you want to take, you may forget or miss out, and not have great shots to look back on and remember your trip. I have compiled a list of 20 photo ops I personally make sure to take on every trip. There are some posts you will find that have "101 Disney photos to take" or some absurd huge number, and guys that's just overwhelming! So this post is a more generalized list that you can easily keep in your head, or pin to Pinterest to take with you on your journey. Enjoy your vacation!
Decoration photos:
Depending on what time of year you are in Walt Disney World, there may be beautiful decorations all over the parks. Fall decor goes up as early as August, and Christmas comes right after Halloween. In the spring, there are beautiful flowers all over EPCOT for the flower and garden festival. Be sure to capture the decor with your friends and family, but also grab some pics of the gorgeous props by themselves.
Drink photos:
Disney has a huge variety of drinks available to purchase, and on top of them tasting good, they are also often very beautiful. There are cocktails and milkshakes and specialty coffees. Be sure to document them so you can remember just how good they were!
Behind the scenes photos:
As a blogger, I know, I take a LOT of photos. But it's fun sometimes when my husband will capture a behind the scenes photo of me working. Be sure your wife, husband, mom, etc. isn't always the one behind the camera, even if you have to be sneaky to get them into photos when they are doing something else!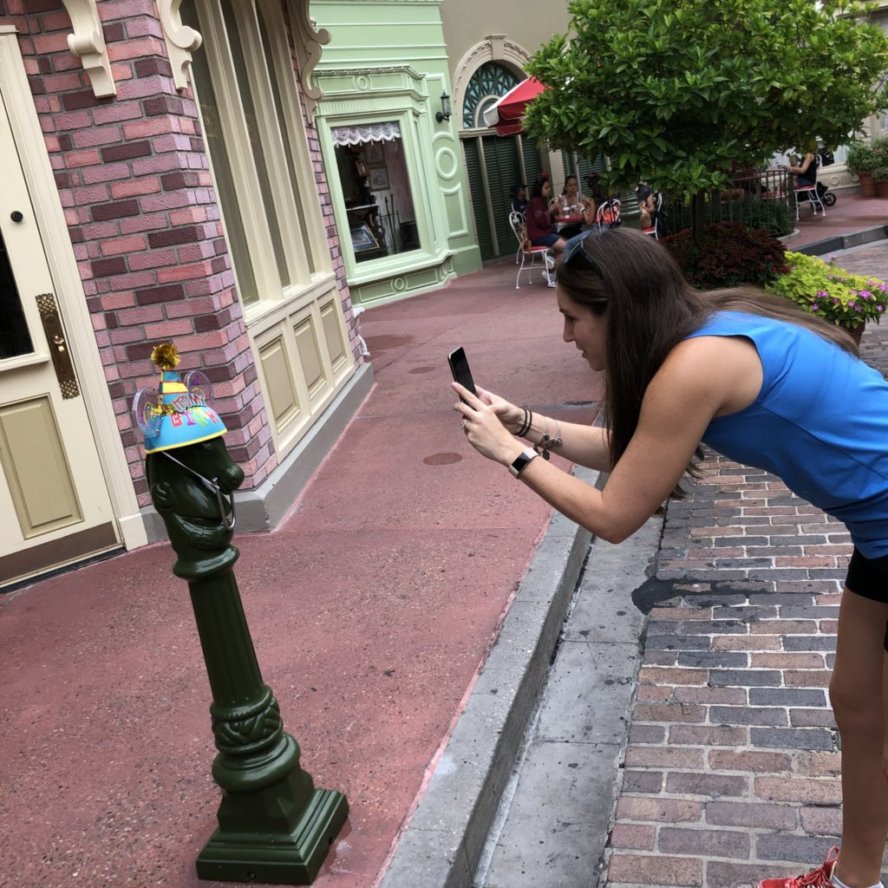 Pool photos:
I love having the panoramic option on my phone, it enables me to get great photos where the whole scene is together, like the one below. Most pools on Disney property don't open until 9:00 or so, so if you go for a morning walk or out to get breakfast, go by the pool and get some shots of it with on one around. They make for beautiful pictures!
Around the resort photos:
Again, try and take some photos with no people in them of the inside and outside of your resort. Don't forget about the lobby, restaurants, grounds, etc. so that you can remember the beauty of walking to and from breakfast, or the bus, or pool. These are also great to blow up and frame for your house!
The little details photos:
Sometimes there will be a cute detail at the parks or resort and normally I wouldn't just stop ans take a picture, but if you force yourself to do so you will be glad you did! Disney takes so much time and effort to add little authentic details into each resort, that they deserve to be documented! As a native of the New Orleans area, I loved these horses at Port Orleans French Quarter. Such a subtle but perfect detail as we walked to dinner.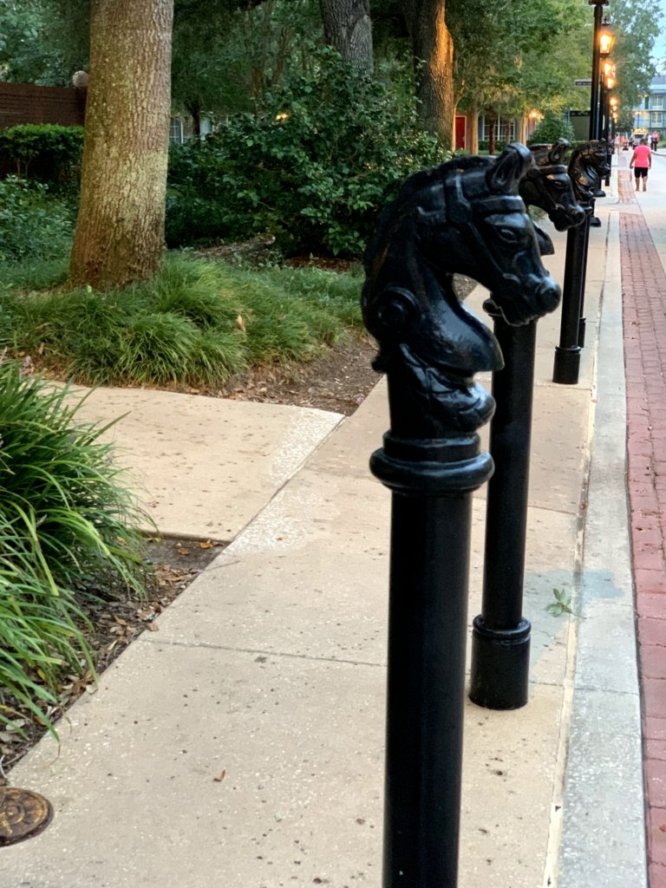 Castle backdrop photos:
This is a no brainier, but you should always get castle photos, and not just from Main street! There are several places around the hub that make for great castle backdrop shots, so don't be afraid to experiment!
Room photos:
I love taking room photos and videos before we "destroy" the room. I make everyone wait outside while I go in and get everything in pristine condition. I was even able to get the gorgeous sunset behind the Swan in this one! No filter!
Candid character interaction photos:
Smiling character photos are always super cute, but the characters do such a good job of interacting, that I love the candid ones just as much, if not more! Lots of hugs, laughing, dancing, and more are things I have been able to capture.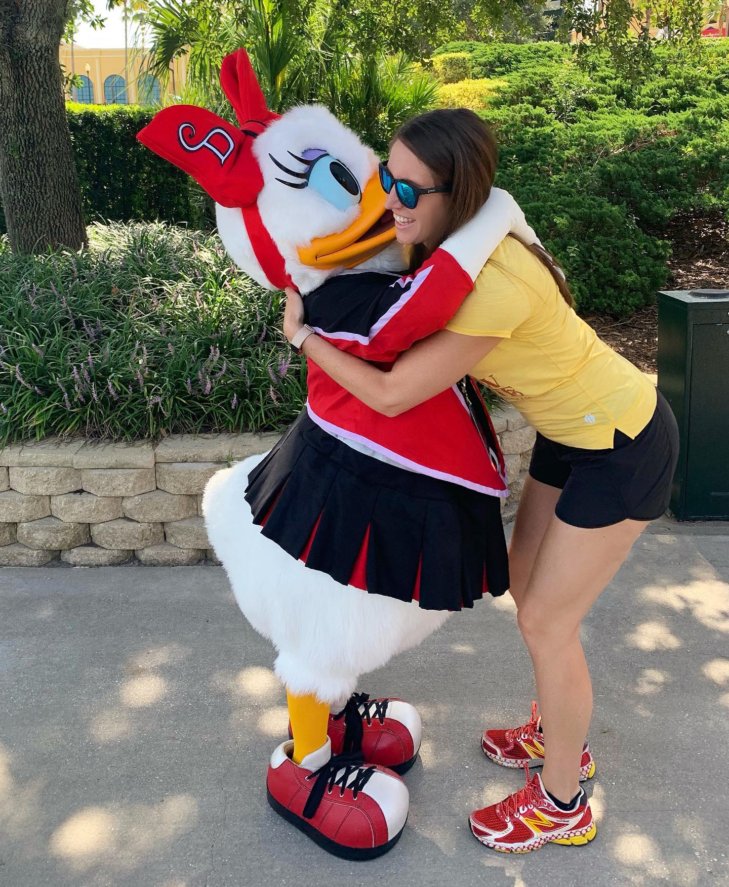 Food photos:
Just like the drink photos, we love Disney food! I like to take pictures of our meals to remember them later on. We always always request a seat by a window if it's daytime so we can get the best shots with natural light. Give it a try on your next trip!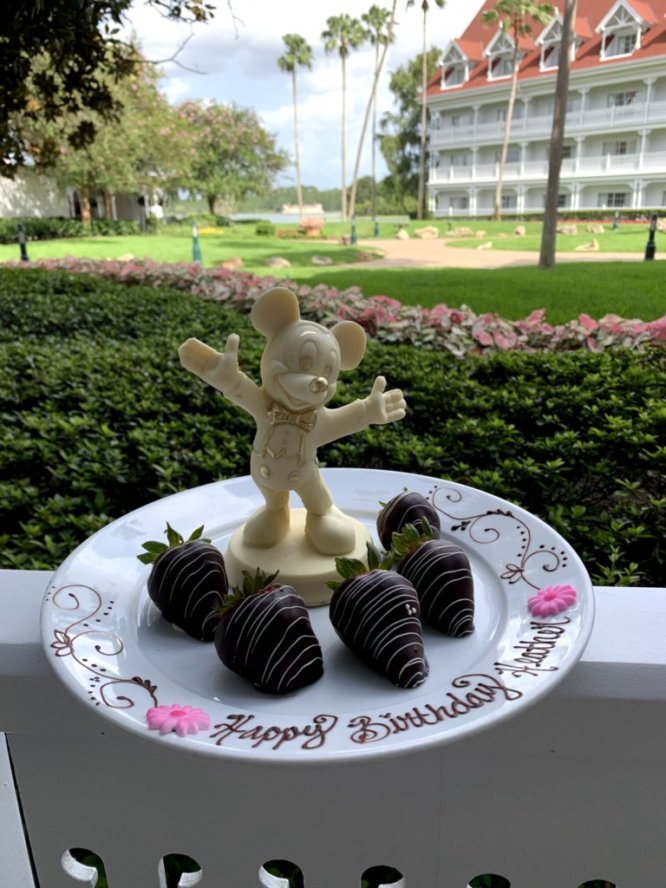 Character photos:
Tried and true character photos, can't forget them! Instead of standing in line after line for a single photo, we prefer character dining to get several all in one sitting. Crystal Palace is always a favorite! The interaction is so good, especially if you go at an off peak eating time. We went right at 11:00 in the below photo on my birthday, and Tigger "stole" me and took me to the other side of the restaurant with him!
On Ride photos:
These always come out blurry or with bad lighting, but they are some of ym absolute favorite of all time. Capturing the joy and squeals mid ride is something you can't recreate on your own. Just look at these faces. This is true Disney magic. Emma Kate and my dad laughing and squealing on Alien Swirling saucers. It makes me want to cry!
Pool fun photos:
You already hopefully have taken some empty pool photos, but what about your family playing at the pool? I love water slide photos, photos of people mid jump into the pool, or even just laying out reading a book. These are the more "relaxing" side of Disney photos, and are just as fun! Also you can usually get some good backdrops of parts of the resort in them, too.
Resort activities photos:
Most of the area resorts have some sort of fun activities whether it be pool games in the afternoon, roasting marshmallows at dusk, or movies under the stars at night. Capture these moments too, even if it's dark/blurry/ids are moving too much to smile at the camera. You will still be brought back to the moment and the fun, even if it's not a "Instagram worthy" picture.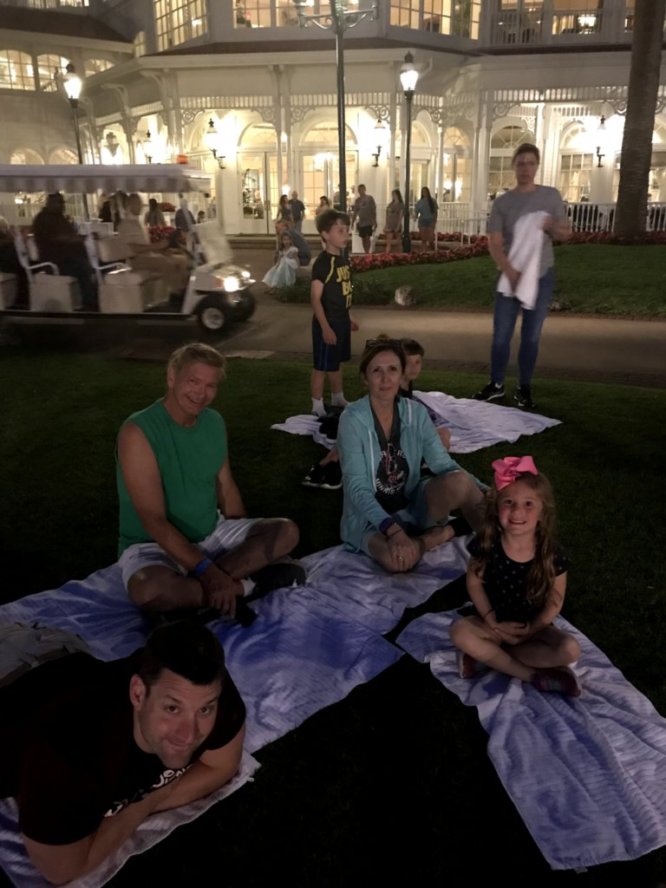 Dress up photos:
We always eat at least one nicer meal per trip, and we like to dress up a bit and get nice photos. I'm always scoping out a place around the resort or restaurant to make it happen, they are some of my favorites. In the below picture, Emma Kate didn't go to dinner with us (my parents watched her) but I still got her dressed for pictures with us, ha!
Photos with different family groups:
Sometimes it can be easy to get caught up in the same old shots with the same people in them. Most often it's "whole family" shots or "just the kids" shots. Make sure you mix it up, just mom and kids, just mom and dad, just dad and kids, just the girls/boys, or just grandparents and kids like below. Print them out and give these Disney World photos as gifts!
Wall photos:
Disney has so many fun "walls" that serve as fun backdrops to your family fun. Keep your eyes peeled for them and use them for posed pictures. it's a great way to ensure no people are in the background! The one below is in Toy Story Land.
Related: The Walls of Toy Story Land
Different angle photos:
It's tempting to just take photos from your eye level, but you would be missing so much! I love getting down low and taking photos at an angle, or from up high looking down. They make for interesting and different perspectives, and add a different element of fun and memories to your photos. Give it a try!
Silly photos:
Everyone smiling at the camera is nice, but if you really want to capture the FUN of a WDW vacation then you need to take some silly Disney World photos, too! This one is one of my absolute favorites and brings back great memories! You can plan out something silly in advance or just wing it!
Family together photos:
Of course, don't forget to get a few Disney World photos of your whole crew together. This is why we love Disney's Photopass! Also, there is never a shortage of strangers willing to take your photo, so don't be afraid to ask!
I hope you have enjoyed these Disney World photos and options for your next trip and will jot a few down to make sure you remember them, or Pin the photo at the top! Happy trip planning!