Disclosure: We were provided with food at each of these Alabama beach vacation restaurants, however all opinions are my own.
We have been to Orange Beach/Gulf Shores several times over the years, all the way back to when I was in about 4th or 5th grade. In that time, restaurants have come and go, so I always love trying ones that are "new to me." Today I am going to tell you about three new favorite Alabama beach vacation restaurants that we will be going back to again!
Picnic Beach
Picnic Beach is right off the "main drag" in Gulf Shores not far from the water. At this restaurant, you order at the counter and your food is brought to your table. They had indoor and outdoor dining, and everything was spread out with ample room between tables.
If you are into Instagramable spots, this place had a few! Check out the one below!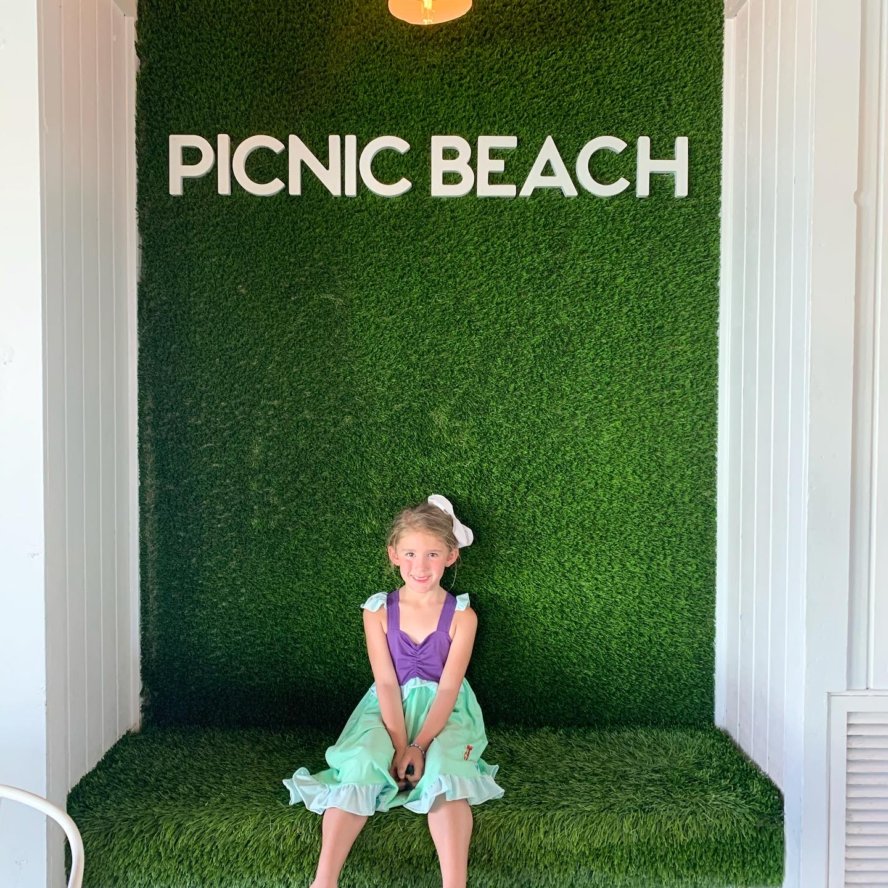 We ordered a giant plate that feeds multiple people. Ribs, wings, and pork complete with 3 sides and buns for the pork. For our sides we got sweet potato mash, mac and cheese, and vegetables. It was A LOT of food but so yummy.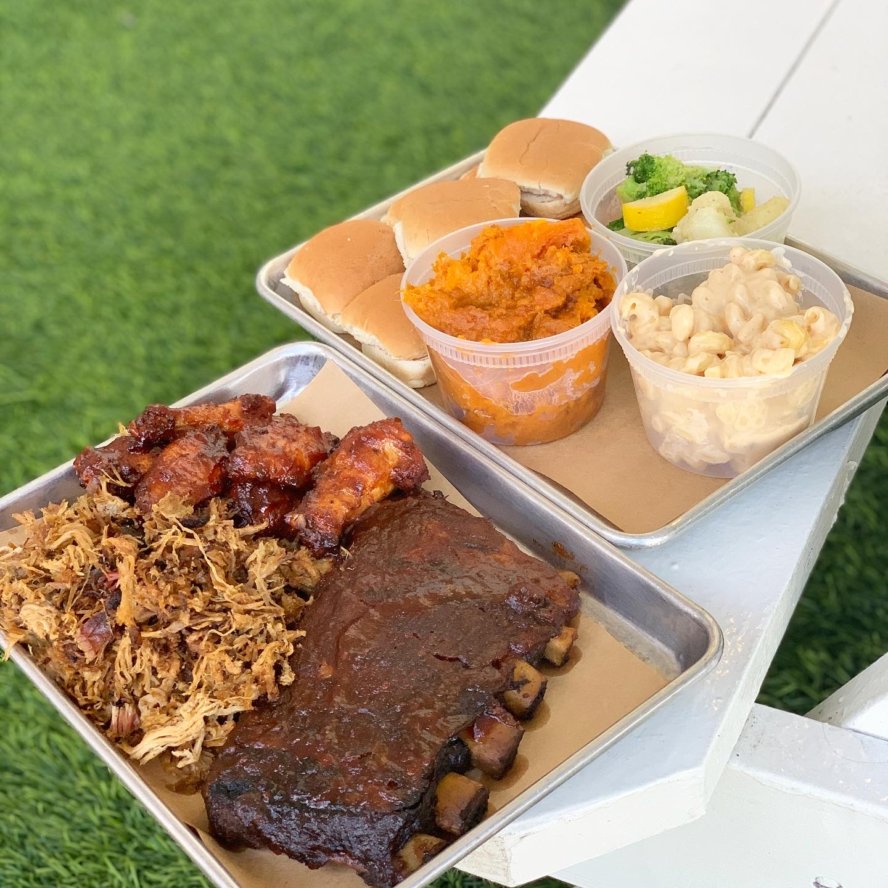 For dessert we split an acai bowl. It was very refreshing! They also have smoothies.
Here is Instagram spot #2!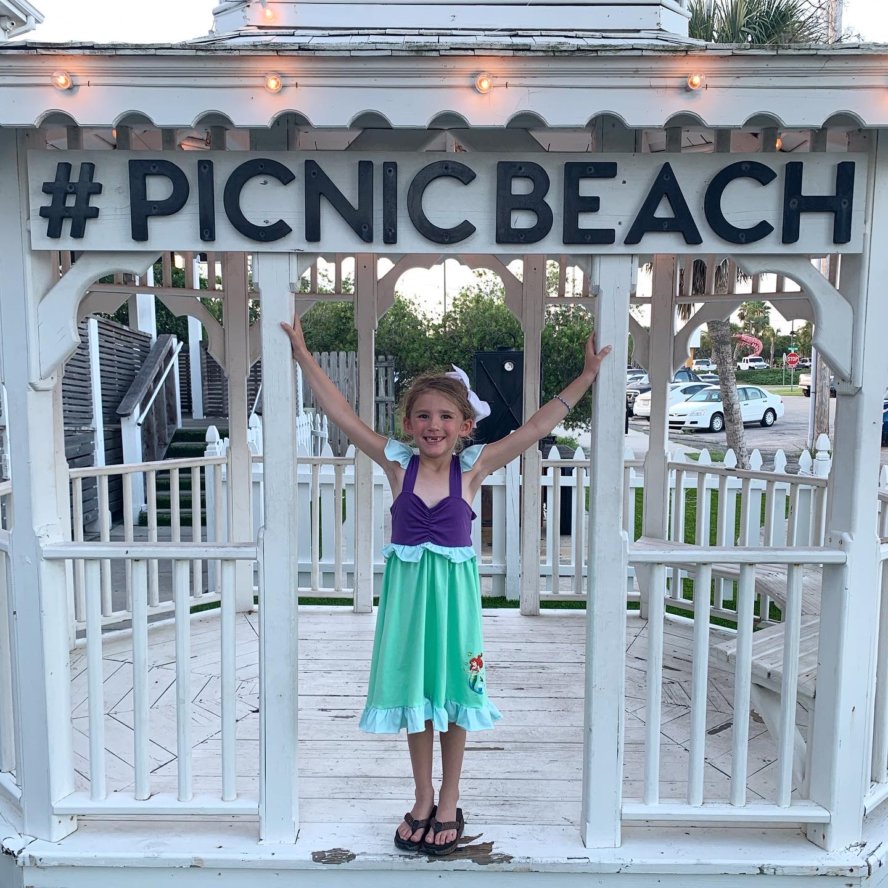 It was a great meal in a great location with indoor and outdoor seating. Service was great, and food came out fast. We would definitely come back here!
Sunliner Diner
Sunliner Diner is very close to Picnic Beach, also right on the "main drag" of Gulf Shores. If you know me at all, you know I LOVE a good themed restaurant and this one did not disappoint. In true 50's fashion, they had THE BEST milkshakes. But let me back up. The interior was adorable, the menus were made to look like newspapers, and breakfast can be ordered all day.
We started with tuna dip and cheese fries (you can see the "newspaper menu) under the plates. The fries were amazing and there were plenty to share.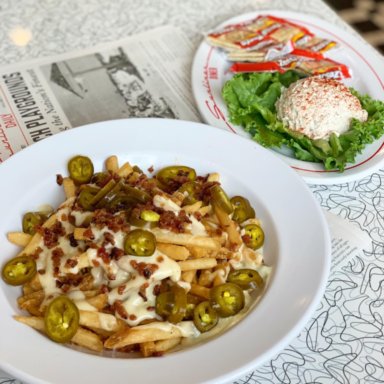 Bobby loves breakfast, so he ordered breakfast for dinner and it looked awesome. He gave it two thumbs up. I ordered a hamburger which also hit the spot, but we were also trying to save room for dessert!
A cookies and cream milkshake is the way to my heart, and this one was unbelievable. I would easily come here just for the desserts alone!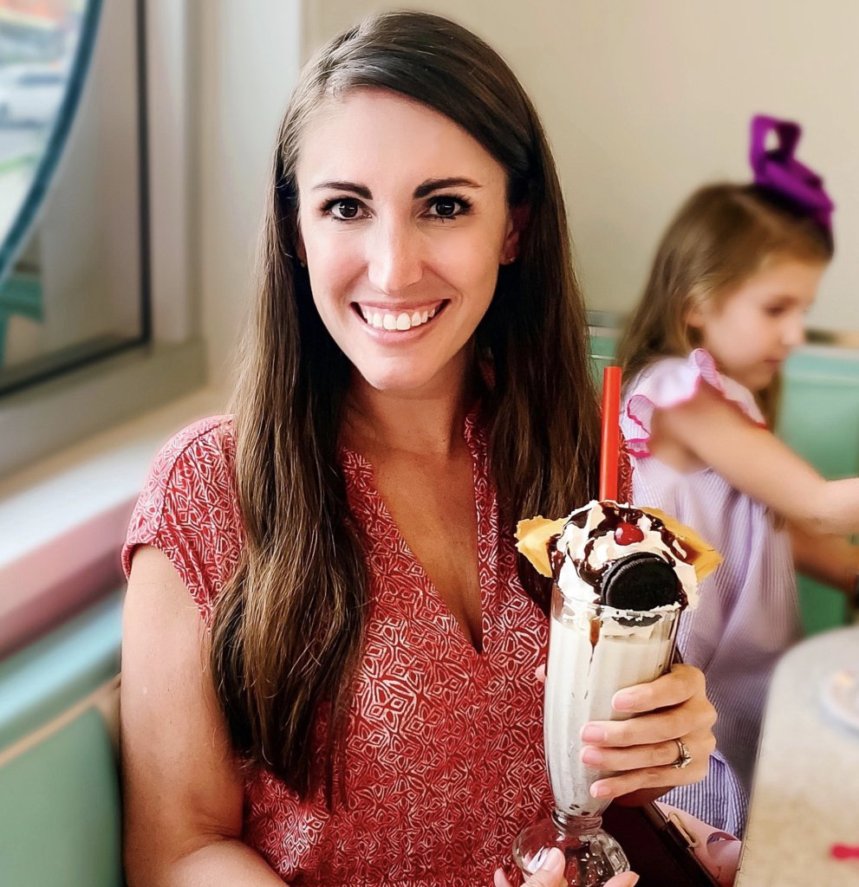 Bobby's was chocolate on top of chocolate on top of chocolate. We had a hard time finishing them (and yes there was a big waffle piece in all of them!)
Emma Kate's was kind of a "surprise" shake. We told them she wanted vanilla and they said they would take care of the rest. Her little face when they brought it out was so cute. She was floored (and so was I!)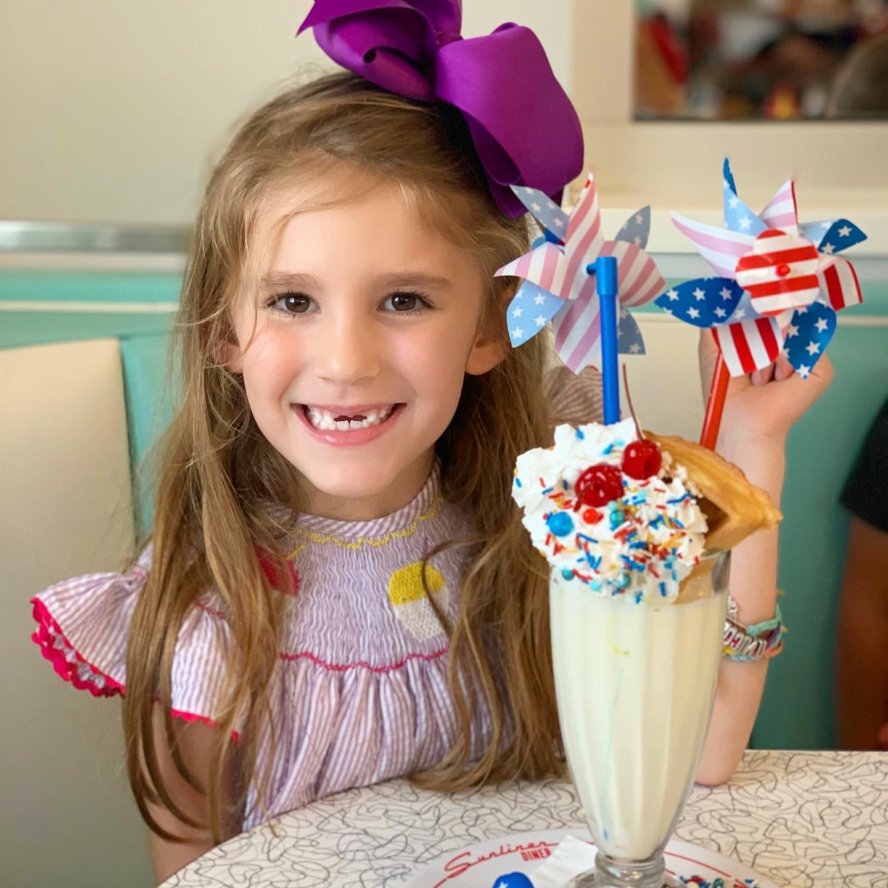 We will most definitely be back here, you don't want to miss it!
The Gulf
The Gulf is right before you get to the big bridge going in to Florida. It is an outdoor restaurant with a great water view. It was so relaxing! They had strings of lights, couches, picnic tables, and music. The kids ran in the grass and sand and played barefoot while we just enjoyed the food and the view.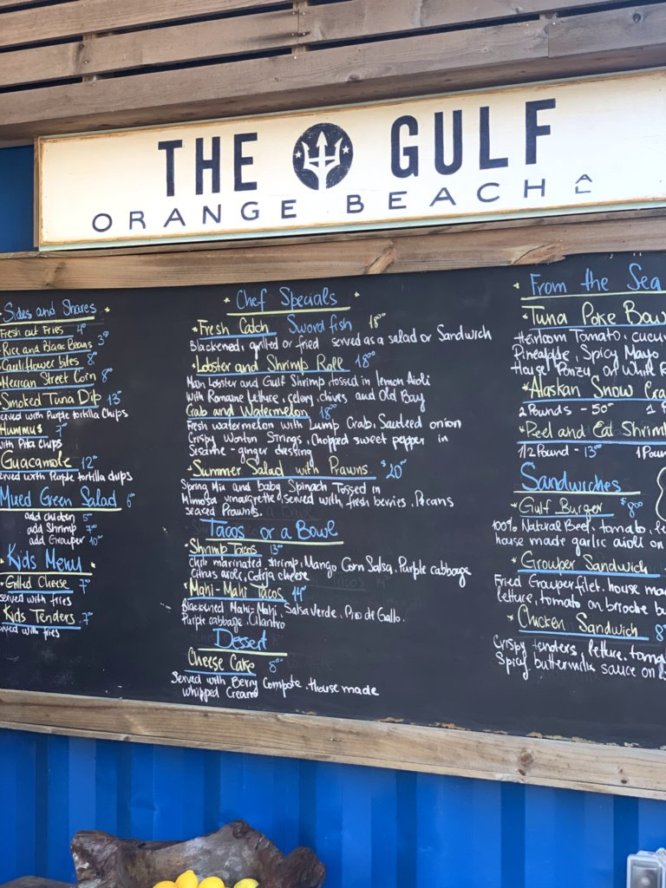 At this restaurant you order at a counter. They had markings on the floor so everyone in the line stayed 6′ apart. We also wore our masks until we were seated at our picnic table. Food is brought out to you, and it was delicious!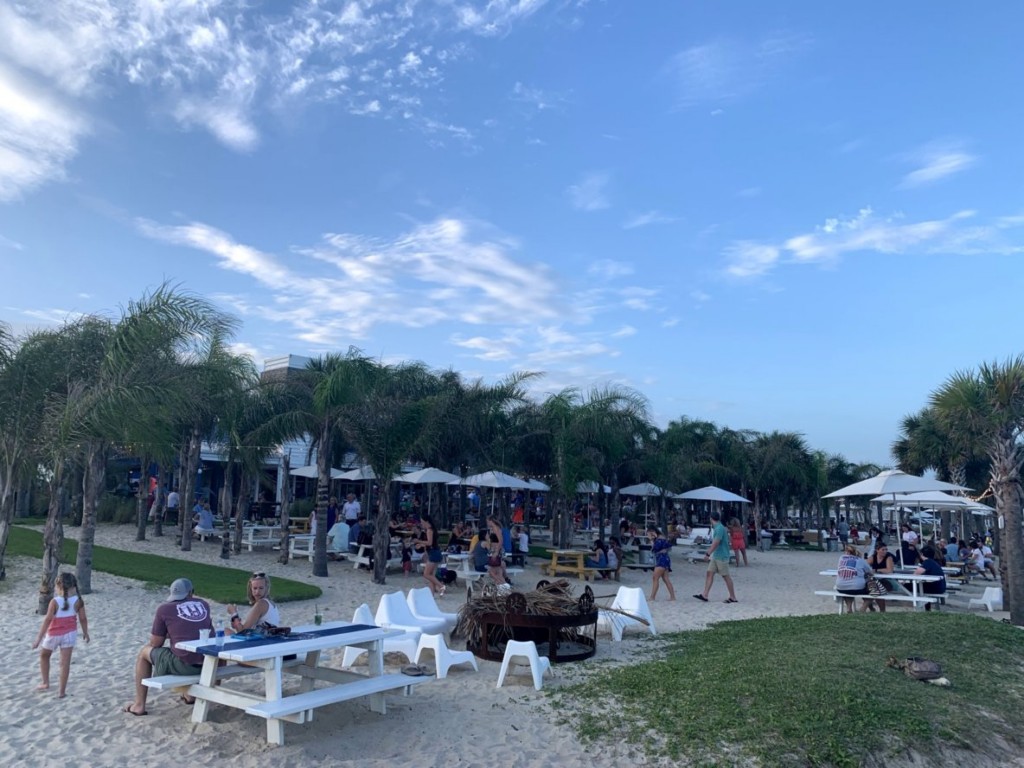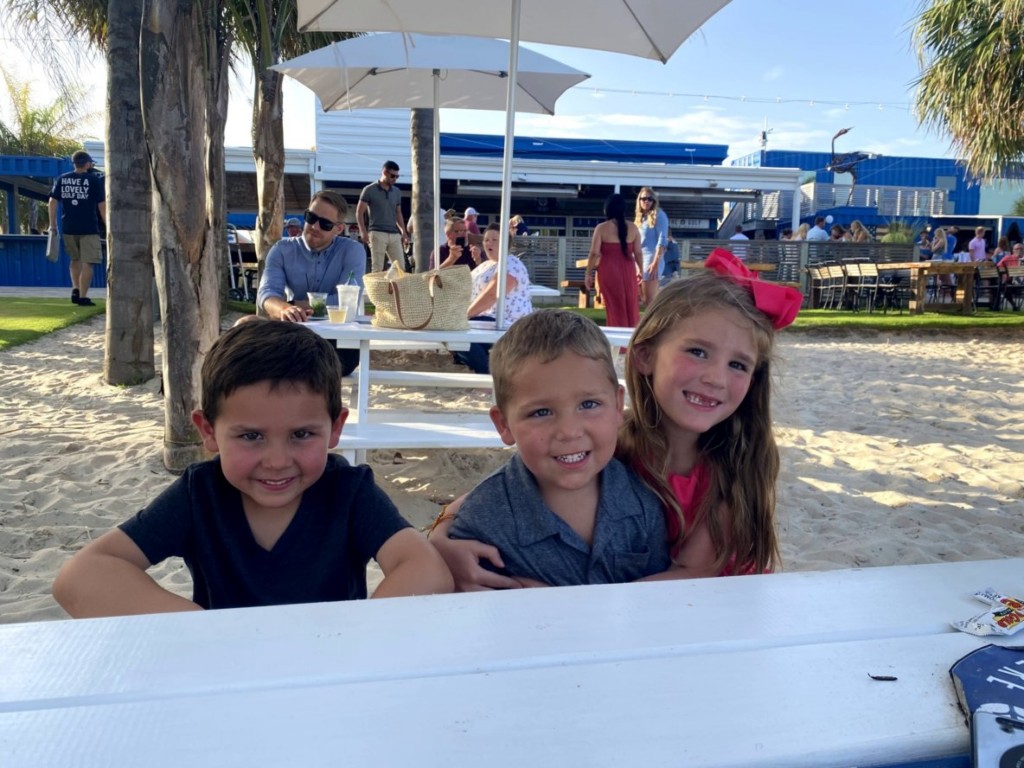 Not to mention the beautiful drinks. This is called the Surf's Up and was so refreshing. If you like mojitos, you are going to love it here. We had an orange mojito (there were a couple of other flavors as well) and it was the best one I have ever had.
Speaking of best ever, the guacamole was also amazing. Bobby had some tuba dip, while Emma Kate had chicken fingers. Another high praise? Bobby ordered crab legs and said they were some of the best he has ever had, and the boy has had a LOT of crab legs in his day. (For a funny video check out my IG highlights from the trip).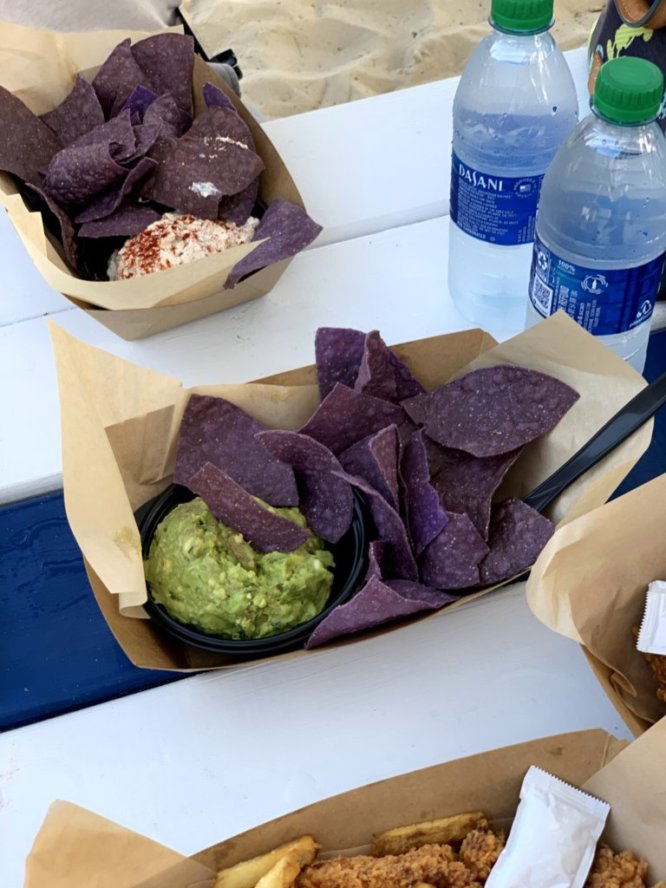 We have already told friends and family we can't wait to take them here (all three really!) and I was so pumped to find some new restaurants for when we go to the beach. A huge thanks to them for hosting us, it really was a highlight of our trip!
Related: Why you should book The Beach Club through Spectrum