Disclosure: This post contains sponsored content from our trip to the Smoky Mountains, however, all opinions are my own.
We recently came back from our second trip to the mountains in 3 months, and we just can't seem to get enough! When we went the first time, we felt we missed out on so many fun things so we planned a second trip. We were able to pack in a lot in our week in the smokies, but today I wanted to share just six of the fun attractions we visited in the Pigeon Forge/Gatlinburg area in the Smoky Mountains. Enjoy!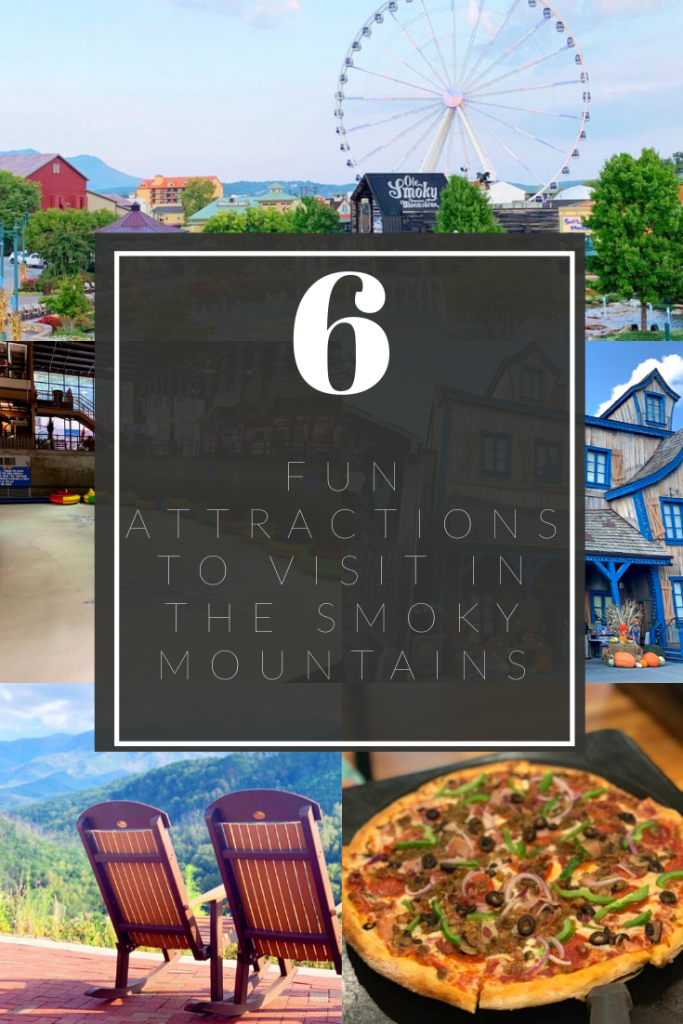 1.) Ober Gatlinburg: I found Ober Gatlinburg via Google, and it looked like so much fun from the website I knew we had to check it out. We took the ariel tramway to the top of the mountain (which not going to lie, did scare me a bit, I'm afraid of heights) but there is also an option to drive. Once on top of the mountain, there was so much to do! There is a carousel, an outdoor maze, kiddie rides, ice skating, bumper cars, a ski lift ride, food, shopping, and an animal encounter. We saw bears, otter, raccoon, foxes, owls, and more. We stayed a few hours and had to leave, but could have easily stayed longer.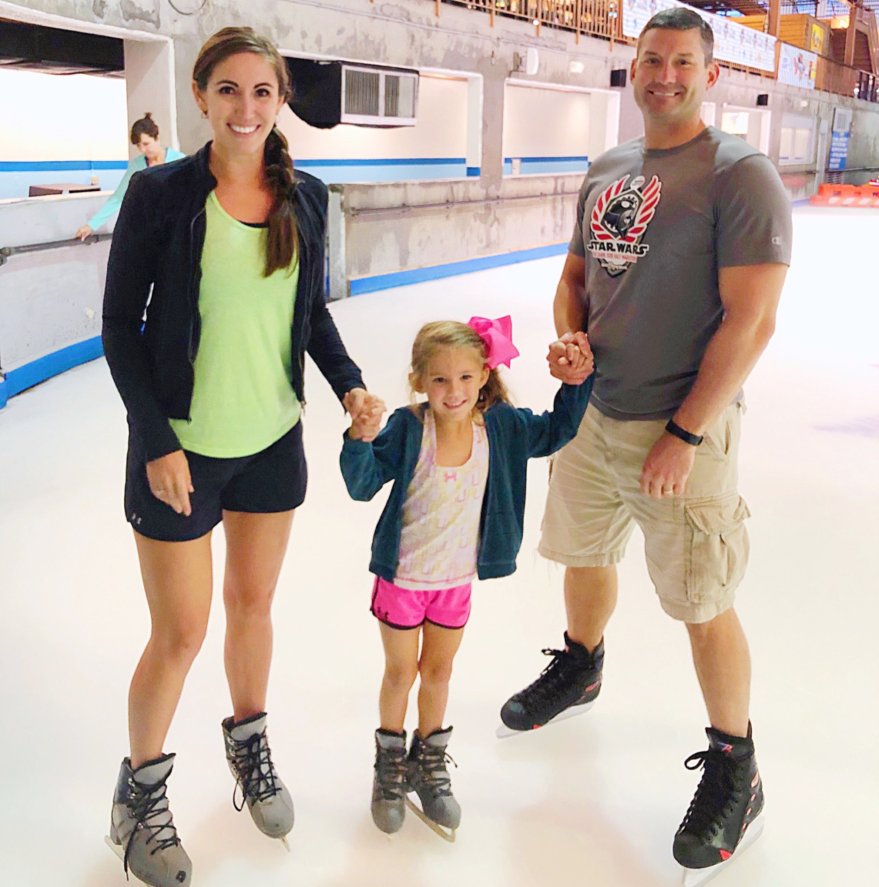 I created a video about Ober Gatlinburg on IGTV, you can watch it here. We had so much fun!
2.) Anakeesta: This is a relatively new-ish place in Gatlinburg, with a chair lift and enclosed chondala's that take you up the mountain. They recently added a big truck called the Ridge Rambler to take people up who are afraid of heights. Again I was a little scared on the chair lift, but the views from the top made it totally worth it.
Being there in the fall made it even more fun with the beautiful decorations, and they even had a haunted house type outdoor area that Bobby and my dad went through.
There is food, shops, a playground, and a huge suspended treetop walk that is lots of fun! I created a video on IGTV of our time if you want to check it out.
3.) The Island: The Island is in Pigeon Forge off the main parkway, and has so much to do for everyone! The hotel we stayed at for four nights, the Margaritaville Island Hotel, is smack dab in the middle of the Island so we were walking distance to all the food, shopping, and fun! Below is the view from our suite, with a backdrop of the Smoky Mountains.
You can purchase ride tickets or wristbands so you can ride as many rides as you want.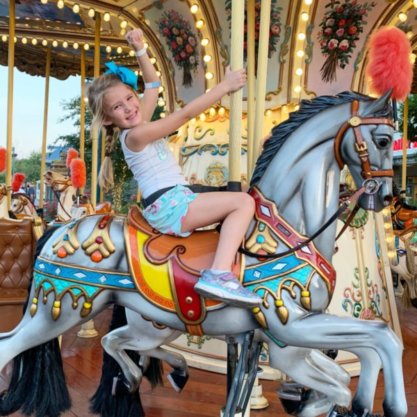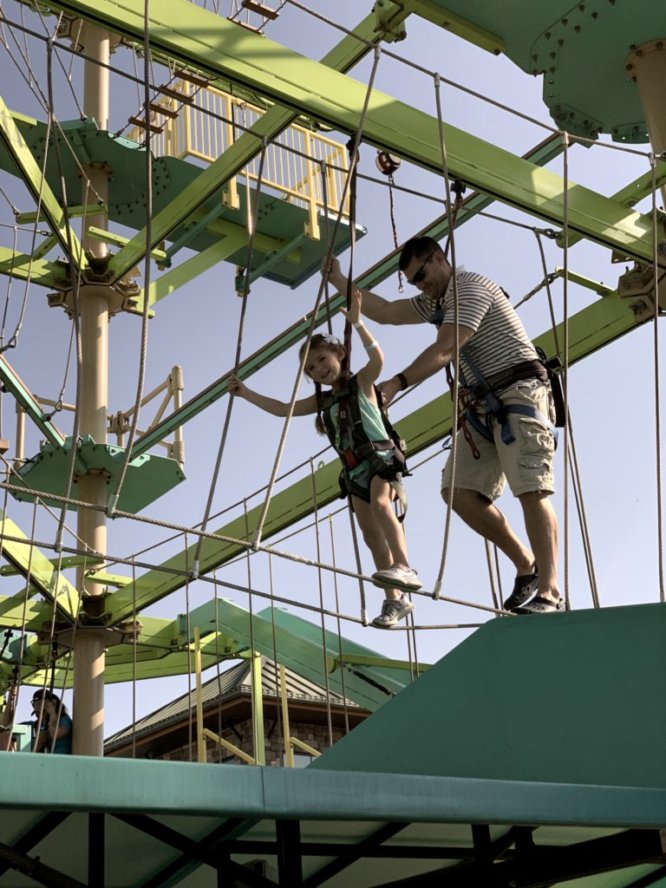 It was all decorated for fall which was fun, too! Emma Kate loved running from ride to ride, and we loved being able to just walk back to our hotel room when we were done. You can find out more at their website.
4.) Big Daddy's Pizzeria: One morning we did a Pink Jeep Tour, and afterward we were starving! Thankfully, basically across the street was Big Daddy's Pizzeria. It was decorated so cute, and there are so. many. options. for toppings! The pizza was delicious and hit the spot after a long morning.
They even give kids their own dough to create a special dessert for themselves. Emma Kate LOVED getting to "make" her dessert. (they add cinnamon on top and bake it.) They also had an arcade in the back for even more fun!
5.) Hatfield and Mccoys Dinner Fued: When we went to Pigeon Forge in June, we passed by this place and it looked SO FUN. I was pumped we had the opportunity to try it out, and it did not disappoint!
It was super fun slapstick comedy for the whole family. Emma Kate even got to go on stage and dance! They have multiple performances a day, but they sell out fast so make sure you book early!
There was laughter, tap dancing, stunts, and even dogs! That was mine and Emma Kate's favorite part. The show kept her attention almost the whole time which is saying a LOT because she gets bored easily.
The food is also delicious and you can have as much as you want! They also had really good sweet tea which gets an A+ from me. We will definitely be back!
I was super impressed with the performers, too.
6.) Timberwood Grill: After playing all morning at the Island, we were getting mighty hungry. It was so nice to just walk over to the Timberwood Grill right on the Island and eat a delicious meal.
They have a HUGE menu full of comfort food and southern favorites. We loved the sharable appetizers the best. There was queso with chips and pretzel bread as well as pulled pork nachos. I highly recommend both!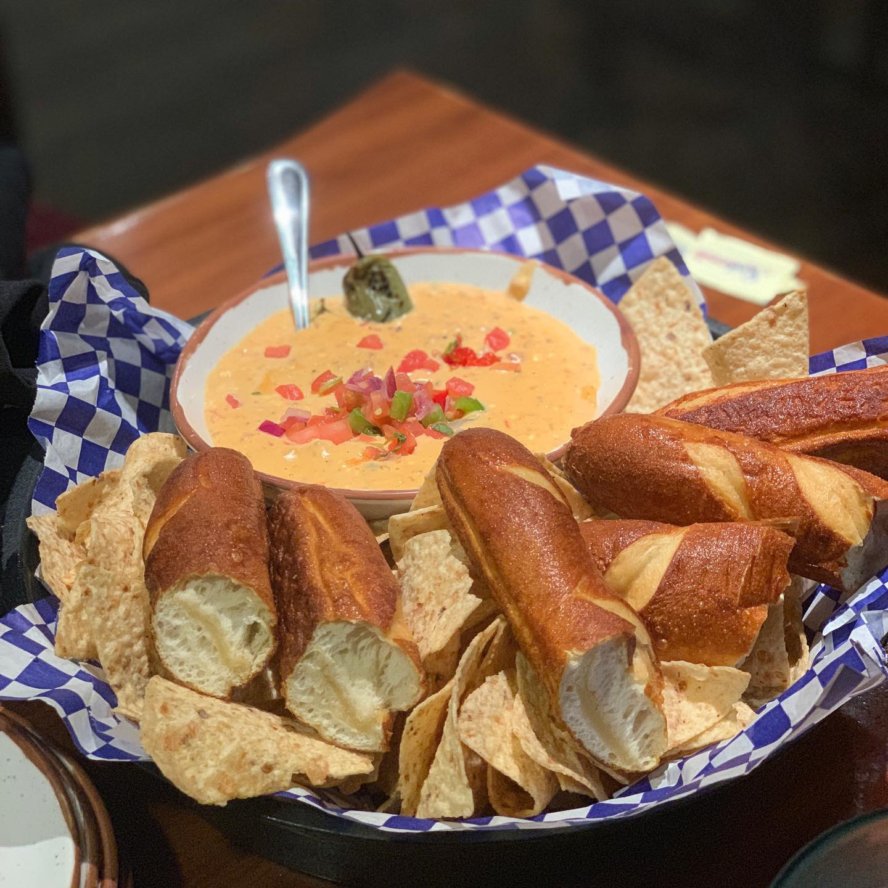 It's a nice and relaxing place to sit and rest in the middle of the hustle and bustle of the Smoky Mountains. Two thumbs up from me!
Related: Smoky Cabin Vacation Rentals