We love cruising, and in a particular, have grown to love Disney Cruise Line over the years. My daughter has only sailed once on one of the older ships (I can't WAIT to show her the Aquaduck one day!), but that didn't stop my husband and I from enjoying the beautiful ships pre kiddo (we went with my parents several times!) Unfortunately, there are many Disney Cruise line myths, and as a hardcore believer in DCL, I wanted to take a minute to dispel them, so that you can cruise for yourself and find out exactly why we love them so much.
It's Just For Kids
This is probably the one I hear the most of all the Disney Cruise Line myths, and why I wanted to address it first. As I mentioned above, my daughter has only cruised once, and we went many times before she was born without her! While there are so many amazing things for kids to do on the cruises, DCL has done an amazing job of providing wonderful adult options and adult only spaces so if you don't want to be surrounded by Mickey 24/7, you absolutely don't have to be. There is even an adult's only beach on Disney's private island, Castaway Cay. I also love that they actually enforce the adults only pool and deck areas. I have been on some cruises where they don't and it is very frustrating.
I won't go into a ton of detail here (maybe I will make it a whole separate blog post!) but some of the adults only highlights are an adults only pool area, adults only restaurants (PALO and Remy), and a whole adult entertainment district that comes alive at night with game shows, music, dancing, and fun. There are even excursions where small kids are not allowed, and you can find things like martini tastings and a PALO brunch on sea days! Just for kids? I think not! Adults that want to have fun and act like kids, YES!
I Will Feel Trapped
This was a big concern for my dad on his first cruise, because he is a very antsy person and cannot sit still for more than ten minutes. However, when he realized it was basically a floating city AND there were multiple opportunities to get off the ship, he ended up having a fabulous time.
The ships are so large that you never feel trapped (and I would know, I get claustrophobic very easily!) The ceilings are tall, the hallways are wide, and there is plenty of open deck space if you want to be outside and get some fresh air. Each day they put out what is called the Navigator, a list of all the activities you can participate in for the day. We take a highlighter so that we can highlight the ones we want to do the most, because there is SO much to do we could never do it all! Literally no time to feel trapped.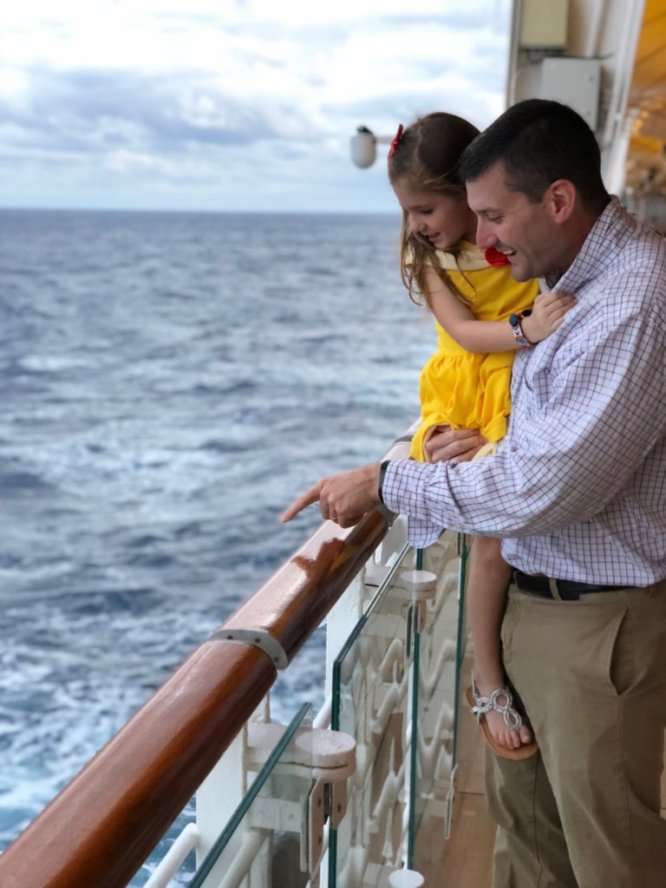 Also, while there are interior staterooms, be sure to check out the virtual portholes that make you feel like you have a window to the outside world (with some Disney magic thrown in.)
The Staterooms Are Small
Speaking of staterooms, here is another one I hear often, that the rooms are too small. First of all, I will say I am hardly ever in my room. Really just to sleep and get ready for dinner! There is so much to do on the ship we are hardly there, so we don't care about the size. But with that being said, DCL staterooms are some of the largest industry wide. Not to mention, they boast a special split bathroom so that more people can get ready at one time. (One bathroom has a sink and tub, while the other had a sink and the toilet.) This extra space has helped us a lot. Certain rooms are also adjoining so if you have a large family and can snag a pair, it's like having a big suite.
Disney also has done a great job of making sure you have storage space. The beds are tall enough that suitcases just slide underneath, and the sofa and bunk bed easily convert back every day so you aren't sacrificing siting space in the room. Genius.
I Will Gain Weight
This one makes me laugh because you could say that about every day of your life, on a cruise or not. While there is an abundance of food at your fingertips at all hours of the day, it doesn't mean you have to partake. There are plenty of great healthy options as well. We are always happy to grab salads, fruit, sandwiches, etc. on deck or at the buffets, and at the sit down restaurants there are always lighter options available.
Not to mention, the ships are large, so you will probably do a good bit of walking around, as well as going up and down stairs. If you are in the mood for a workout, they have great fitness centers on board and even yoga and spin classes. Also, if your ship stops at Castaway Cay, you can participate in the Castaway Cay 5k and earn a medal.
I Will Have To Sit With Others At Dinner
If you choose to eat in the main dining room for dinners, there is a chance you will be seated with other cruisers. However, do not fear, Disney does a great job of putting similar groups together. We have met some amazing people this way that we still keep in touch with to this day!
Also, if you want to take a break, you can dine at one of the adults only restaurants where you will be seated alone, or skip the main dining room for the evening. You can always request a table for just your family, but keep in mind this is a difficult request to get, especially for the first seating. If it's important to you, be flexible about eating at the second seating.
A Disney Cruise Won't Be Relaxing
Quite the contrary, I find the cruises WAY more relaxing that going to the theme parks or other vacations for a couple reasons. One being DCL has the kids clubs (free, except for infants) so while the kids play, I ACTUALLY get to relax! Nap at the pool, read a book. Yay for adults only time! This is something I would never get at the Disney theme parks or on a regular beach vacation or road trip.
Secondly, it just seems to move at a much slower pace. No rushing from ride to ride or event to event, just relaxing on the ship, hanging out, just BEING. It really just lends itself to being more relaxing to me! Also remember, it is what you make of it. You don't have to do a thing on a cruise but sit at the pool if you don't want to! There are MANY times we dock somewhere and I don't even get off the ship! Just chill. Perfect.
It's Too Expensive
I saved this one for last of the Disney Cruise Line myths because it is probably the second most common thing I hear people say. Are the cruises cheap? No. However, you really can't compare it to a trip to WDW or Disneyland because a cruise is more all inclusive. When weighing the costs, you have to remember the price includes your lodging, all the food you can eat, childcare, entertainment including Broadway style live shows, characters, recreation, and impeccable service. Where else does Mickey Mouse randomly grab your 4 year old's hand and start walking around the ship with them?
Not to mention, I am a firm believer in "you get what you pay for." I have never been anywhere else where Emma Kate is constantly called a princess. Where the servers cut her meat, the room host calls us by name, the food is amazing, and the cleanliness and attention to detail is off the charts. So are they expensive? It's all relative to what kind of an experience you are wanting. For our family, the quality we get with every Disney Cruise Line cruise is totally worth it, and I cannot wait until the day we get to sail again.
I hope you learned a little something about Disney Cruise Line myths and that they are just that, myths. If you have any questions I would love to help answer them for you! You can also find me on Instagram @HeathersLG where I share a love of travel and all things Disney.