Disclosure: This is a guest post written by my husband Bobby and contains affiliate links. If you purchase a product through my link, we receive a small commission.
This is a continuation of part one written last week of free or low budget things to do with your kids at home. We hope you find this helpful!
N.) Cooking: Most of us have to do this one anyway, so why not try to think of recipes that lend themselves to help from little hands?  Our daughter is a great mixer.  You can also let them put ingredients in.  Our daughter gets excited when we ask her if she wants to help – not a much better gauge on if it's working. Examples: hush puppies (we're southern y'all), cookies, banana bread, pancakes, pizza – what else?  
O.) Inflatable pool: There is something almost automatic about kids enjoying activities involving water.  You can find a basic pool like this and set it up in the yard/porch/deck for simple fun.  EK absolutely loves when we get a small water bucket and try to splash her with the water while she tries to dodge.  Suggestion for when it's cold: put black trash bags over the top of the water – they will absorb the sun's heat to warm the water for an afternoon swim. Don't forget a pump to inflate it faster!
P.) Disney+: HA, as if you didn't already abuse this one.
Q.) Simon says: Teach them to follow rules while easily occupying them.
R.) Basketball: Even if you aren't a sports family, getting a goal like we have is an activity your child can do alone that helps with coordination and keeps them active.  The squishy ball allows you to set it up almost anywhere, including indoors (just move the lamps!) 
S.) Get a puppy!  I mean, who doesn't love a puppy?  In all seriousness, I've heard some animal shelters have been running out of pets during the lockdown.  Positive news for our furry friends.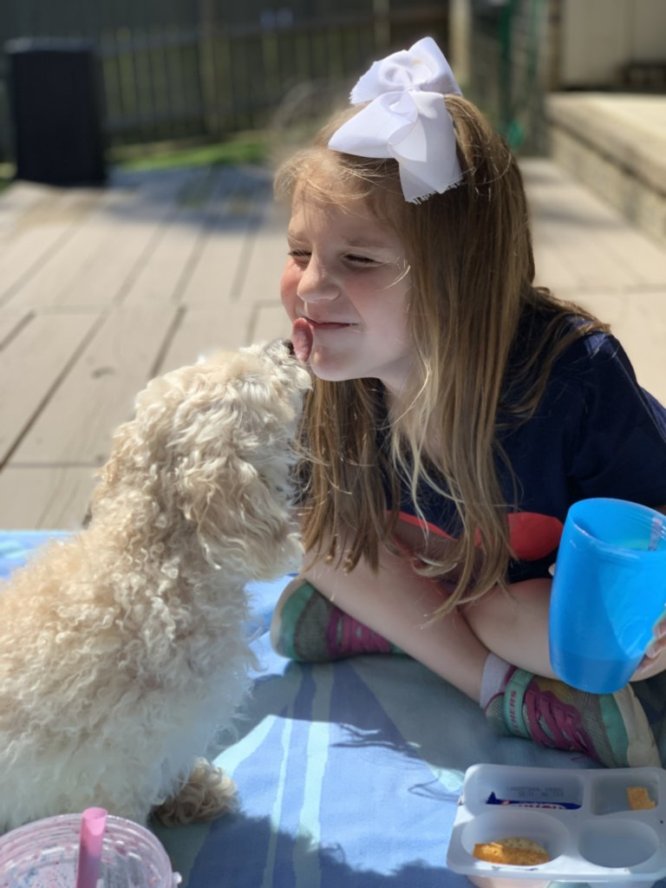 T.) Build a fort: You can make a simple fort using boxes or laying blankets across the furniture.  Every time we make a fort, EK sleeps in it for at least a week!  Pro tip: use drawers to hold sides of sheets up or wedge them between a mattress and box spring.
U.) Magnetic tiles:  I've always liked building and wish they had these things when I was a kid.  They are easier to use for little kids than traditional building blocks in my opinion.  
V.) Freeze dance: Put on some music, have them shake their sillies out, and then pause it.  Hopefully, you burn through some energy and maybe you'll even get a fun video out of it (tag us on IG if you do!)
W.) Paint rocks: Yeah, you read that right.  Find some smooth'ish rocks, wipe any dirt off of them, then paint them. 
We hope you will find part two of this list for entertaining your kids at home helpful this summer!