Disclosure: This post on places to eat in New Orleans is sponsored, however all opinions are my own.
Our recent trip to New Orleans was cut short by a crazy ice storm so two of the restaurants we were supposed to visit were scratched, however I still wanted to share with you the 4 places we did eat over the weekend!
Broussards: This restaurant is in the French Quarter in a beautiful 100 year old building. you can check out their website for the history of it, too! This fine dining establishment did not disappoint. The service was fantastic, the food was amazing, and the atmosphere was charming.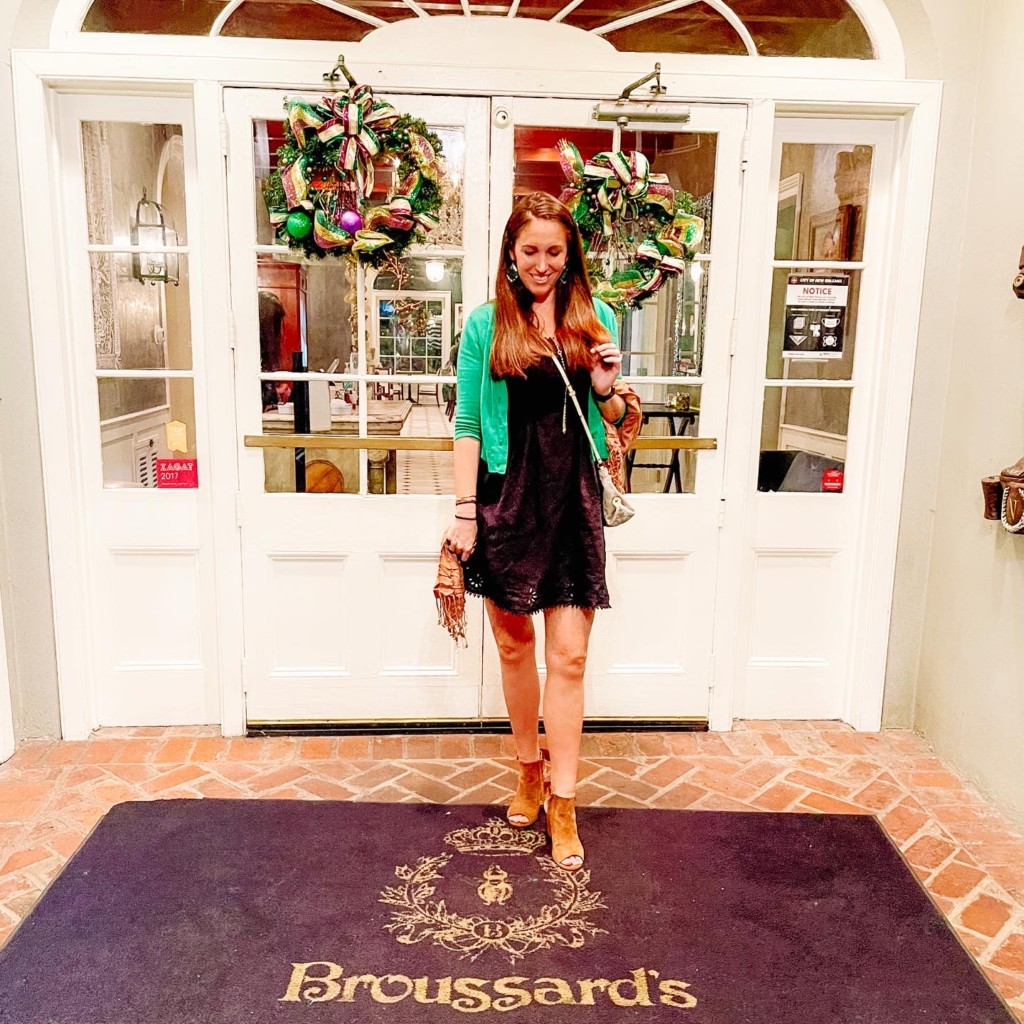 The chef did an amazing job with our meal, everything was so flavorful and cooked to perfection.
The big treat of the night was when our server rolled a cart over to our table to make us bananas foster flambé. It was the best I have had, and I've had a lot of bananas foster in my day!
We would definitely come back here for a special occasion. I would love to eat out on the courtyard patio, which would be very COVID friendly!
Commanders Palace: This restaurant is what I like to call "old school New Orleans." It's been around forever and is a staple of the area. Just off of St. Charles Ave, it is surrounded by gorgeous homes and beautiful trees. We attended brunch, and were greeted by a jazz band playing out front.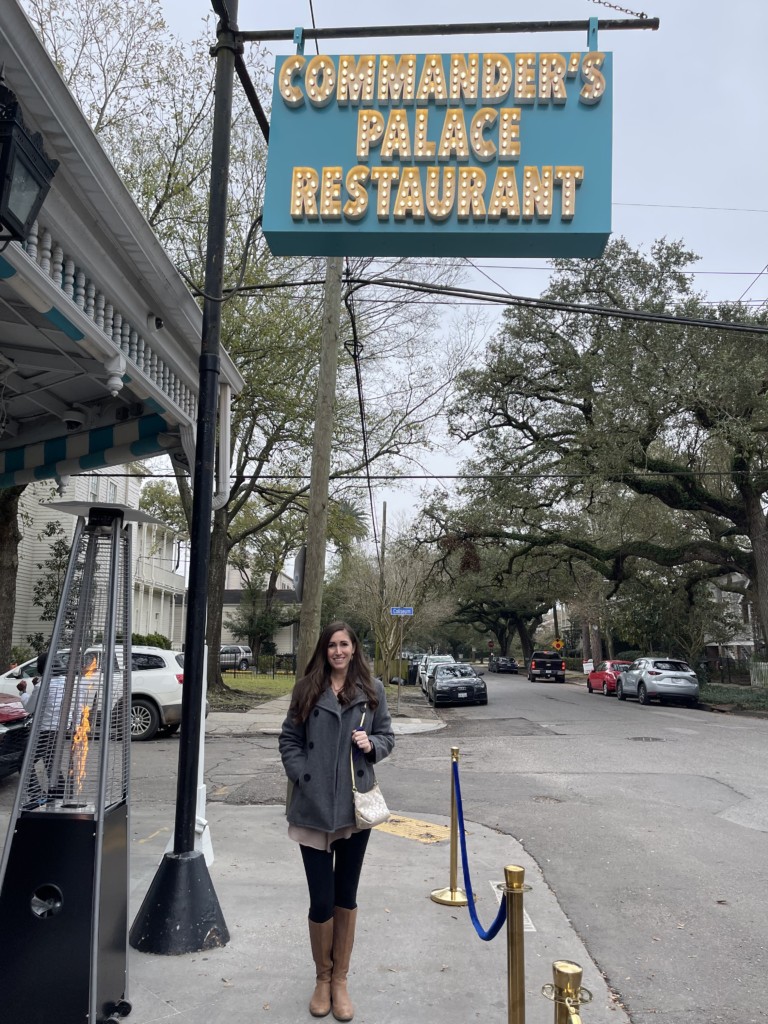 We were brought upstairs to a beautiful room full of windows. I loved all of the natural light!
We felt very safe, tables were spaced apart and had hand sanitizer on each. The food was delicious, and there was plenty of it. I had the best creaser salad I have EVER had for an appetizer, then of course had to go with some meat.
Dessert was good, Bobby declared his pecan pie to be amazing. I opted for creole bread pudding soufflé that must be ordered when you are ordering your main dish. It was very rich and creamy.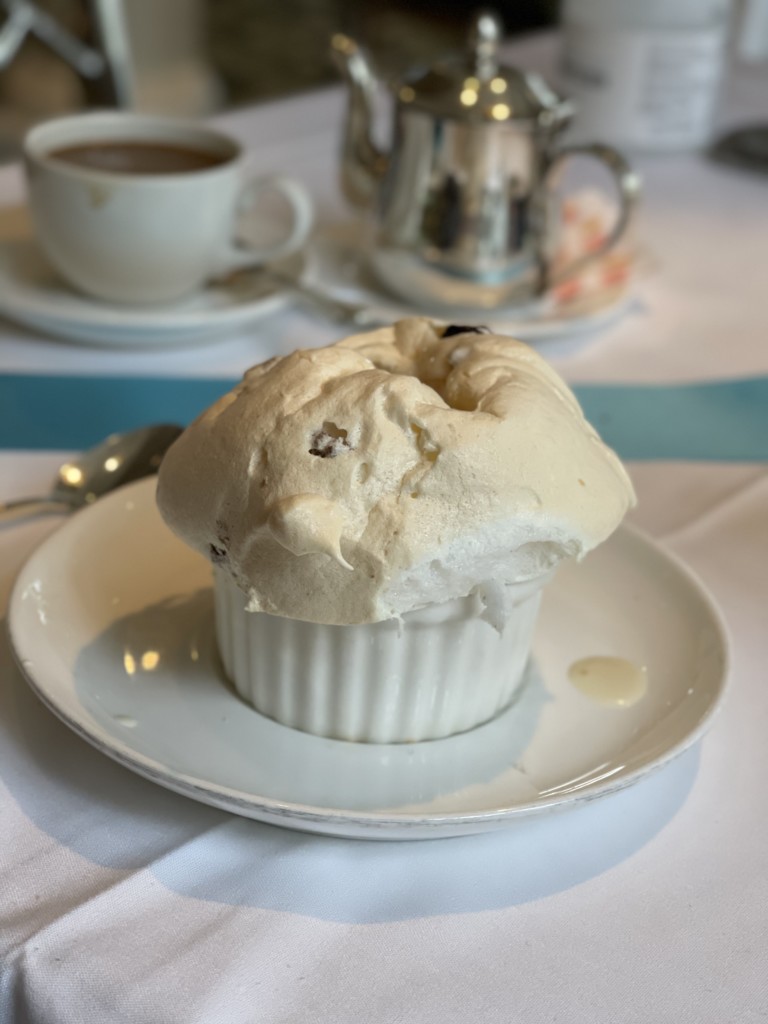 The service was excellent, and we had a wonderful time! I would definitely come back here again!
Ruby Slipper Cafe: The Ruby Slipper Café has many locations all over the area and in a couple of other cities, but we went to the one on Decatur in the French Quarter.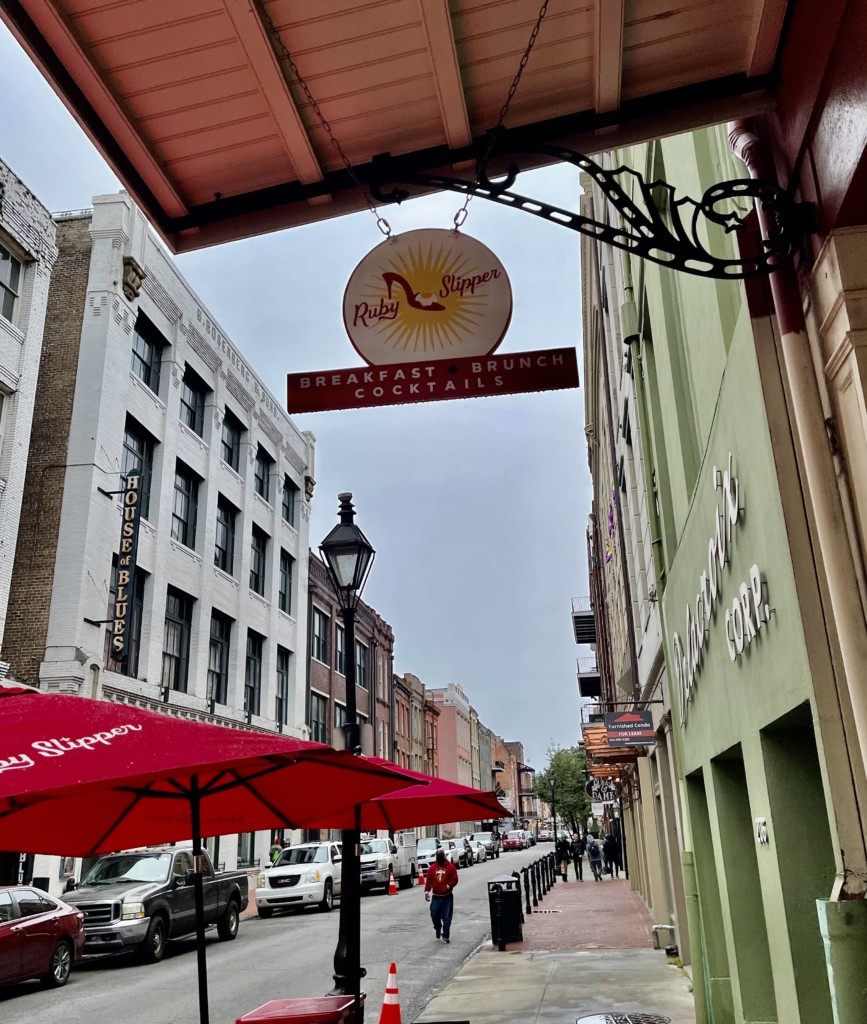 It was a freezing cold windy day, so I ordered a latté to warm me up and it was AMAZING! Highly recommended.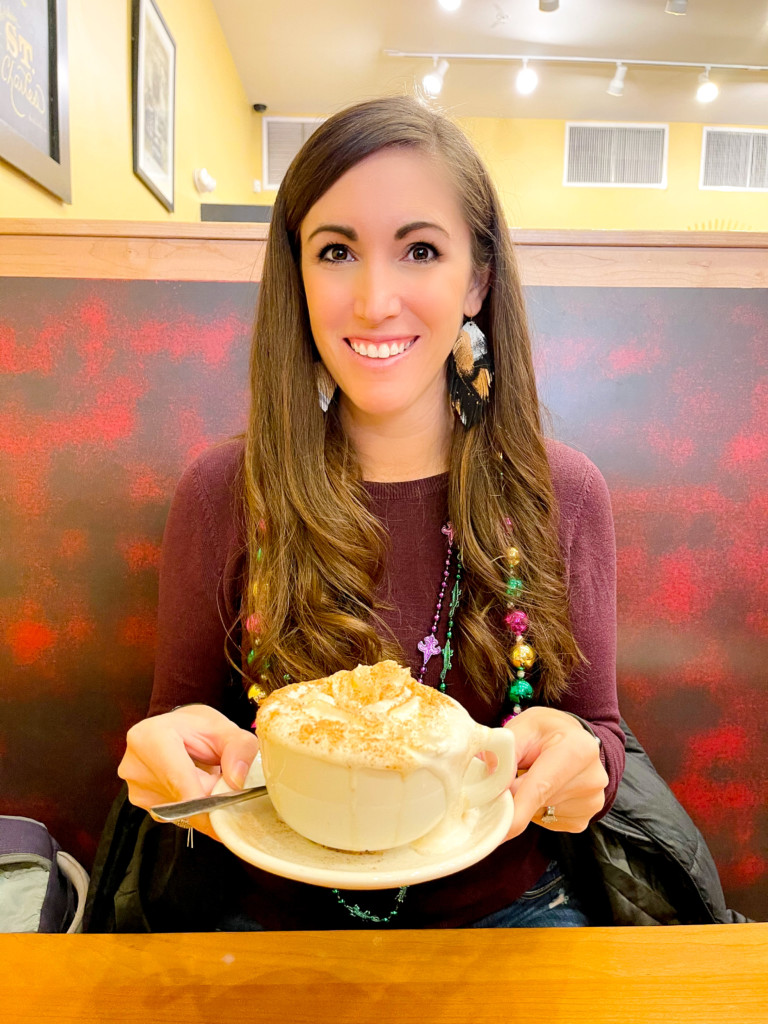 Bobby had eggs benedict and I had an omelet.
Another highlight were the king cake beignets, available seasonally. They were AMAZING and I could have eaten the whole bowl myself. They change out the seasonal offering, so be sure to ask!
They are only open until about 2:00, so make sure to go for breakfast or brunch. They also have a virtual waitlist on Yelp that you can join! I will be coming back here was well! It was so good and not overly priced.
Jazz Brunch on the Steamboat: I went on one of the steamboats in high school, but let's face it, it's been a minute! I have also never eaten a meal on one. We boarded the boat on a freezing and blustery day and were thankful to be sent downstairs in the warmth to eat.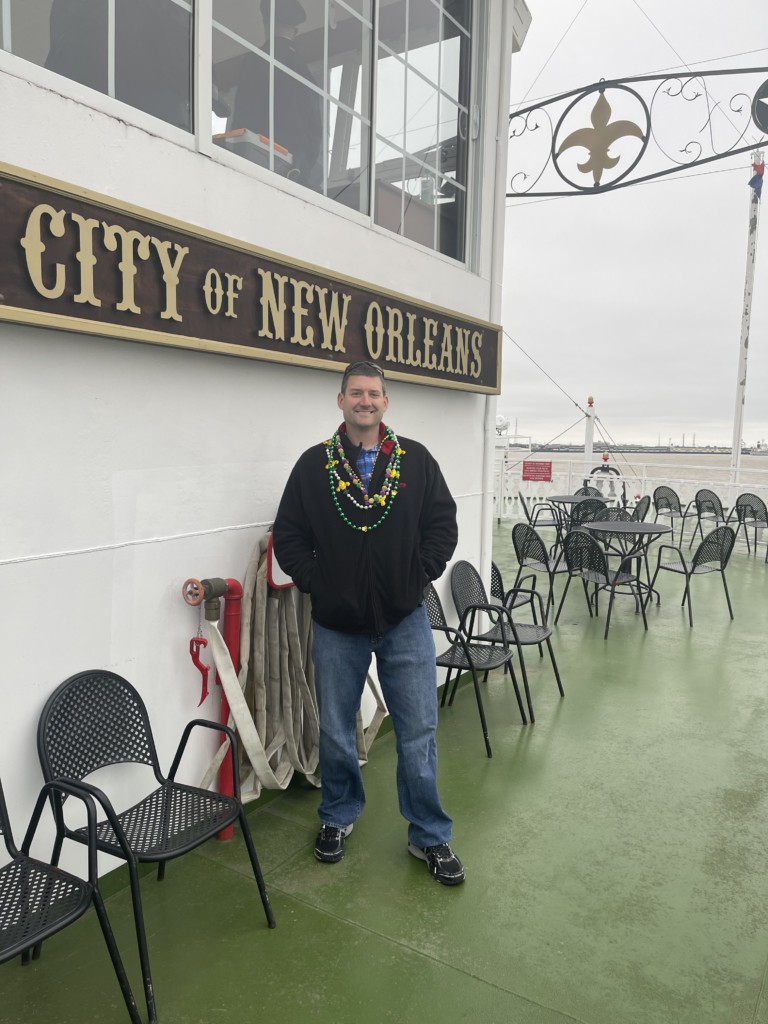 The meal came with iced tea, salad, gumbo appetizer, a plate of eggs, French toast, etc. and then a dessert. We got one of each type of dessert, bananas foster and a bread pudding.
As you sail down the Mississippi for two hours, there is narration going on telling you all about landmarks you pass along the way. If you are a history buff, you won't want to miss this. Please keep in mind you do NOT have to eat the meal to sail on the boat, that is an additional charge. You are more than welcome to just pay for the scenic outdoor ride and enjoy the history! There are bars and snacks with food and drink available for purchase even if you don't opt for the meal.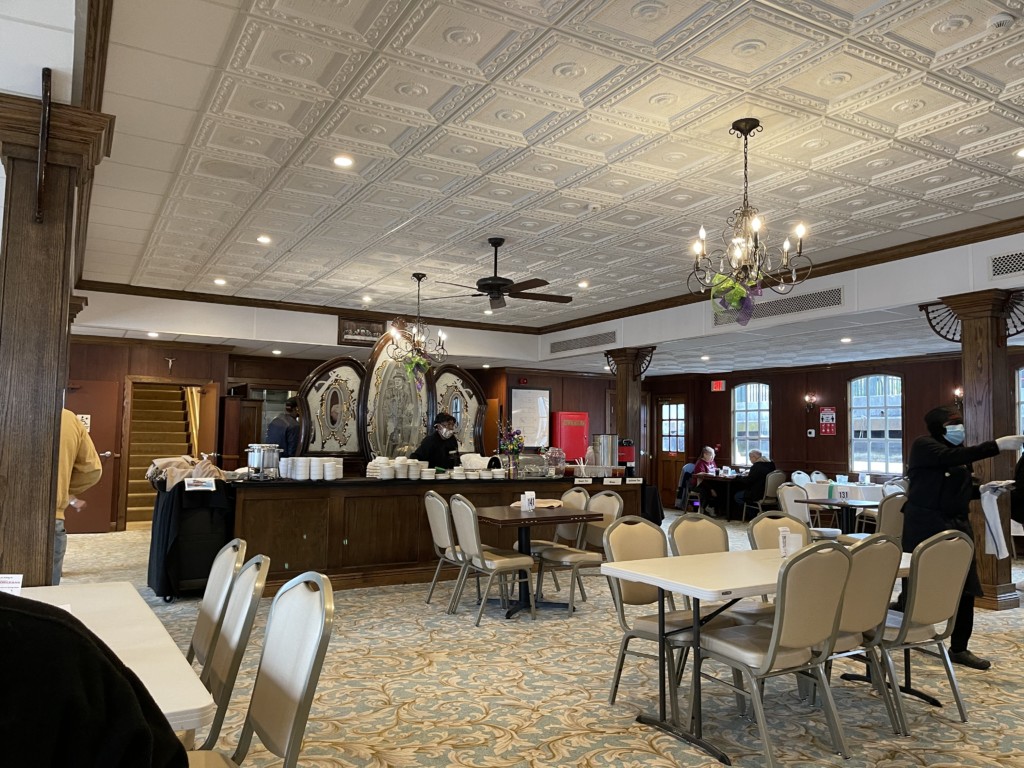 This is just a small sampling of places to eat in New Orleans, you really can't go wrong! There are so many amazing places to eat depending on the type of food you are wanting. I hope you will come visit the big easy soon. It is in desperate need of your tourism dollars!