Disclosure: This post is sponsored by Dollywood about Smoky Mountain Christmas, however all opinions are my own.
1.) Visit with Santa: This was such an amazing experience, it's hard to describe without you seeing for yourself! You are first taken inside where you are given paper, a pen, and an envelope to write a wish list to Santa. Them you put your letter in a mailbox and are taken into another room. When it's your family's turn, you go peek in a window to watch Santa at work. You are told Santa can't see you, but your child gets to sit on a bench and watch him as he opens his mail (your wish list letter!) and then checks the naughty nice list for your child's name which they get to see. It's SO cool! Then at the end as Santa "looks out his window" your child turns around to smile for the camera. It's SO amazing and such a clever way to have a contactless Santa visit. Do not miss this! (You can also purchase your Santa photos after!)
2.) Light Show and "Snow": We happened to be walking by the giant tree at the back of the park during a light show and at the end, it "snowed!" Emma Kate had a blast playing in the foam/snow and I'm so glad we caught the light show on the huge Christmas tree! Make sure you head back there for this fun event. (You can see video of it by going to my IG profile and clicking the story highlight titled "East TN2")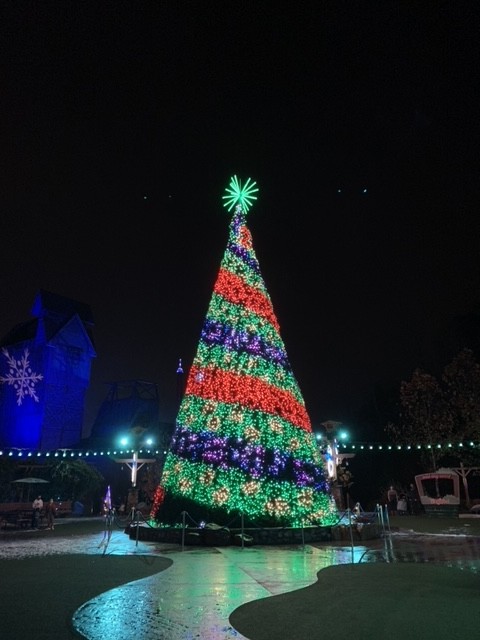 3.) Decorations: More than 5 million lights adorn the buildings, trees, and more at Dollywood. Make sure you stay past dark so you can see how beautiful everything looks all lit up. It's totally worth it!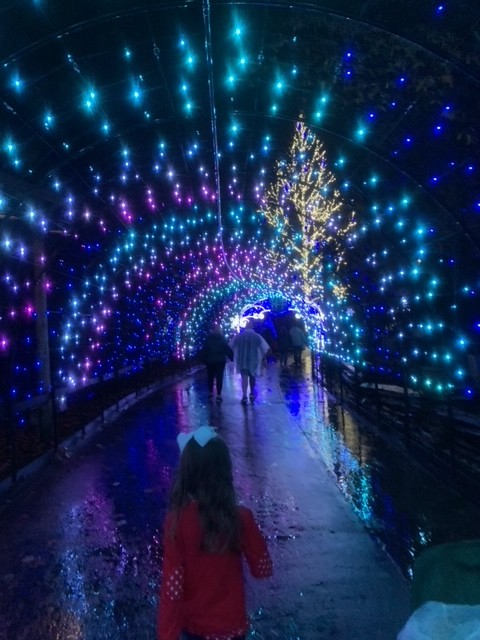 4.) Fireworks: Fridays and Saturdays, "Merry and Bright" fireworks show lights up the night sky. We were there on a weekday so missed this part, but it sounds amazing for a perfect Smoky Mountain Christmas!
5.) Christmas Shows: There are several Christmas stage shows happening all through the park. be sure to check a guide map for times and locations. We only had time for one, and I had heard so many amazing things about Christmas in the Smokies so we had to check it out. I cried several times during the show, it was just so wonderful and the perfect way to get into the Christmas spirit!
There are a ton of reasons to visit Dollywood, but at the holidays but Smoky Mountain Christmas is just extra magical and I highly recommend a visit if you can swing it! Let me know if you have any questions I would be happy to answer!
Related: Dollywood's Harvest Festival and Great Pumpkin Luminights