Even though some gyms are opening back up again, some may not have the hours they used to, some may not reopen at all and some people may prefer to keep up a routine at home. If you haven't begun working out at all then maybe now is the time to start a routine. Your body will thank you!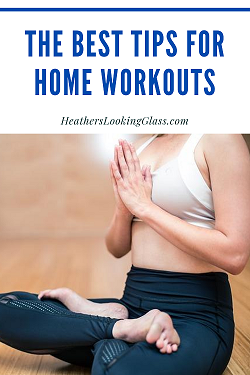 Following a consistent exercise routine is especially difficult, especially if you have never exercised regularly or are easily bored with anything that includes the word "exercise." But if you get to the point of saying "here" and take it easy, then here are some good tactics that will help you stay true to the bet you made with yourself for a better body and overall health. 
Photo: Unsplash
The Benefits of Home Exercise?
Just a few minutes of training a day will have beneficial physical and psychological results. Specifically different forms of exercise at home can contribute to:
In the maintenance or activation of metabolism
In better sleep
In enhancing brain health
In better posture
To increase energy in the body
Improving psychology and mood
Choose the right equipment
Once you find the place where you will work out, it is important to set it up properly so that you can enjoy your training. Based on the fitness program you follow, gather the right equipment. Although the equipment is not always necessary, here are some sports accessories that will make exercising at home more enjoyable:
Yoga mat
Weights
Tires
TRX straps
Balance and fitness ball
Jump rope
Photo: Unsplash
Find an hour to begin
Decide if it is convenient for you to exercise in the morning or in the afternoon or in the evening and go to the gym at a specific time. If you do not, then it is very likely that you will postpone the visit because you are tired or put it on the next day or the next day and in the end, you may decide to not go at all.
Put an alert on your phone
Add a notification to your diary on your mobile to remind you when you need to work out so you don't forget. If you go in the morning put the night of the previous day, if you go in the afternoon or evening out the morning of the same day.
Start slowly
If you start with the logic of "let's go all out" it is almost certain that you will be exhausted, you will "burn out", you will be injured and you will give up. Start with 3-4 days a week with 20 minutes (aerobic) or 2-3 days for 30-50 minutes (strengthening), without straining too much. Your goal is to get your body used to the exercise gradually. 
Slowly but steadily increase the volume
When your body gets used to it, then you can gradually increase the intensity and frequency of exercise. On average, wait 2-3 weeks until you get used to it and as you do, you can increase the duration of your workouts and/or their frequency. When you do this too, then you can also gradually increase the volume- e.g. to run faster or to increase the load on the exercises and to reduce your breaks, etc. 
Photo: Unsplash
Do something you enjoy
If you associate something with pain you will probably give up. But if it entertains you, then you may look forward to the next workout. Find exercises or activities that you enjoy in places that do not cause you negative emotions. Now an example, as the weather is better, you can try running or cycling in a park instead of the treadmill. In terms of strengthening, you can work out with rubber bands and a strap. There are solutions. 
Get your clothes ready
The fewer obstacles you have, the easier it is to keep a habit. If waking up in the morning is combined with looking for exercise clothes is something that will make you grumpy, then things will not go well. But if you have your clothes and shoes ready in advance, along with the music you listen to or whatever else you need, then everything will be ready to go. As well as having the clothes ready, be sure to make sure they are the right clothes! You're going to need some reliable sports pants. 
Have variety
In your training, vary the equipment you use, in the ways you do exercise (elliptical, treadmill, bike, swimming, etc.) so that you do not get bored doing the same things over and over again. Anything that is repetitive feels hard to continue with which is why it's important to shake things up. Try and work out with friends sometimes too and motivate them. Variety is the spice of life and so this should be adopted even with your exercise routine! 
Get some rest
Recovery is extremely important and your body needs it. It is good to have a "break" day between workouts or a day where you will do some relaxing activity, like yoga, walking, or dancing. The key here is to do something every day, which will force you to move and at the same time will strengthen your motivation for exercise. Rest helps the body heal, so it's time to start honoring that. We know it's tricky to get a good night's sleep every night. Sleeping problems affect millions of us, but aiming for at least 6 to 7 hours minimum will help you get through the working day much easier. 
Do not waste days
It is easy to say "I'll take a day off exercising today". If you continue this theme over and over again and miss a training day you will soon get back into that habit and slump. Don't miss a day (unless health or circumstances say otherwise). Mark it in your calendar!
Finish with stretching
Every small or large workout wherever it takes place should be accompanied by a series of stretches. Especially on days when your body is inactive and looks stiff, stretching will stimulate it, give it elasticity while reducing the symptoms of stress and pressure.
I hope these tips help you on you journey to fitness at home!