Disclosure: This post is sponsored by Visit Hattiesburg, however, all opinions are my own.
We live two hours north of Hattiesburg Mississippi, and we drive through it all. the. time. It's necessary as we travel to Florida which we do quite frequently, and if I'm being honest, was always a good "bathroom break" stop for us. However, we had never stopped to explore, eat, or do any activities there. Quite frankly, I didn't know there was so much to do and so many great places to eat! I wanted to share a few things with you that we did on our trip a couple of weeks ago, so you can plan your next adventure there, instead of just passing through!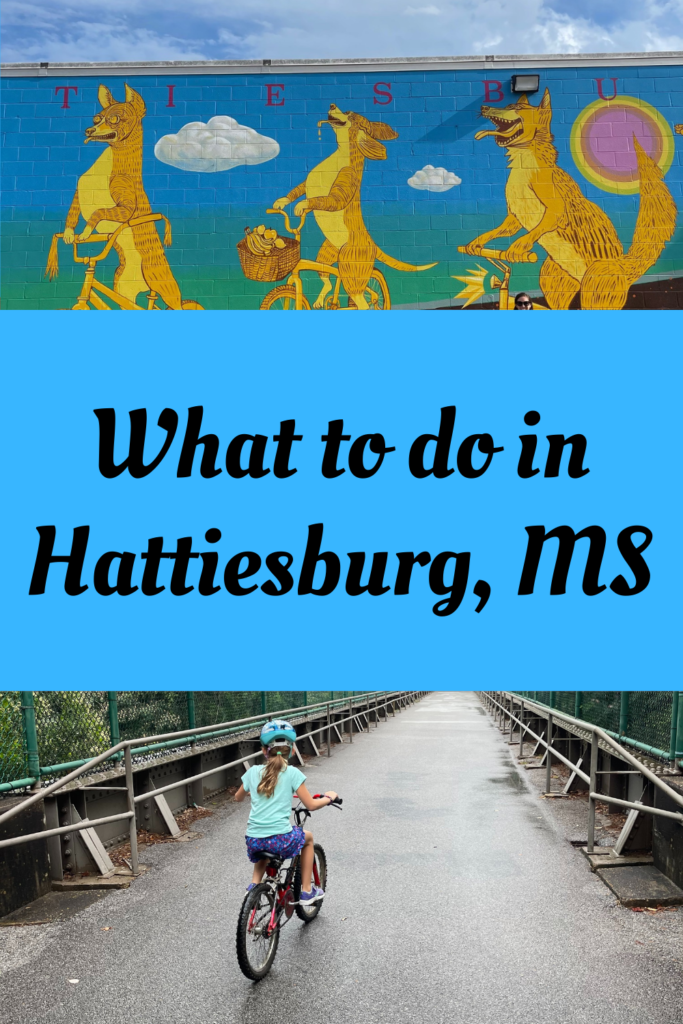 First let's talk about where we stayed. We were in a huge room at Holiday Inn, super close to the interstate. There is even a restaurant off the lobby, and a pool!
We immediately headed downtown to check out the art trail that goes all around the town. There are dozens and dozens of murals and sculptures to check out! We found a few but there are so many more! It was cool to find art as we were driving around.
After checking out the art, we headed to dinner at The Porter! It has a cool pub like atmosphere, and they often have live music. They had AMAZING food, we left very full and happy! We started with amazing fries and mozzarella sticks and then I had a burger. All get two thumbs up!
The next day, we had breakfast at The Midtowner, which is right across the street from the USM college campus. It had a retro diner like vibe, and delicious food! I had an acai bowl and Bobby had avocado toast.
We needed full bellies for all the walking around we would do at the Hattiesburg Zoo! They have just recently added on a whole new section, and we couldn't wait to see it, especially the giraffes! The new expansion cost $4 million, and not only includes the giraffes, but also a hyena, and 2 colobus monkeys.
The new section is beautiful and even has a new dining location and covered pavilion.
We cooled off with some popsicles and watched kids play in the splash pad. They have also added in new attractions such as a high adventure ropes course, a mining exhibit, the bug hub, overnight camps, summer cams, and weddings and special events!
It was a great visit, we love animals and if I was local we would be here all the time! Next we had lunch at Ed's Burger Joint.
It's a really cool spot with indoor and outdoor seating, games outside (like ping pong) and really fun decor. The loaded tater tots were AMAZING! If you go there, definitely order them! Next we headed to Camp Shelby and the Armed Forces Museum. Trying to explain everything to a 6 year old took some patience, but I love history so didn't mind. It's a great museum with a lot of information and exhibits!
We were pretty tired, but still had one thing left to do, dinner! We ate at Mario's, which is a family owned Italian restaurant. The food was SO GOOD and everyone was super friendly and took really good care of us. We split a salad and then i had lasagna which was 10/10 cheesy and delicious! Emma Kate had the kids meatballs. It was great to see something on a kids menu other than a hamburger or chicken tenders.
We went to bed full and tired in a good way, but with more fun to be had the next day! We packed up and loaded the car that morning before heading to Longleaf Trace. We had to dodge some rain, but were able to rent bicycles and go for a ride! The prices are very reasonable and the trace is over 40 miles long, so you can bike for a long time!
They even have specialty bikes and helmets for rent (think child seats, etc.) Emma Kate loved it and wanted to keep going!
But we had to get to lunch and on to our next destination, so I told her we would have to come back on a pretty day. It was time for lunch at Strick's, and boy was it delicious! BBQ and more, Bobby got catfish and raved about it so much! I had pulled pork nachos, which was one of their specials! We loved the homey atmosphere and great staff. We even tried to go back there as we headed home a couple weeks later, but they are closed on Sundays.
We had one last stop to make, and I think it's the one Emma Kate was the most excited about…milkshakes at The Yard! They were all delicious, but the unicorn one was a little too sweet for us. I had dirt and worms which was like cookies n cream, and Bobby had Smores, they were both excellent.
I love that you get to bring your glass home!
I am tired just typing all of that out! It was a jam packed couple of days but we very much enjoyed learning about the area and now I feel comfortable stopping there for more than just a bathroom break! A huge thanks to all the sponsors as well as Visit Hattiesburg for setting this all up! I hope you will choose to stop in the next time you are traveling and see what Hattiesburg has to offer!