Disclosure: This post is sponsored by Visit Jackson, for the Discover Our Soul campaign, however, all opinions are my own.
I have lived in the Jackson, Mississippi area for many years now, and it's amazing that there are still so many things I have yet to see and do, and so many restaurants I have yet to eat at! As people slowly and cautiously come out of an odd time of staying home and are itching to travel, I wanted to share some thoughts on visiting Jackson, the City With Soul. Jackson is SO much more than just a stop along the way or pass through, it is a destination in and of itself with lots of charm, rich history, and amazing food! So follow along as I show you some super fun family spots (thanks to Visit Jackson) you should hit up on a weekend trip, as I aim to help you to "Discover Our Soul", the soul of Jackson! (Be sure to watch our video at the bottom of the post!)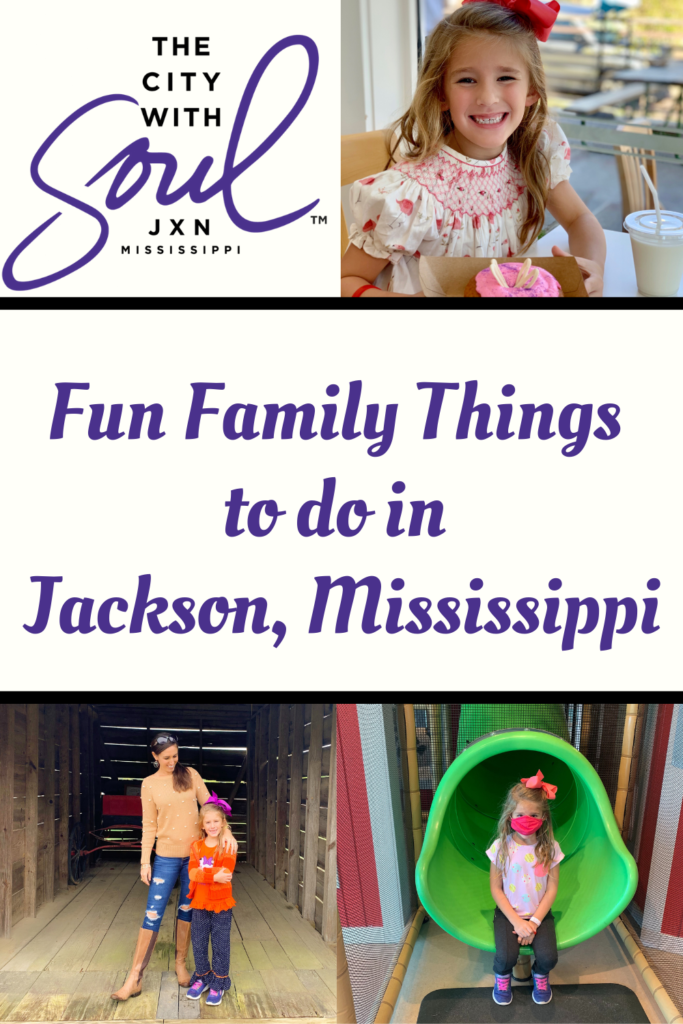 The Mississippi Agricultural and Forestry Museum is a must-do if you have never been for next time you visit Jackson. It had been a REALLY long time for me, and I kept telling Bobby "there is so much here, I don't remember all of this!" We attended the Pumpkin Adventure, which is a special holiday opportunity full of family fun. Not only do you get to explore the grounds like you would on a normal day, but you also get to go on a hayride, eat milk and cookies, go through a hay maze, and pick your own pumpkin from the patch! There are also fun photo ops and educational experiences to boot. Emma Kate could not believe it when we showed her the inside of the historical schoolhouse!
Looking for a family photo op? There were a couple of different ones here, and of course we had to check them out!
Hayride to milk and cookies? Yes please! It was a great way to get an overview of the adorable historical town as we rode though.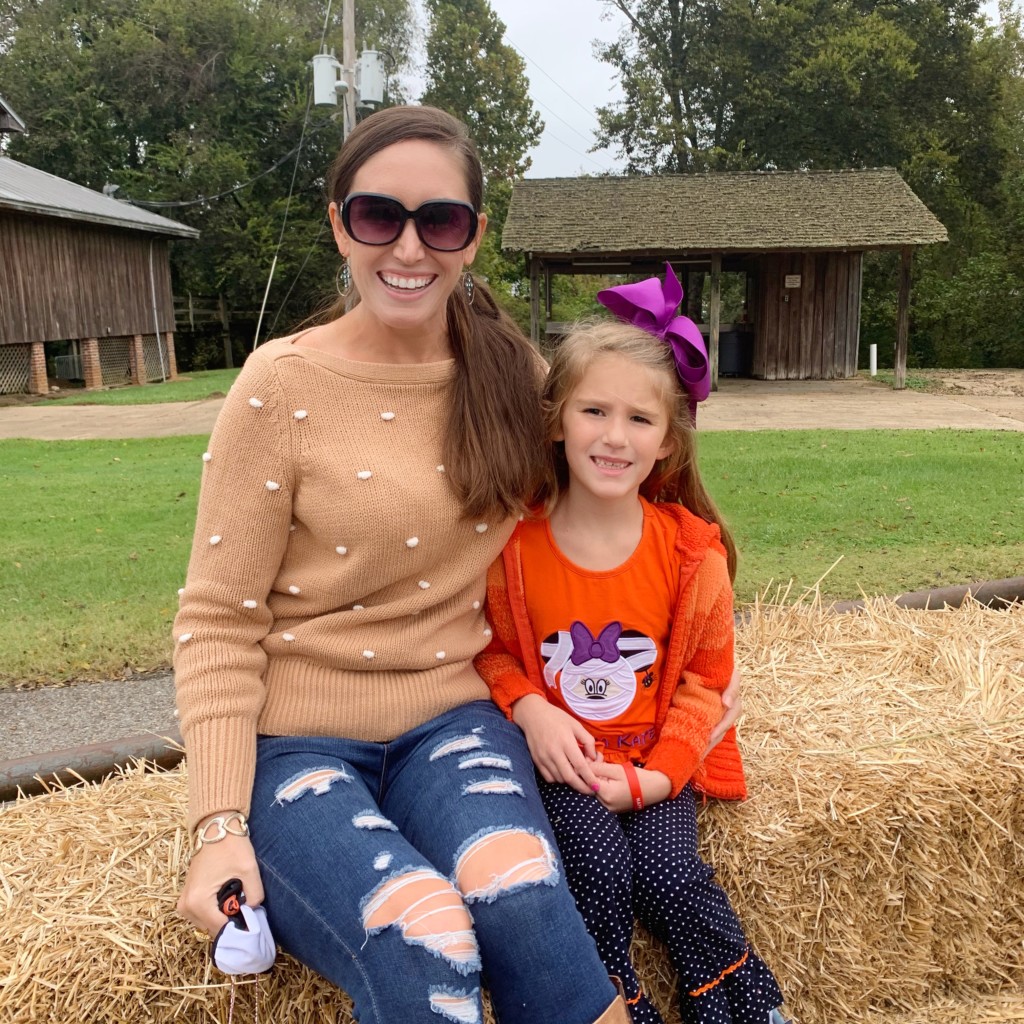 I am a big history nerd, so I loved reading and learning and explaining things to Emma Kate. Things of note that shocked her were when I explained getting water from a well, and using an outhouse!
It was also great to just let her run around and be a kid. It wasn't crowded, so we were easily able to maintain social distancing as we went around the grounds. Her favorite part was picking out her own pumpkin to bring home and paint later. She had such a hard time choosing!
Was thankful for the sweet mom who offered to take a family photo for us. Another great photo op!
Overall we had a blast and I am so glad we went. Unfortunately, it's too late for you to check out this event this year, however, the Agricultural Museum has great events all through the year! Be sure to catch their Harvest Fest in November, and the Homestead for the Holidays event in December!
Hungry after all the pumpkin and museum fun, another great and new to me spot in Jackson that was nearby the Ag museum is Sal and Mookie's. Their claim to fame is their pizza and ice cream, but their menu is quite large and there were tons of other options as well, which I was unaware of!
They have a pretty big drink menu, so of course I had to try out a couple of things. They also offer seasonal drinks and even have boozy milkshakes!
We started by splitting a yummy salad and some spinach and artichoke dip (delish!)
I opted to go with some alfredo pasta with chicken, and it hit the spot. Portions are generous, and I had some leftover to take home with me.
Another reason I had leftovers….Bobby ordered a whole pizza, half and half so we could try different toppings. So many options! You can even create your own.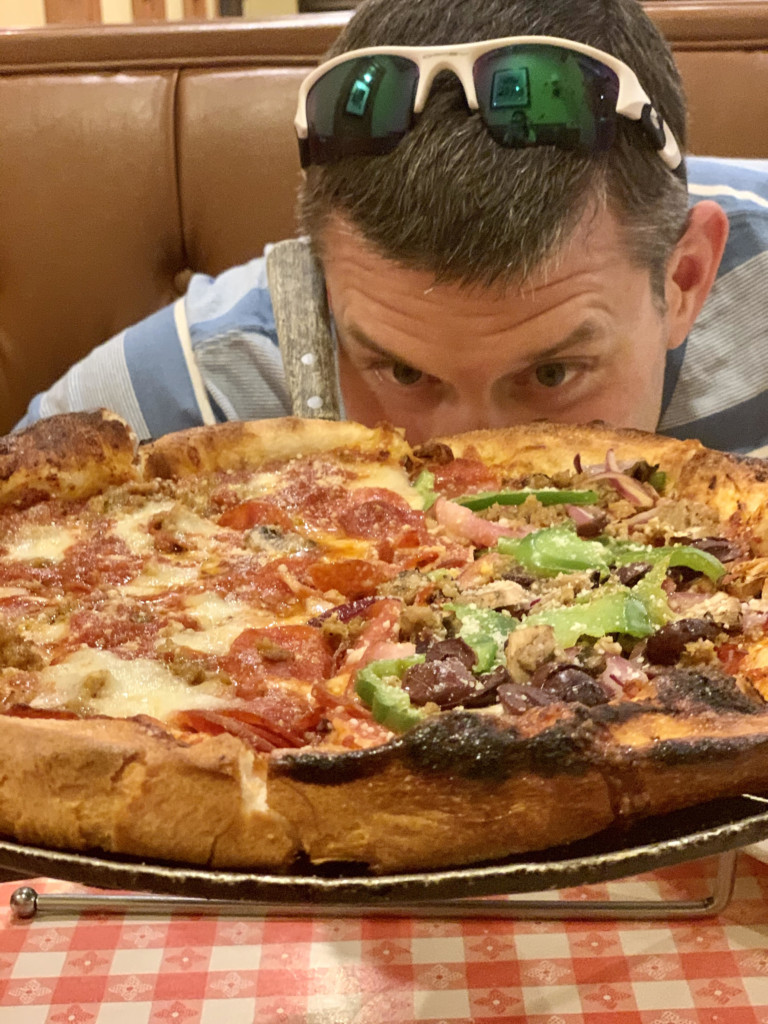 The atmosphere was very relaxed, and we enjoyed our meal. The service was great as well, and we felt super safe. They are only using some of the tables, and there is also an option to dine outside on their deck. We will definitely be back!
Sunday after church we headed to the Belhaven area of Jackson. It was a gorgeous day and I knew Emma Kate would be thrilled with this next choice, Campbells Craft Donuts. But oh my friends, it's so much more than donuts!
(Even though the donuts were DELICIOUS! Mine has Oreos on it!)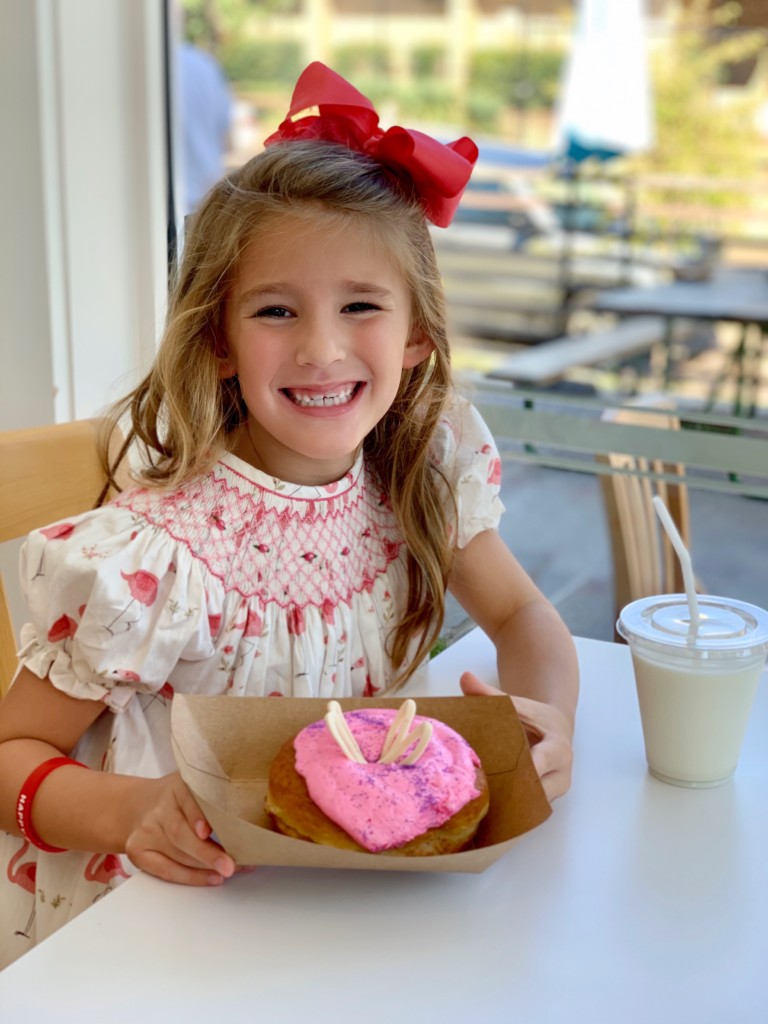 They have delicious tacos, tots with queso and bacon, chicken tenders, cheese grits, and a breakfast menu and coffee. We tried a few of the tacos, Bobby liked the fish one the best while I enjoyed the beef (and of course the tots!)
The restaurant itself is adorable. Donut wallpaper in the bathroom, and huge windows for a sunny, bright meal. They also have a patio for outdoor dining. Come in early for a breakfast taco, donut, and coffee, or grab lunch on your work break or on the weekend with your family. Such a fun special treat for Emma Kate to get her own huge donut!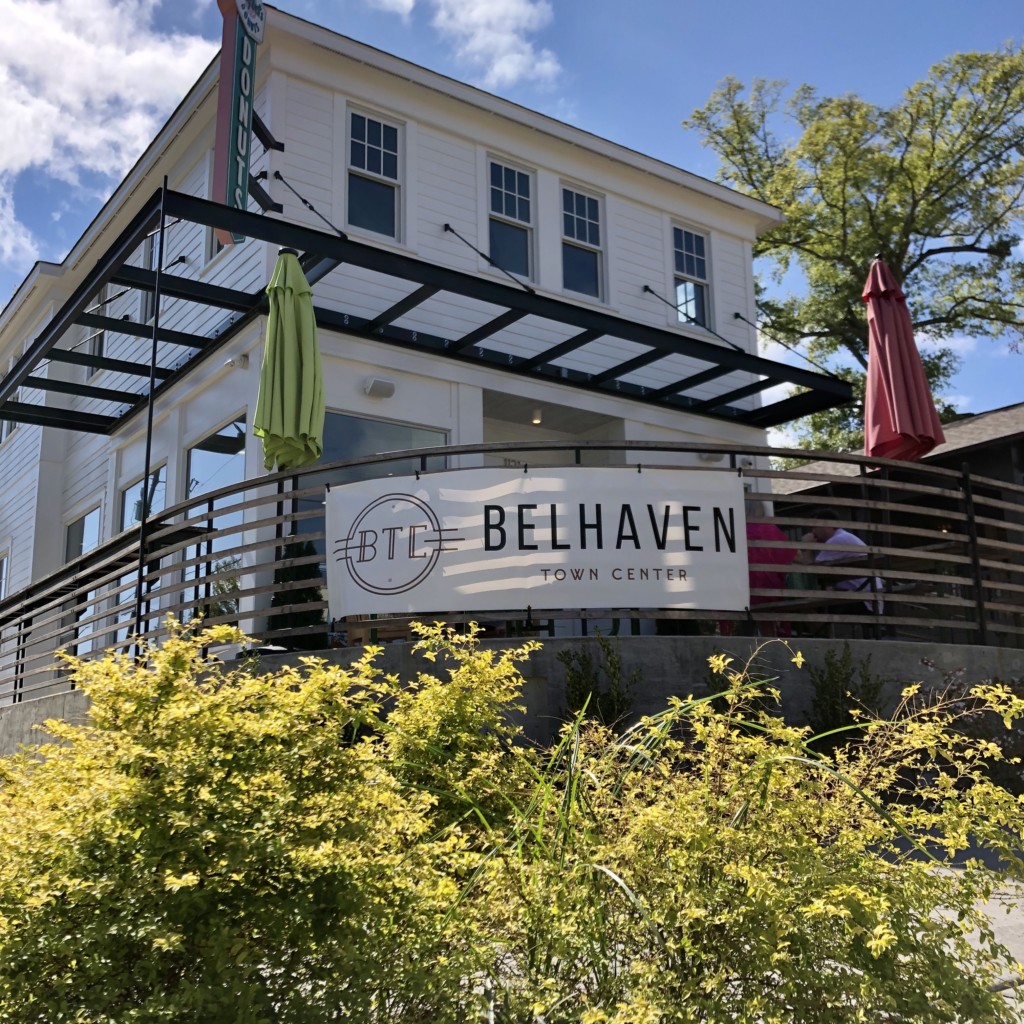 Our last stop on our "Discover Our Soul" tour was the Mississippi Children's Museum. Again, I hang my head in shame and tell you that we had not been here before, and I am kicking myself because it's SO COOL. We basically had to drag Emma Kate out, she wanted to stay all afternoon!
We were on the first level for 45 minutes before she even realized there was so much more to the museum! It's very hands on, but don't worry, everyone wore masks, and there was plenty of hand sanitizer all over the museum.
Sunday afternoon is definitely the way to go. It was not very crowded and we basically just followed Emma Kate around.
I love places like this where a kid can just be a kid and they ARE allowed to touch and laugh and explore. It was just what we needed! There is even an outside area that was fun to walk through!
There are also books and plenty of learning and educational opportunities. We easily could have stayed all day!
They even had high school kids there volunteering to earn credit hours. They did arts and crafts and played games with the kids and Emma Kate loved that!
We will definitely be back, it's perfect for a cold or rainy day, and they also host birthday parties and have seasonal events and exhibits as well!
I hope you enjoyed following along on our weekend adventures as we did a "Visit Jackson". Whether you are looking for a quick getaway or a longer trip, there is so much to see and discover here. Stay tuned for some ideas for a couples only weekend in the City With Soul, coming up in November! #SafelyExploreJXN #VisitMSResponsibly
Related: Playgrounds of Central Mississippi