Disclosure: I was offered a free weekend stay at this property for a review. However, all opinions are my own.
Fall is one of my favorite times of year to visit Walt Disney World, and my husband and I were in need of a quick weekend getaway. So, when the opportunity came up to stay at the Wyndham Garden Lake Buena Vista Disney Springs, which is an official hotel of Walt Disney World® on Walt Disney World Resort® property, I jumped at the chance!
I had read that this resort was very close to Disney Springs, and I LOVE Disney Springs so I was really excited about that…however what I was NOT expecting was for it to be literally across the street. I could see it from the parking lot of the hotel, it was that close. Now that Disney Springs has added on so many new shops and restaurants (more than 150 total!), it makes this hotel a prime location for people who love visiting there.
Before arrival, we had requested a king room, and our request was granted. We were on the third floor with a lovely view of the gardens/courtyard with the pool int he distance. The third floor was also the floor the lobby was on, so it was super convenient to go to the gym, grab a cup of coffee, or walk over to guest services with questions. Our room was spacious and I loved how homey it felt with the coffee table and sofa.
We had a flat screen television, and there was plenty of lighting but natural and with lamps.
There was a door you could slide shut to close off the sink area of the bathroom, and the the shower area had a door to close as well. This is great if you are an early riser and don't want to wake up the rest of the family while getting ready in the morning. Speaking of not waking anyone up, the bed and pillows were super comfortable. I'm not sure if it was the bed or the fact I wasn't listening for a baby monitor, but I slept SO WELL but nights we were there!
Our room was to the left of the below photo behind the tree, so we looked out over this beautiful garden, which had concrete flooring in the shape of a Mickey head!
After checking in we walked down to the huge pool area. They have a cute little restaurant called the Oasis Bar and Grill (left in the below photo) as well as a really cool looking kids play area, rock formation/waterfall and a hot tub. There was plenty of room for everyone and it looked so refreshing.
We then headed over to the lobby to check it out, and we found this little marketplace and coffee shop. They had a lot of food food offerings, and my only qualm was the price. They had one of those larger bottles of water for $5.50 which I thought was pretty steep, and the sandwiches were pricey as well, but in a pinch, you have to do what you have to do! The Joffrey's coffee did look delicious though.
The lobby was really big and welcoming, with tons of seating, and hallways leading to different meetings and conference rooms.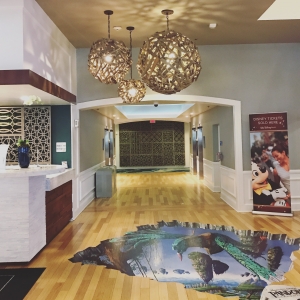 Of course, there was a Disney gift store to pick up those last minute gifts to bring back home.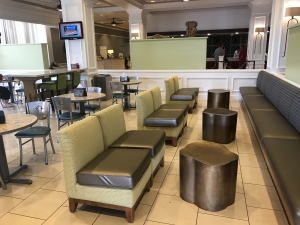 One of my favorite features was this kids play area near guest check in. It had a TV as well as lots of books and pint-sized furniture to entertain the little ones while you check in or grab some coffee.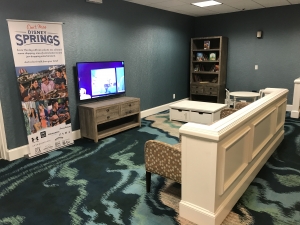 Bobby spotted the fitness center first, and we used our key card to get in. They had towels and water, as well as some machines, free weights, and cardio equipment.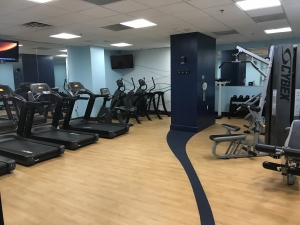 I was very surprised to see that on certain days you can even attend a character breakfast at the hotel. Good to know in case you can't get into any character meals in the Disney parks. Be sure to call for availability and pricing.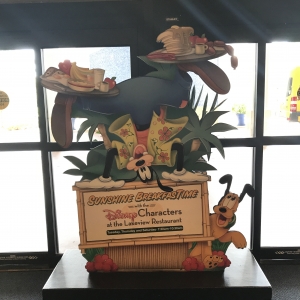 Want more fun details about this property? They offer shuttle service to all four Walt Disney World theme parks. YES! Huge plus! They also have lighted tennis courts, a sand volleyball court, and a basketball court. They have self and valet parking, as well as a car rental desk on site, bellman services, and guest services.
They also over over 25,00 square feet of meeting spaces accommodating groups from 12 to 1,200. They do everything from weddings to family reunions to corporate conferences. How convenient to stay and play right in the middle of the action, so that you have easy access to the fun as soon as the conference is over. I would definitely attend a conference there.
My overall experience was very positive and I would stay at the Wyndham Garden Lake Buena Vista Disney Springs again. The prices are great to be so close to Walt Disney World, and the amenities are worthwhile for you next family vacation.