Happy Friday my friends! It's going to be a hot and sunny weekend here in Mississippi. Big plans include staying indoors and avoiding the sun and humidity at all costs. For those that get a 3 day weekend (sadly not me) enjoy your day off! Here's five things for Friday.
1.) Running Skirts compression socks: Running Skirts sent me a pair of their adorable new compression socks (check out the tiaras in the hearts!) I have been a fan of their socks for many many moons, but these are just icing on the cake! My new favorite for sure. Easy to get on and off and give just the right amount of compression. They wash and hold up really well. They are not only great for running, but I wear them after long runs for faster recovery and happy legs!* Also, today is the LAST DAY of their epic moving sale. AMAZING prices on skirts (like $26.50!) click my link above or in my sidebar to shop!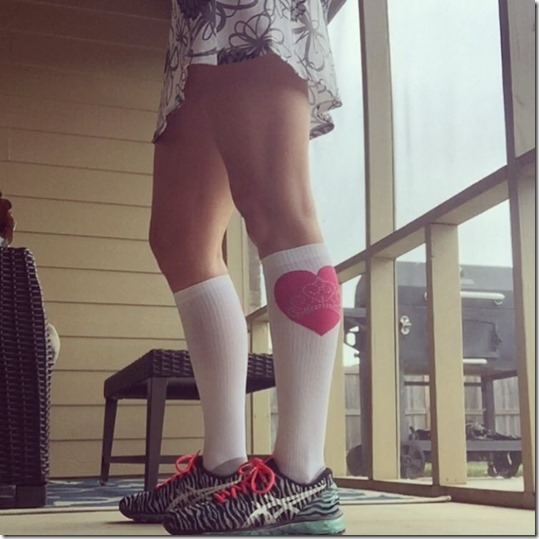 2.) Bella the old lady: On Monday night, Bella jumped on our (very tall) bed and hurt herself. She wouldn't eat or drink and didn't want to walk but we couldn't figure out what was wrong. We took her to the vet and found out she has a bulging disc/inflamed vertebrae/possible pinched nerve in her neck from the jump, and needed muscles relaxers and a bag of IV fluids because she was so dehydrated. She's a happy girl on her pain meds but I'm supposed to "keep her confined" which isn't going too well…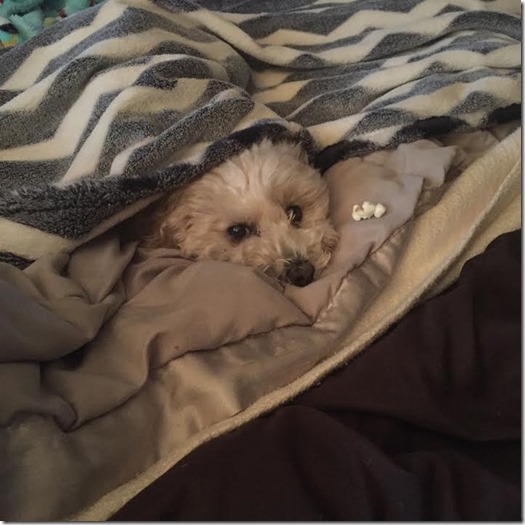 Poor baby. As you can see, she wouldn't even eat my popcorn, which is insanely odd for her!
3.) Boot Camp part 2: A new two month session of boot camp starts on Monday and runs through the end of July. if you are local, this is the perfect time to jump in and see what it's all about! I would love to chat with anyone that is interested. I did my body fat test this morning, and while I have lost a little weight and gained a little muscle, my body fat % is still not where I want it to be. Back to tweaking what I eat!
4.) Smells like Disney: I stumbled onto these candles in an Etsy shop (Etsy is ssooo dangerous!) and knew I had to try one out. All the scents are based off of Disney scents, either places, rides, or food! I got the Floridian scent, but there are many more I would love to try! I bet Main street bakery is amazing!
5.) Emma Kate does Disney: Speaking of Disney, guess who finally had dates to go see the mouse for the first time? Yes my friends, the long awaited day! Emma Kate will be going to Disney World with us (and my parents). We will be staying at Saratoga Springs at the end of October. My folks are new DVC members and have invited us along to stay in their villa. Let the planning commence!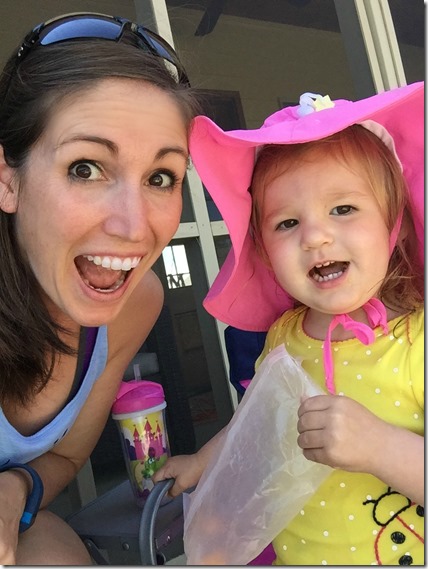 QOTD: What is your favorite WDW smell? Ever had a pet hurt their neck?
*Disclosure: As a Running Skirts ambassador, I received these socks for free, and I get a small commission if you order through my link above. However, I would never recommend something I wouldn't use myself and don't love! Thank you for supporting my blog!