Disclosure: Our trip was sponsored by Vacasa, However all opinions are my own, and booking with Vacasa is so easy!
We recently took a quick long weekend trip to Orange Beach, and it was a blast! We decided to take my parents, so I knew we needed a 3 bedroom condo. I also wanted to make sure we went somewhere that had an indoor pool in case of rain. I had a couple of other wish list items, and it was overwhelming thinking of our options and trying to find the perfect vacation rental, so I was really glad that Vacasa was there to help!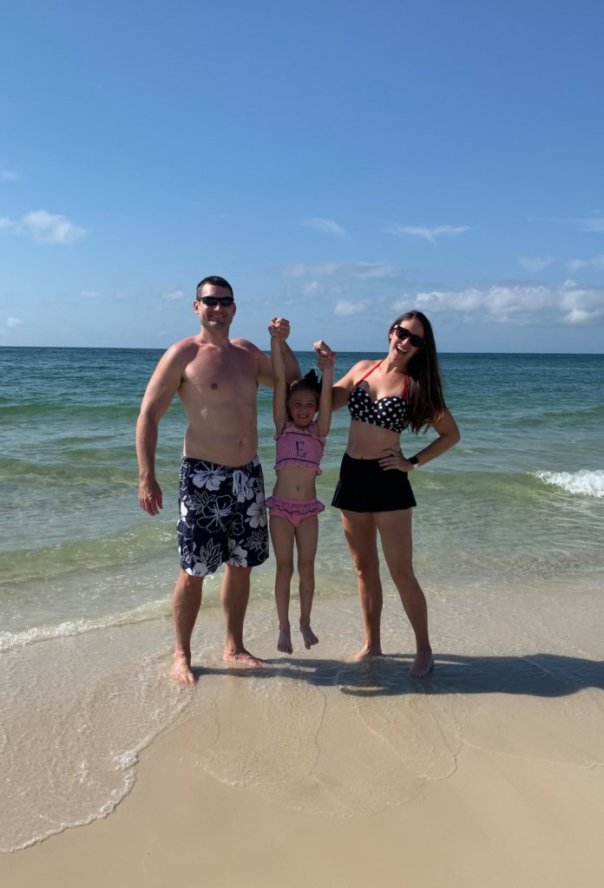 Their website was super easy to navigate, and they have over 25,000 vacation rentals! I was able to enter my dates, location, and rental size and so many options came up! I was also able to see a ton of photos and read reviews from past guests, which further helped us to make our decision.
We settled on a beautifully updated condo at a building called Shoalwater. #405 was beautiful, spacious, and looked right out onto the beach. We spent so much time on the balcony!
I don't think Emma Kate got out of the water the whole time we were there, and I would definitely stay in this beautiful condo again.
Vacasa also has a great app for your smartphone that allows you to see the details of your trip in advance plus any arrival and checkout details. The app had the unit WiFi password as well as the door code, so no need to go track down a key anywhere.
Another thing I loved is that Vacasa has taken extra measures to make sure each unit is properly cleaned in between guests. They are calling it "Vacasa Premium Clean" and it meets or exceeds CDC recommendations and aligns with guidance from hospitality industry experts, such as the Vacation Rental Management Association's SafeHome guidelines. We rested easy knowing that the condo was cleaned from top to bottom before we arrived.
This summer is so unique in that so many are working from home, and so many summer camps are closed. This is the perfect opportunity to take your family on a getaway, whether it be the beach, mountains, lake, or somewhere else. We may not ever have these quiet days again, so I am really glad we took advantage to have some family togetherness.
A huge thanks to Vacasa for making the process so easy for a hassle-free, worry-free vacation. Take a look for yourself on their website and see why booking with Vacasa is the way to go!
Related: 5 Tips for running on the beach