Disclosure: I attended the festival free of charge, however all opinions are my own.
The Clearwater Beach Uncorked festival takes place right on the beach next to Clearwater's famous Pier 60. It's a fabulous time to enjoy amazing food, drinks, and weather (December in central Florida is the best!) I had the opportunity to attend the festival for the first time, and it did not disappoint.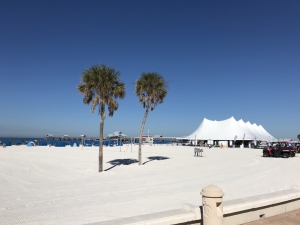 Bobby and I checked in and were given media passes as well as some goodies before meeting up for a special presentation. The weather was PERFECT and I couldn't wait to see all the fun things this day would bring.
The way the festival works is there are general admission passes and VIP passes for purchase. VIP's get access to the tasting village at noon, while everyone else waits until 1:00. VIP's also had access to an outdoor lounge by the pool at the Wyndham across the street. The lounge was open from 1:00-5:00, and the tasting village was open until 4:00. Media got to sneak in early before the madness and take some photos and here all about chocolates and desserts.
We toasted to the festival with the most adorable bottles of champagne.
And were treated to the most delicious chocolates I have ever tasted from Norman Love. (My favorite was the almond and chocolate one, I'm trying to figure out how to get my hands on more as we speak!)
We also heard from Norman himself.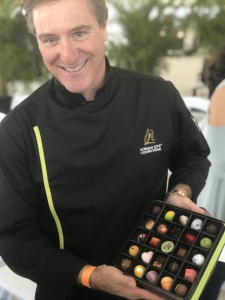 Cake pops were also had by all (red velvet was delicious!)
After the dessert indulgence, it was time for us to work backwards and start tasting all the food and beverages in the tent.
There were so many options we really didn't know where to start! Everyone was so friendly and answered all of our questions.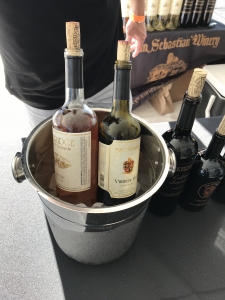 When I saw someone handing these bad boys out, I was so pumped. What a perfect invention! It was hard to eat and hold your drink at the same time, so, problem solved!
After awhile we decided to head over to the outdoor VIP lounge at the Wyndham across the street.
Patron popsicles? Yes please! I may have had more than one…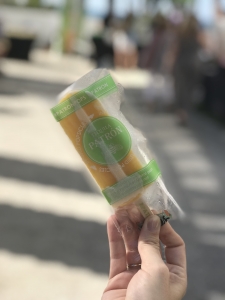 Again, so many options, and generous portions and as many seconds (or thirds) as you wanted!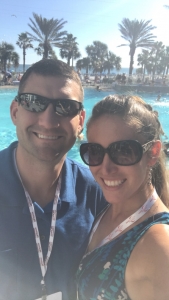 Again, the weather was so perfect and the location was on point, and we couldn't have asked for a better day with great food and great (and some new!) friends.
My only wish would be that it was open longer! I didn't get a chance to visit all the booths because there were just too many and we only had four hours. I vote for opening an hour early next year. That would be my only criticism. 🙂
If you have the chance to go to Clearwater Uncorked next year, I would highly recommend it, totally worth the money. I have gone to a lot of events in the short year I have been in Tampa, but this one is near, if not at the top of the list!
To see more photos from the event search hashtags #UncorkedWeekend and #CLBU17. Fair warning, it will make you hungry!