Disclosure: I sailed on this cruise as a guest of Carnival, however all opinions are my own.
Recently my husband and I had the opportunity to sail on the beautiful Carnival Vista for six nights as we visited Jamaica, Grand Cayman, and Cozumel. Our trip was amazing and exciting, and we were even more pumped to find out we were staying in a Cloud 9 Spa stateroom. Immediately I did some research to see what this would entail.
First of all, the overall color scheme of the room is different than the other staterooms. It may be cliche, but it was very "spa like" with calming greens and blues. The room was so bright but also cozy, it was hard to leave some days!
Another perk of these rooms are some upgraded amenities such as spa toiletries, and the use of bathrobes and slippers in our room. The toiletries were replenished as much as we needed during the cruise which was a nice touch.
The proximity too the spa itself was definitely a bonus, as we were literally just steps away from the relaxing hallway leading to the treatment rooms, thermal suite, fitness room, and more. We were also very close to the adults only Serenity deck which is where we hung out often. It was nice not having to go far!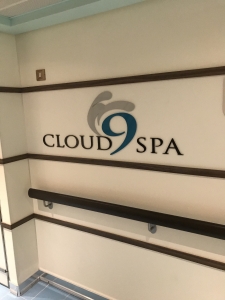 Guests staying in these staterooms are also given a special spa discount. When you purchase three treatments, you will get a discount on each, 20%, 30%, and 40% respectively. Not to mention, we had access to the thermal suite which included the amazing heated tile lounger, whirlpool, saunas, and more. We also got our own body scrub and sponge to use there!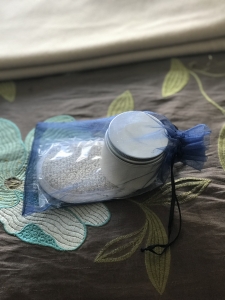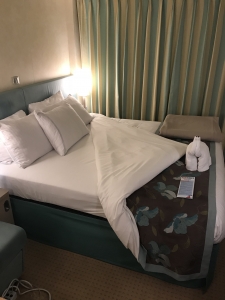 We wouldn't hesitate to book one of these special Carnival Cloud 9 spa rooms again, we were definitely spoiled! Be sure to check out my video tour of our stateroom below. (Room 14217).