This post is sponsored by Coastal MS, however all opinions are my own.
One of the many things the Mississippi gulf coast is known for is it's delicious food. From seafood to king cakes, you can find seasonings and flavors you would be hard pressed to find elsewhere. We had the opportunity to sample some new to us restaurants on our visit, and I wanted to highlight them here for you to try out on your next trip.
200 North Beach: This restaurant has indoor and outdoor seating and is located right across the street from the gulf in Bay St. Louis.
It was a chilly evening so we sat inside, but we were very pleased when we discovered it was literally right next door to the Inn we were staying at. I just love how walkable this little corner of Bay St. Louis is!
Bobby started with charbroiled oysters, because he said we had to since we were on the coast. He said they were very good.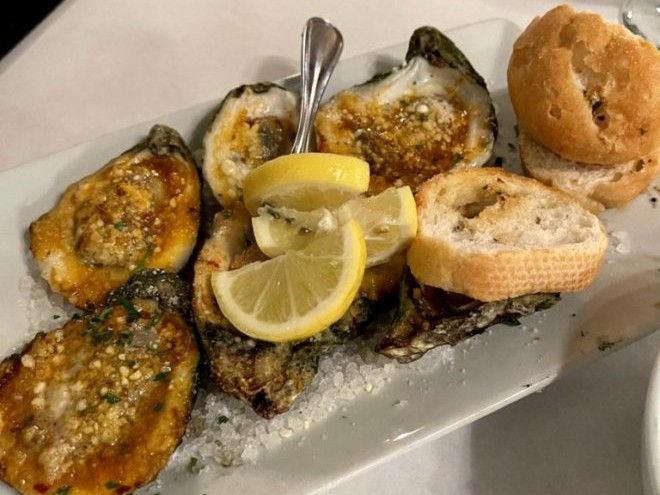 Bobby had fish for his meal to go along with his seafood theme dinner, and enjoyed it.
I had heard their filet was very good, and it truly was! I paired it with a sharable side of mac and cheese that was amazing.
For dessert we had banana's foster bread pudding which was rich and delicious! We were so stuffed we could barely finish it.
Mockingbird Cafe: This adorable little café was also walking distance from the Bay Town Inn in Bay St. Louis, and it had indoor and outdoor seating. It was a gorgeous morning so after we ordered we opted to sit outside. Bobby ordered a breakfast burrito which he said was yummy and "Bobby sized" and I had the chicken and waffles which were AMAZING and also a large portion!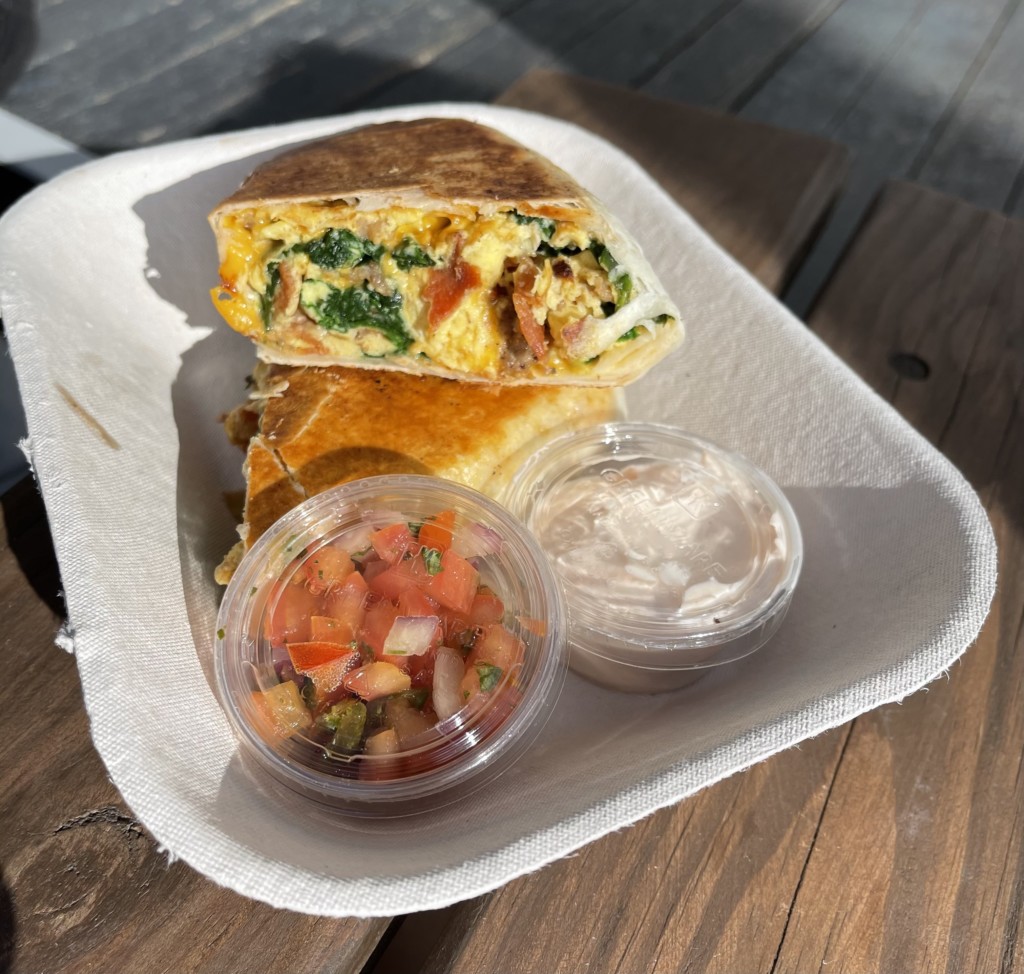 I also had an iced latte that hit the spot.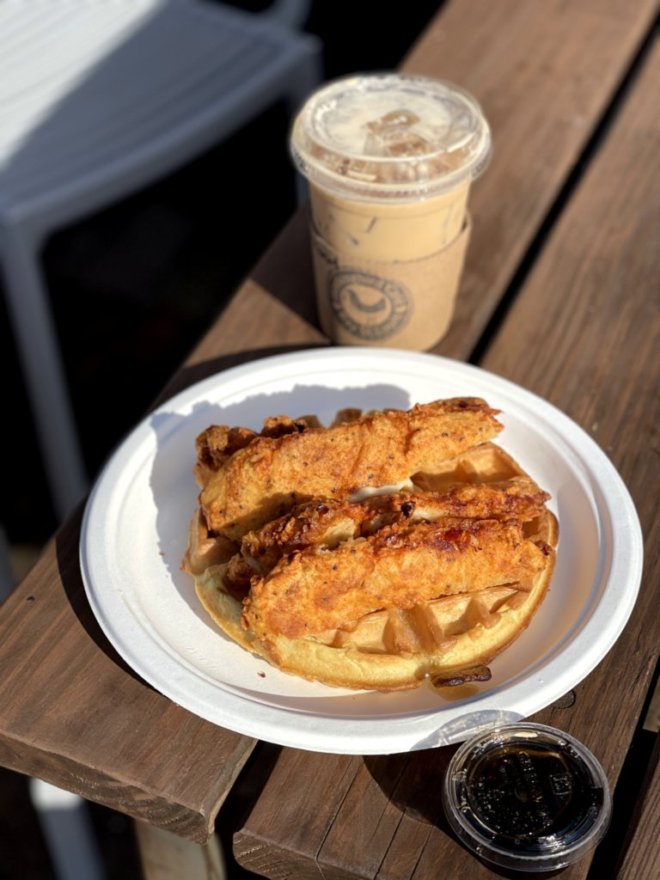 Patio 44: This restaurant actually has multiple locations, but we visited the one in Gulfport. True to it's name, we sat out on the beautiful patio that is across the street from the gulf.
For appetizers I had a salad and Bobby had this huge plate of bayou crawfish nachos. He said it was amazing but be warned, it can feed several people!
I had the fettuccini alfredo which was creamy and delicious, also a large portion!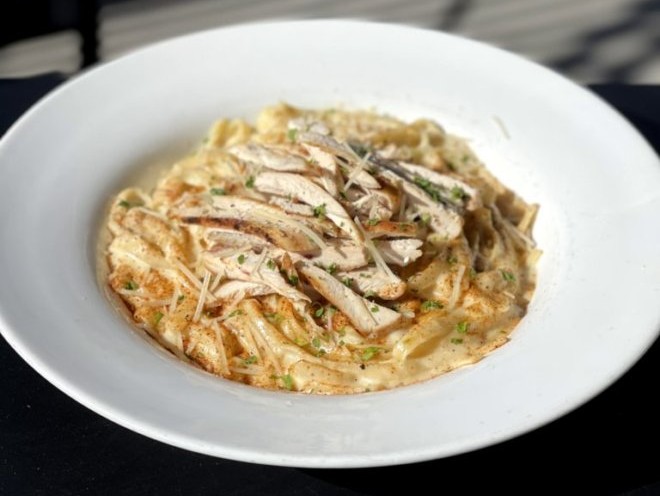 Bobby had blackened redfish on the half shell in crawfish cream sauce and absolutely loved it.
We were too stuffed to eat dessert, but definitely had leftovers to take with us! The menu here is very large, so there is bound to be something for everyone. I also wanted to add the service was excellent, and they also have a very large indoor seating area and bar if you prefer that.
Maison de Lu: This restaurant is in Ocean Springs in a very walkable part of town. The thing I loved about this place is they have a gorgeous outdoor patio, a fireplace, and heaters! So no matter the time of year you can dine outside! On this particular night they were setting up for a larger group celebrating a birthday outside.
We actually got to eat this meal with the lovely PR connection from Coastal MS that set all of this up for us. We chatted all things MS gulf coast and learned a lot! It also allowed us to sample more appetizers, haha!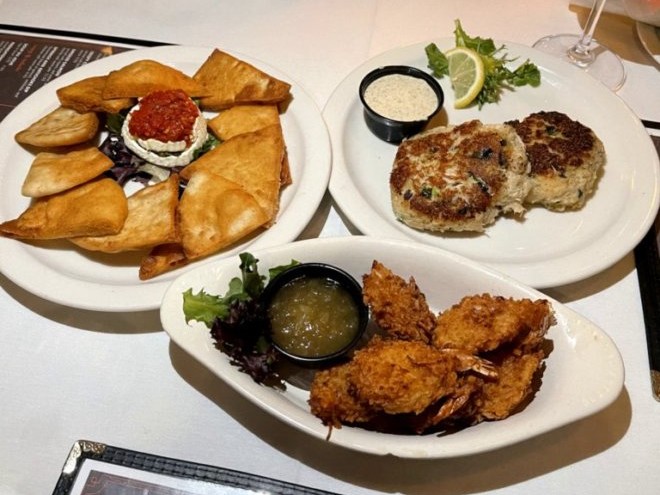 I of course had a steak, and the risotto was heavenly!
Bobby opted for lamb and said it did not disappoint.
White Pillars: On our last full day, we explored some of Biloxi and ate out on another beautiful patio across from the gulf at a restaurant called White Pillars. It is a very old house that had been redone and rebranded under the same name, and they had an amazing fresh menu!
We had a couple of different appetizers (the pimento cheese was awesome!) before eating our meals.
They have lunch specials, so I chose chicken and Bobby had fish.
My chicken was amazing but such a big portion I couldn't finish it! The really cool thing about this place is that they locally source everything from the food to the dishes to the tables. I loved hearing about where some of the items came from within the state!
When I found out they had king cake for dessert of course we had to try some. It was delicious!
After we ate, we took a quick tour and learned that this huge location also hosts a lot of weddings! After looking at the amazing rooms and layout I can see why.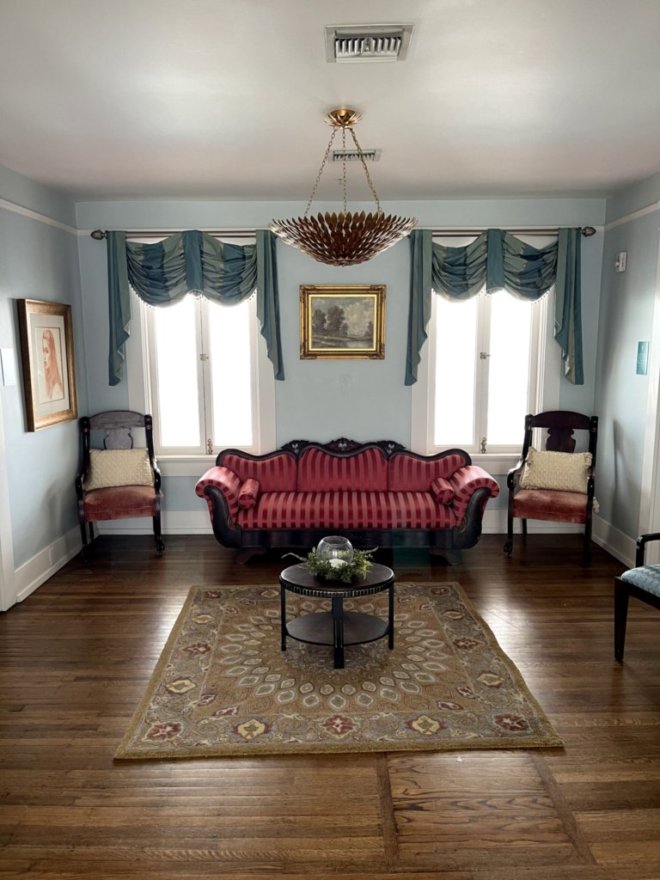 The owners were super sweet and you can tell they really put their hearts into this location. Be sure to pop by on your next visit to the coast!
The Greenhouse on Porter: This cute little place is in Ocean Springs and was right next to the Beatnik, where we stayed one night. It was so nice to literally walk right next door for our coffee and breakfast! Their claim to fame is their specialty biscuits. Every day they make one sweet flavor and one savory flavor. They also had a variety of other items such as a yogurt parfait.
I got a cold brew coffee which was very good. Bobby got a parfait, and we also got two king cake biscuits and one cheddar bacon biscuit and oh. my. I don't know which was my favorite! I loved them both for different reasons! I honestly wasn't sure what all the fuss was about until I tried them! Highly recommended.
Please note that right now as of February 2021, their inside seating area is closed.
These are jus a sampling of some of the amazing places to eat on the MS gulf coast. These businesses need us now more than ever, so if you are local, be sure to dine in or takeout when you can, and if you are traveling, stop in and grab a bite, you won't be disappointed!
Related: Where to stay on the MS gulf coast