This post is sponsored by Coastal Mississippi, however, all opinions are my own.
We recently had the opportunity to work with Coastal MS, and they were SO great to work with! They opened our eyes to so many amazing things there are to do along the Mississippi Gulf Coast. We used to live in Biloxi, so it's a little embarrassing that we never did all of these things, but I am so glad we finally got to experience them as tourists.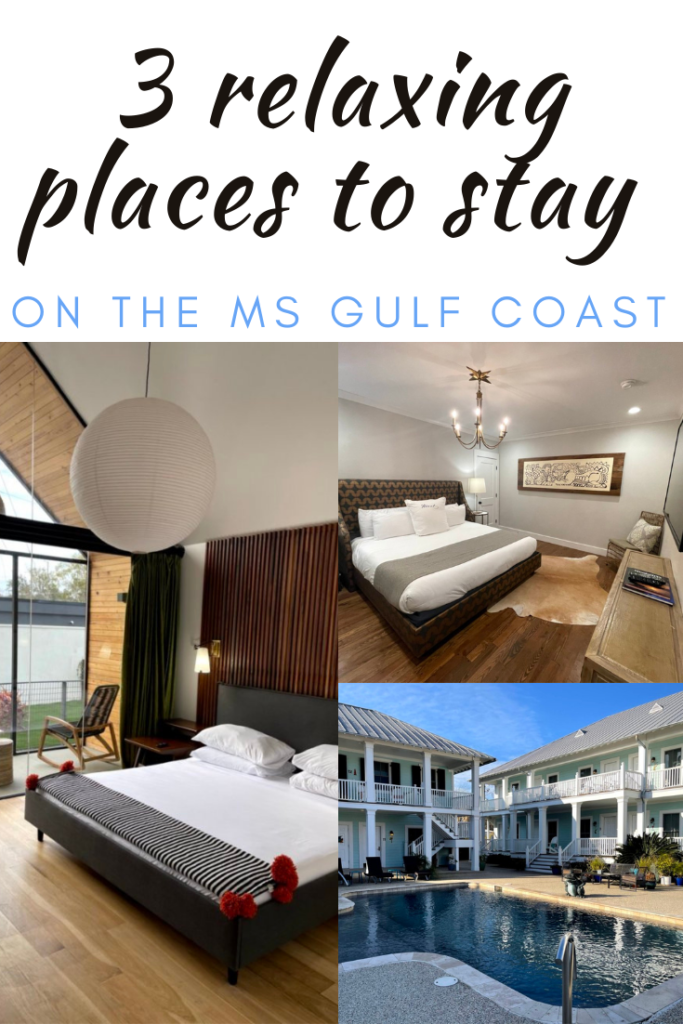 First of all I want to say we felt totally safe everywhere we went. There were tons of outdoor dining opportunities, lots of walkable areas, and plenty of fresh air. The things we did inside were taking proper precautions and we never felt unsafe. So thankful to live in a state that wants small businesses to thrive while also being mindful of COVID and it's impacts. I felt like the coast struck a great balance! In this post I wanted to highlight the places we stayed on our trip. Enjoy, and let me know if you have any questions!
Bay Town Inn B&B, Bay St. Louis: Our first stop was the beautiful Bay Town Inn Bed and Breakfast. Now, I know what you are thinking, because I thought the same thing. "I don't want to stay at a B&B. Don't you have to eat breakfast all together and share bathrooms? No thanks!" (Anyone see the Everybody Loves Raymond episode where they go to the bed and breakfast? Watch it! It's what I thought of!) Anyway, this place is not like that at all, it's more of a "boutique condo" that serves you breakfast. During the week, you get granola, bars, yogurt, juice and sodas, then at night they deliver muffins to your door. On the weekends, the owner, Nikki, cooks a full breakfast for everyone and brings it to your room. There is a big shared courtyard with tables and chairs and such if you want to hang out and mingle, but totally not awkward or required.
It's a beautiful place right across from the beach, and one street over from tons of shopping and dining. We were on the first floor, and loved our flamingo room.
There were fresh flowers in the room, and we had so much space! A full living room and kitchen are in the front.
We had a microwave, sink, refrigerator, and coffee pot.
The bathroom was nice and updated down the hall past the kitchen and living room…
And the bedroom was off the back. We had robes in the closet, there were two TV's in the suite, and a nice big king bed.
She had even decorated for Mardi Gras!
We loved these chairs right outside our door overlooking the pool.
This is the front, which is where Nikki lives, so if you have any problems she is right there!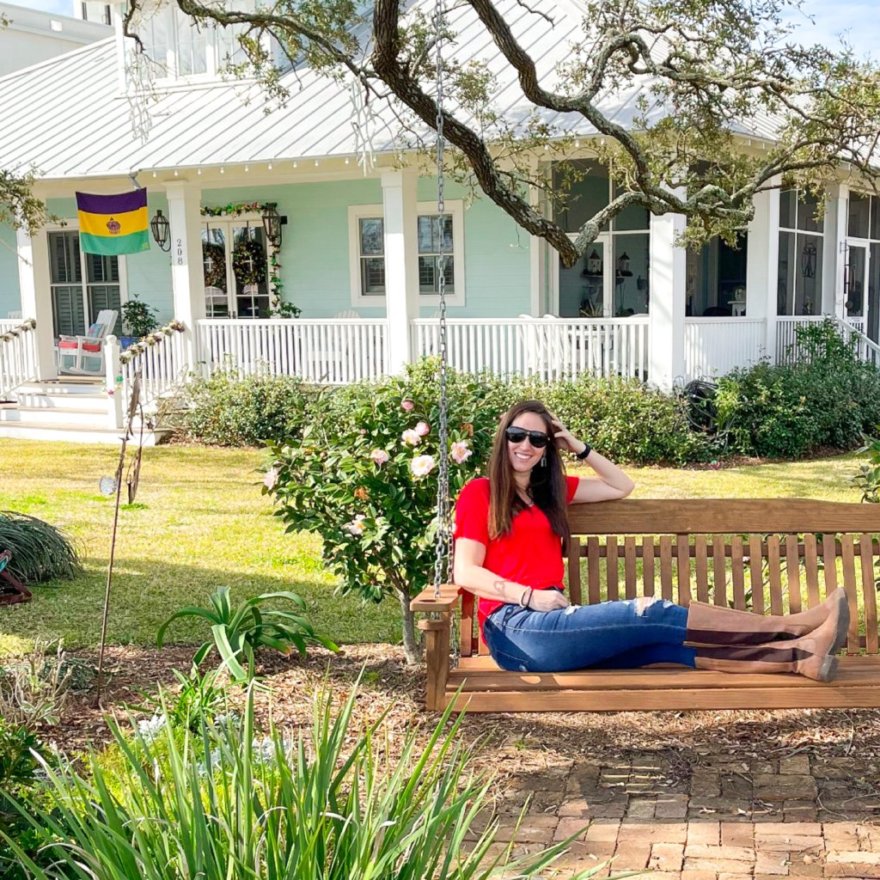 We walked right next door to dinner, down the street for breakfast, and, to main street one block over for shopping. It was the cutest little area and it was so peaceful and relaxing. Highly recommended!
Beatnik, Ocean Springs: Our next stop was the Beatnik in Ocean Springs. It is on the famous Porter Ave, but it would be a little bit of a hike if you were wanting to go to Washington or Government for all the shopping and dining. But it was a super quick drive (like two minutes!) to everything we needed, and a handful of blocks off of front beach which we love!
Beatnik is made up of four "floating cabins" that are quirky and fun, and also have plenty of space! Right when you walk in is the kitchenette.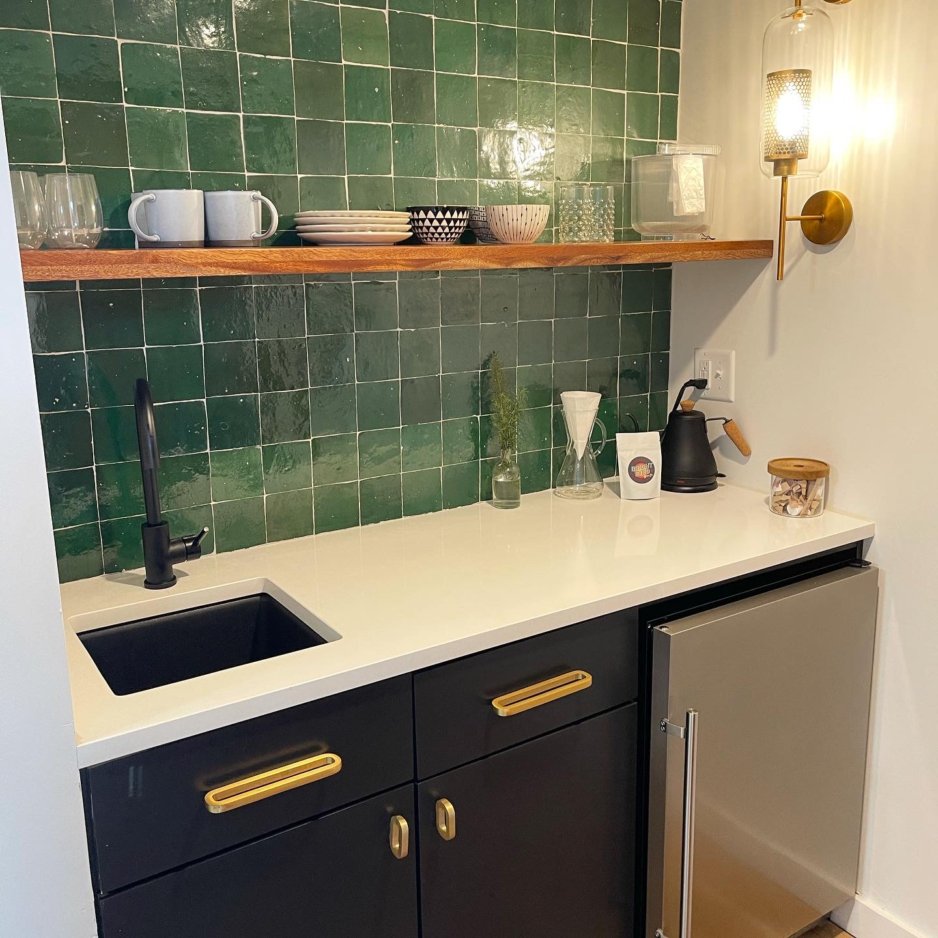 Then there is a bedroom with huge windows!
We had a king bed, and soft music was playing when we came in.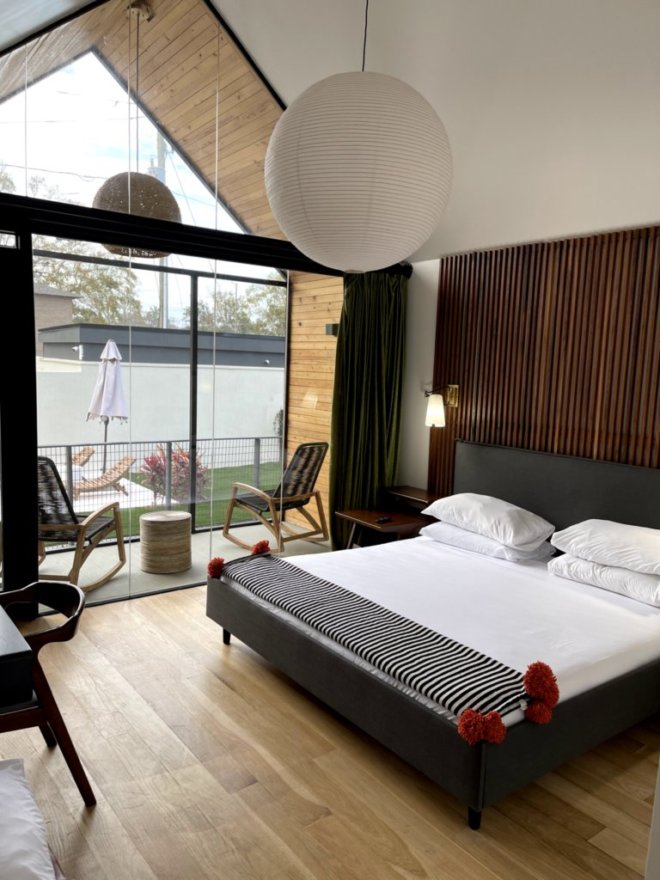 Off the back is the bathroom and there was a hammock!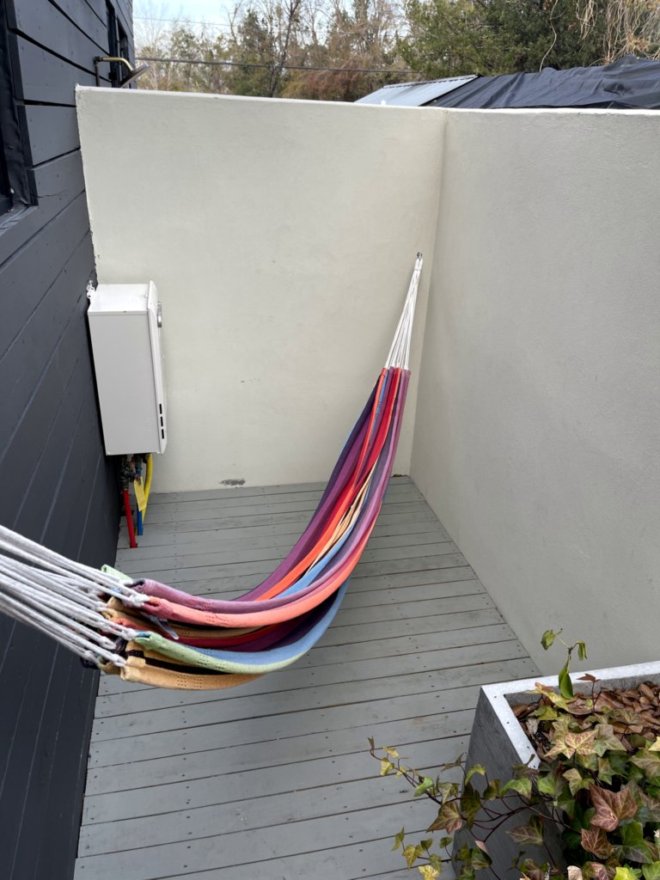 Also there was a cool outdoor shower! (Don't worry, there is also one inside!)
A pocket door separates the bathroom from the rest of the cabin.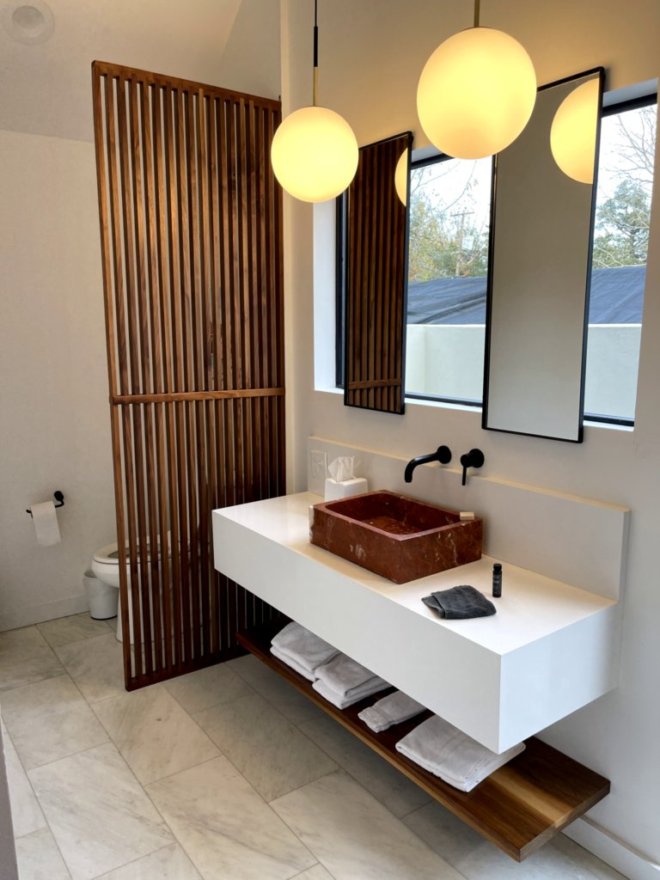 On the front is a really cool screened porch that overlooks the shared pool. (Pool is heated!)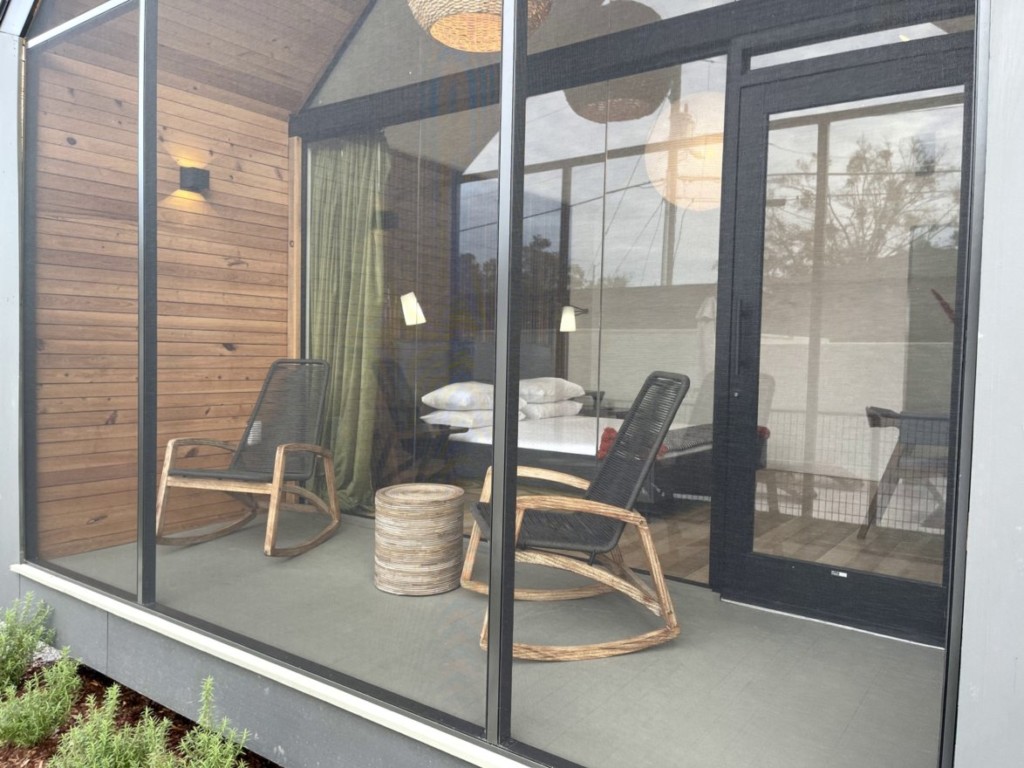 How cute is this?!?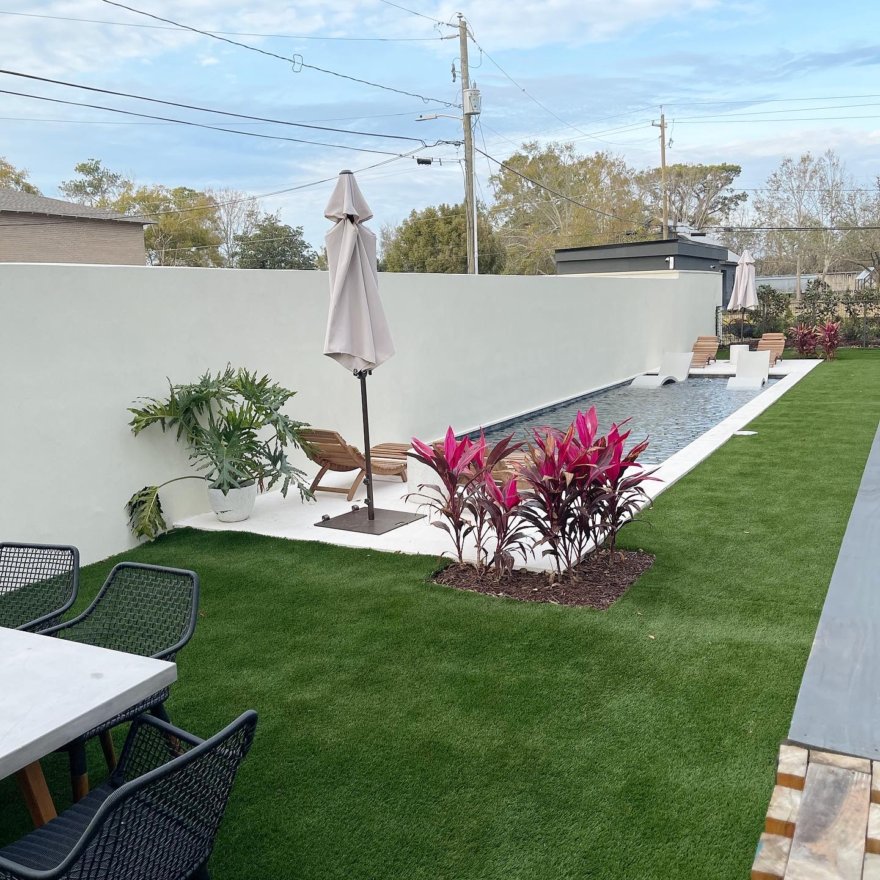 In between the bedroom and bathroom is this cozy little nook. I heard that in 2 of the cabins this area has bunk beds instead of a sofa, which is great for families!
We loved that there was a coffee shop literally right next door, and it was fun to stay somewhere so "cool" (I do not consider myself a cool person so this was fun!) TINY downside was it's near train tracks so we heard trains a couple times, but def. not enough of a downside to not stay there again. Just like to give an honest heads up!
The Roost, Ocean Springs: Our last stop was the Roost, which is owned by the same people that own Beatnik. It's also on Porter, on down a bit (couldn't hear the train!) and closer to the shopping and dining on Washington and Government. This place was more my speed as far as décor. Our suite, the Lily suite, was adorable. It's on the first floor right by the check in. I loved being able to park literally right in front of it! When you walk in there was an adorable living room with a fun feature wall. There was a sofa and TV in here.
In the master was the most comfortable bed and sheets (and I'm picky!) It was the same bed and sheets as Beatnik FYI. The room was large and had a closet and a TV. The lights also had dimmers on them which was a nice touch.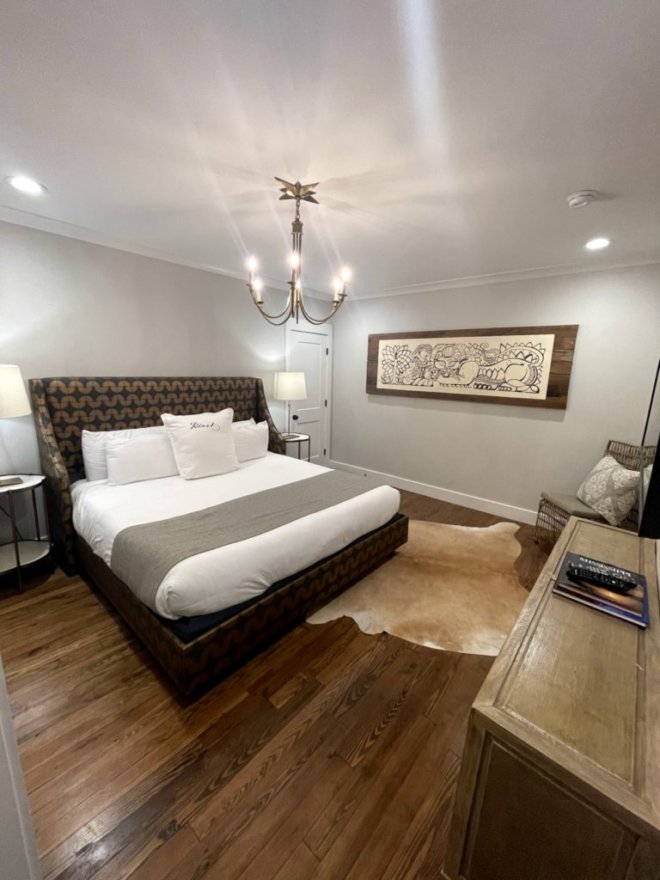 I loved this little kitchenette nook!
The bathroom was also gorgeous. Look at that shower!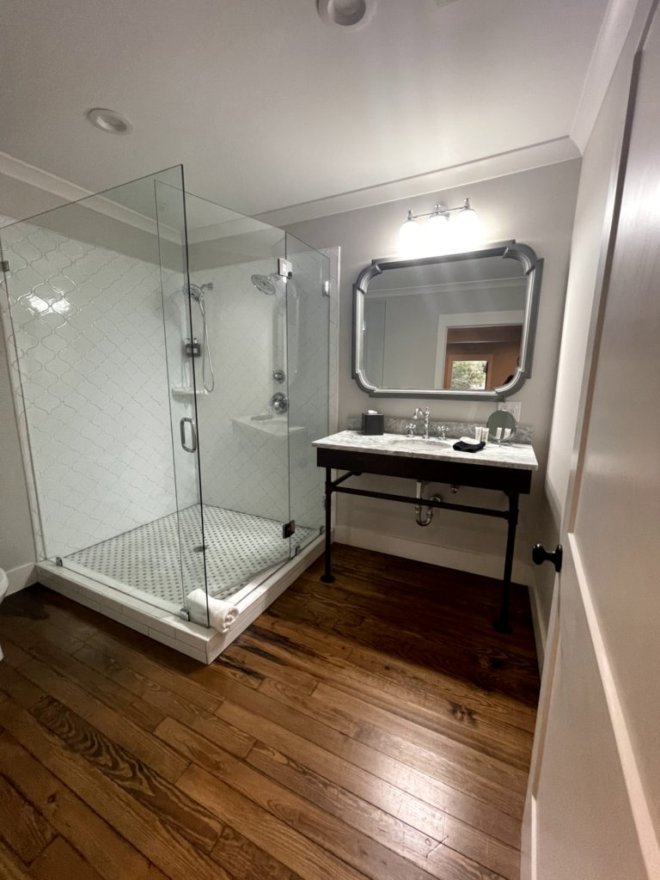 That is our room right behind Bobby. I'm glad he shared my love for hanging out in rocking chairs.
The Roost also has some cool common areas. There is one on the bottom floor with chairs and outdoor heaters, and then we found this fun spot upstairs.
Yes, we sat in the rocking chairs and hung out for a bit!
There is also a bar with drinks and small plates on the first floor. We didn't have time to check it out, but hope to next time!
I hope you enjoyed checking out where we stayed on our visit to the secret coast. Please let me know if you have any questions! You can check out room tours of each of these properties on my IGTV, and I also have two IG story highlights titled "Secret Coast" and "Secret Coast 2" with lots more photos and videos! A huge thanks to Coastal MS for helping us plan!
Related: Margaritaville Island Hotel 2 bedroom fountain suite