Saturday morning, we woke up to our alarms at 6:15 (super late by race day standards!) and got ready to run the Crescent City Classic 10K in New Orleans for the fifth time.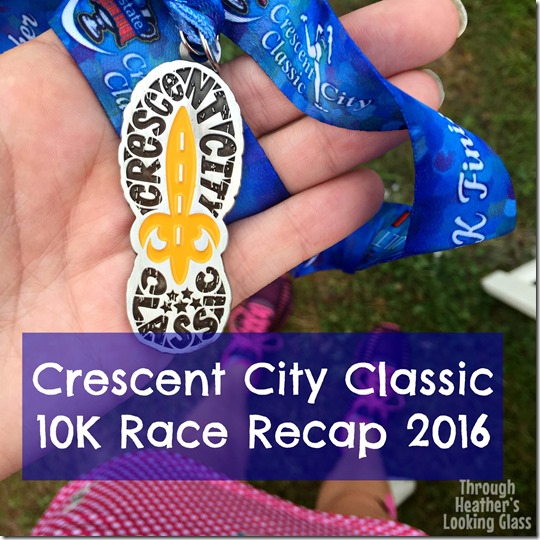 I had yet to decide on an outfit, but went with bright pink to go with the Easter theming, and of course my bunny ears, which I have worn for every CCC I have run!
We were staying at the Hyatt, the host hotel and where the expo was located, so it was amazing to just walk downstairs and there was the start line! We were waiting for the other bloggers at the start line before heading to our corral.
We weren't able to get everyone, (that's what happens when your race has over 20,000 registrants, but here are some of us!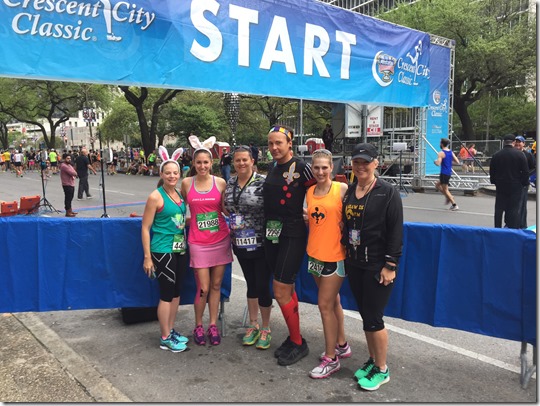 Bobby took this one, not too sure what was going on, apparently. So glad Jen wore her ears, too!
We headed to Champions Square and up the Superdome steps to get into our corral.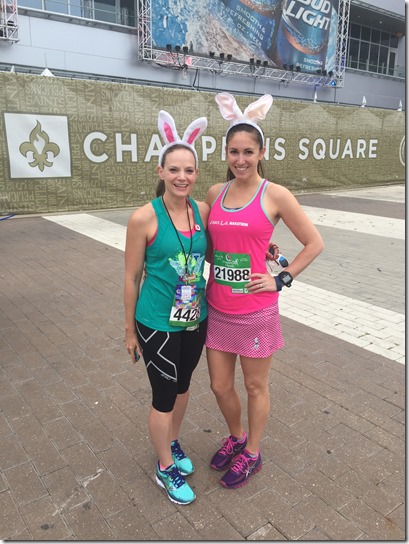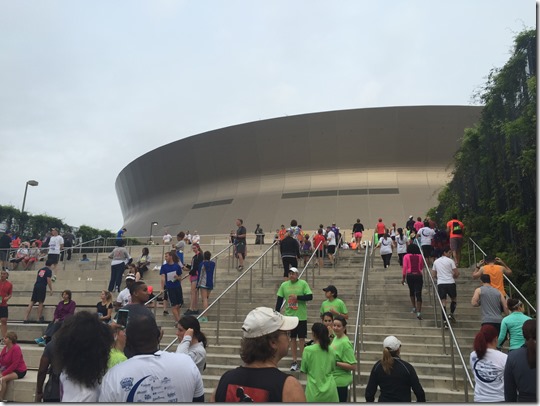 The corrals were color coded, and the first three were seeded corrals. They had big colored banners to help you figure out where to go, but since green was in front of purple and red, we had a hard time figuring out how to get past those two corrals and into ours.
We weaved our way through, right as the race was starting and our corral took off! Poor Bobby had forgotten to get location on his GPS so he had no idea what his time/pace was for the first two miles. We were both running alone, and of course he took off at the start and I never saw him again. I put my headphones in and zoned out. I really wanted to PR but was nervous because it was 97% humidity and it was already had to breath just standing there.
The first mile was very frustrating because there were so. many. people. and I had to do a lot of weaving (this would come back to bite me later, but I had no choice). I started out way too fast because I knew I needed to make up time from behind stuck behind people, walking, holding hands, etc. and my first mile beeped at 8:39. I knew that was a bit too fast for me for a 10k, but I was feeling good and kept going at that pace (foreshadowing…now). We ran down Decatur and through the French Quarter.
I was sweating SO MUCH that I couldn't get the camera on my phone to come on because every time I tried to swipe the screen it was soaked with my sweat from my hands. Hence why the above picture of the St. Louis Cathedral is blocked by a tree. We hit Café Du Monde and honestly, I snapped the below pic and then never even looked to the side. I was SO focused on not tripping or running into anyone and on keeping my pace.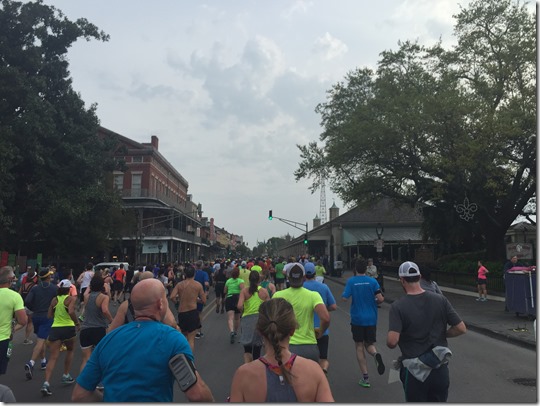 We made the familiar turn onto Esplanade and I decided to take a picture before I got too tired to do so. I saw a bunch of people running on the opposite side of the road where it was much less congested, so I eventually made my way over there and am so glad I did. I had way more room and just felt more relaxed not constantly having to change up my cadence to go around people.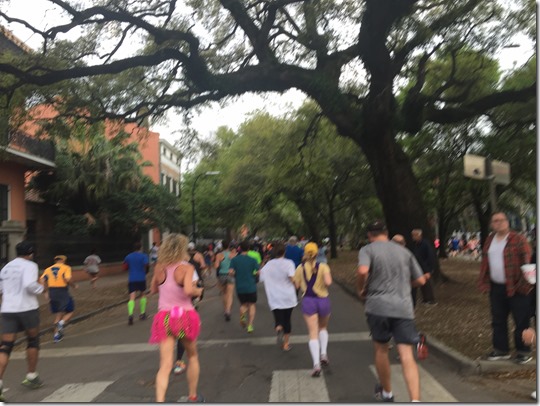 Miles four and five were rough for me. I ran a 9:30 pace for both of those. My body felt fine but I could not catch my breath with the humidity. I looked down for most of those miles and just told myself to keep going. I stopped twice to grab water and took two sips then poured the rest down my back, as I was getting really warm.
The course was new this year, so instead of running towards the art museum and around back, we went to the side, and kind of zig zagged our way to the front of the Museum. It was kind of a tease because you could SEE the finish line but weren't quite there yet.
The whole race I thought I was going to run a 57:00, then realized that because of all the weaving I had to do, that I would be over a tenth long so my time on my GPS watch would not match the finish time. This was frustrating because I knew I could run a 57:00! However, I knew I could still PR (old PR was 59:04) so I gave it everything I had. That last mile was so mentally challenging, but thankfully it was faster than miles four and five. I barely even looked up as I approached the finish, and didn't even smile for the cameras. I was just powering through with every ounce of energy I had left.
According to my watch, I ran 6.31 in 58:26. (That was my official time just not official distance!) While I am really happy to have PR'ed, I knew I could still go faster, and being the uber competitive person I am, wasn't completely satisfied. After the race, all I wanted was water. They told us to keep walking and we would get to water and our medals. Well, we walked…and we walked…and we walked. I was about to fall out! I get why they did it, as to not bottle up the finish, but the water was REALLY far away. Then we had to keep walking more to get to the finish festival.
I bee lined it for the VIP tent, and texted Bobby who said he was where the medals were. I assumed he was just waiting for me so I told him to come on to the VIP area. The tables were set so cute for Easter!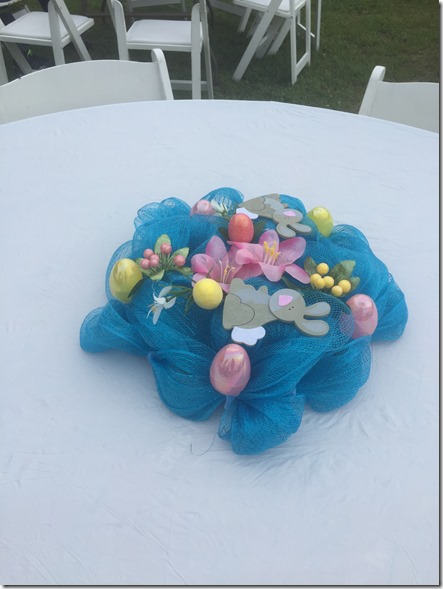 I immediately grabbed chocolate milk, a sandwich, and a Mimosa (great combination, I know) and took a seat.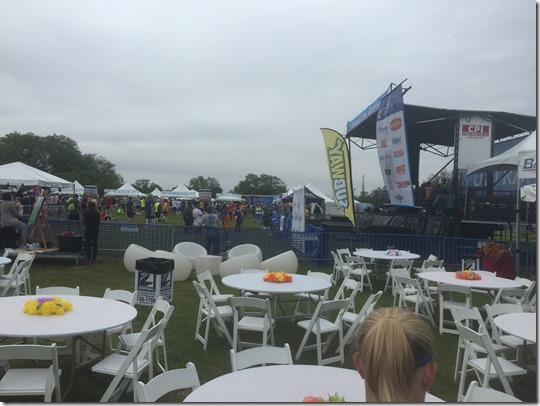 Our two sided medal was really cute!
Finally Bobby appeared and didn't have a good race. He had worked out really had four days that week (including the day before) and his legs were dead. Apparently I passed him somewhere along the way but had no idea. I felt so bad for him, I thought he had long since finished.
We ate and met up with some blogger friends, and then it started POURING. Thankfully, we had the tent to get under and it only lasted about ten minutes, and then the sun came out.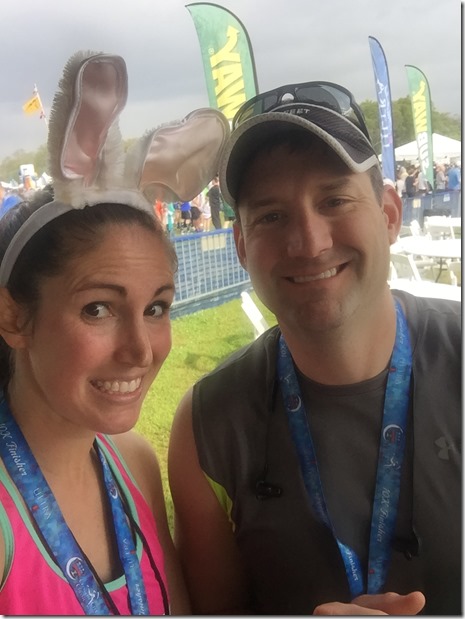 More friends arrived and we just hung out listening to the music and eating and having a good time.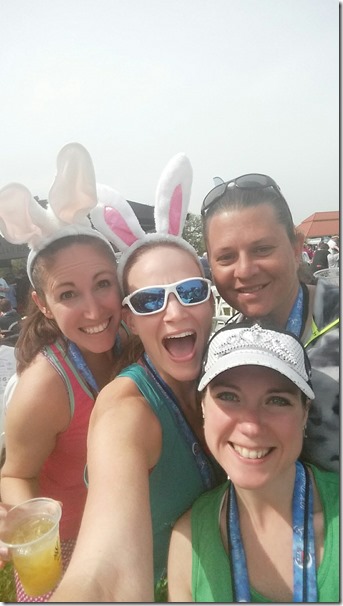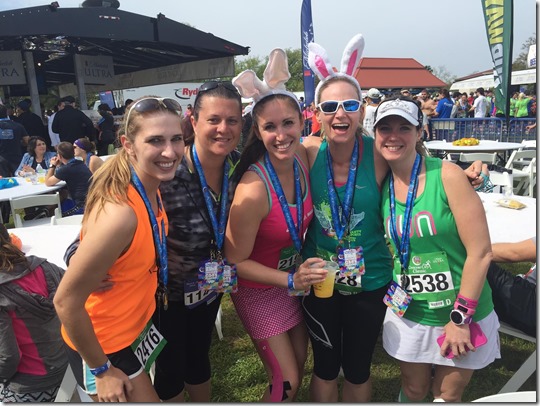 The race announcer, Mike spotted us and it was great to see him. He does a great job with so many races!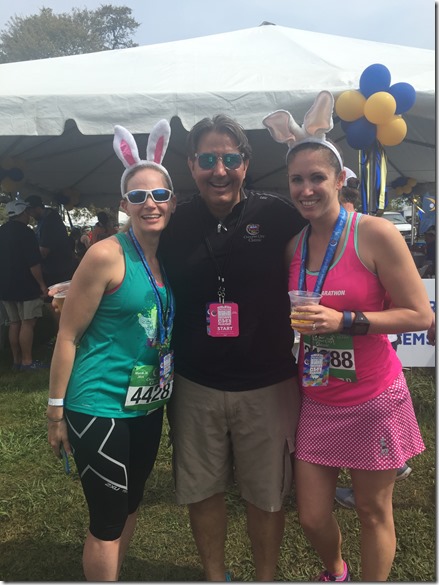 Rockin' Dopsie headlined the event and did an amazing job. Check out this video: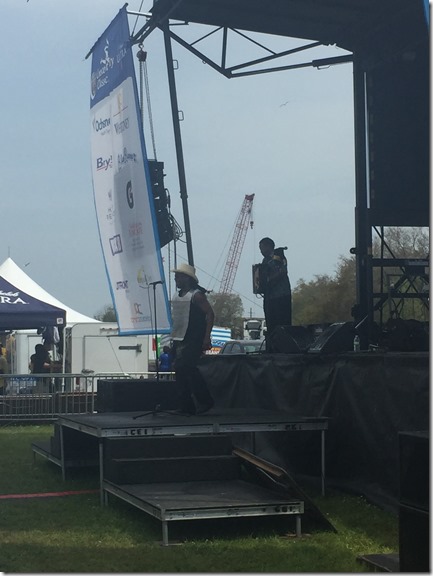 After awhile we decided it was time to head back too the hotel, pack up, and head back to my parents house. Sweet Jen and her husband had their car at the finish and offered to give us a ride to our hotel.
We made it back, showered, packed, and left NOLA once again. We had a blast and it went by way too quickly! A huge thanks to Crescent City Classic for an amazing race weekend that just gets better and better every year!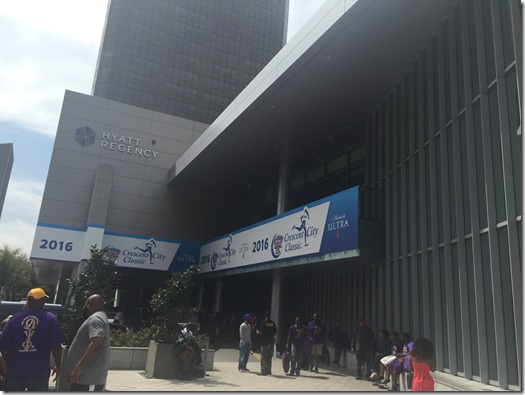 Disclosure: I received race entries and VIP passes for this event, however all opinions are my own.
QOTD: What race has the best post race party that you been to? Do you like the 10K distance?