Hey guys! I know a lot of folks are heading out to Disneyland today to run the runDisney inaugural Avengers half marathon this weekend. I am super jealous and hope you have a great time. Check out this post I wrote for Fitfluential on tips for running a Disneyland race.
Disneyland marathon weekend 2013
I can't wait to read everyone's race recaps on the event! I really REALLY wish I was running Star Wars in January, but I completely missed registration by time I had made up my mind. There is always next year! Bobby loves Star Wars so I think we would have a blast. There are just too many races and not enough time off of work.
Still can't believe I was pregnant during Dopey!
Being in the thick of runDisney race season and not being there is tough. They are my favorite races and while it is fun to read everyone else's experiences, it's nothing like being there yourself. So that got me thinking. If you could plan a runDisney race complete with theme, course, what would the medal look like, runner's perks, etc.? I would love to see your ideas of "the perfect runDisney race". You can be as vague or as detailed as you would like! If I get some good ones I would love to feature them on my blog, and who knows, maybe runDisney will be listening!
So, to give you an idea of what I mean, here is one that I came up off the top of my head for an example:
Theme: Pixar Half Marathon weekend
Races: kids races, 5k, 10k, half marathon
Course: I'm not sure how this would flesh out distance wise, but it would end inside of Hollywood studios near the Toy Story Mania ride with an after party in Hollywood studios. Maybe if we ran through EPCOT and the boardwalk and then Hollywood studios we wouldn't be on the road much and therefore could start the race later in the day (like 7:00) Or maybe it would be a night race?  Of course, there would be tons of Pixar characters on the race course!
Medal: Each race would have a different Pixar theme. My favorites are Nemo, Monsters Inc., Toy Story, a Bug's Life, and Cars. I'm sure we could come up with some really cool designs based on some of those movies.
-Runner's would be given 3 fastpasses to rides or shows dealing with PIXAR for the weekend. (Bug's life, toy Story, Monster's Inc. laugh floor, Buzz lightyear space ranger spin, Living seas with nemo, Nemo musical).
-Maybe a fun scavenger hunt where if you get character photos with X number of Pixar characters during the race (or race weekend, in the parks?) you get a special commemorative item.
-The expo would have a costume contest where you show off your Pixar race costume at a certain time and can win prizes.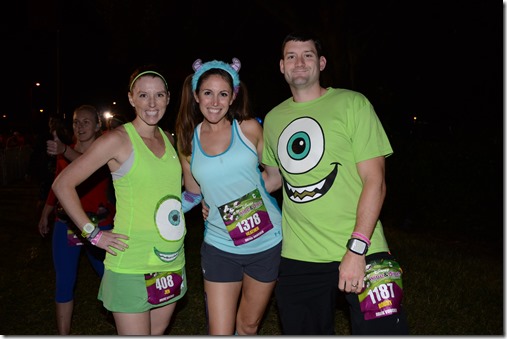 -runDisney and New Balance could partner to make Pixar character running shoes.
QOTD: OK so those are my ideas to get you started. Feel free to comment with your ideas or send them to me via email: heatherslookingglass@gmail.com. I can't wait to read and feature your ideas!