In case you missed part 1, you can go back and read it here.
We left off at the end of our arrival day. When we planned this trip, we decided to do 3 days of parks. Since we had 4 full days, that meant one day would be a day at the resort. Since the parks are typically less crowded during the week (and it was a runDisney weekend to boot), we decided Sunday would be our "chill day."
We got up and the family ate pancakes (I was fasting still!) And Bobby went to get us chairs at the pool. Mom cleaned up and Dad, Emma Kate and I ran over to Sugar Loaf to say hello to a cast member friend of mine. We had a nice chat and headed back to the pool with mimosas.
We had front row chairs, which was great for taking turns in the pool with Emma Kate and keeping an eye on her when she went down the slide. She was having a blast.
Let me tell you, this girl can play HARD.
We got to the pool a little after 9:00, and girlfriend didn't stop until we MADE her get out at 1:30. When it was lunch time, my mom and I walked to the Polynesian (the weather was amazing yall) and we picked up lunch and brought it back and ate at our chairs.
The walk was really nice and the food was delicious as always.
My mom and dad took Emma Kate up to the room and Bobby and I stayed about 30 minutes longer until I had had enough (it was warming up and my spot wasn't covered by the umbrella anymore and I could feel myself frying.) So everyone took naps (the only time the whole trip EK napped, unfortunately.)
After nap, we hung out on the balcony enjoying the weather and some snacks.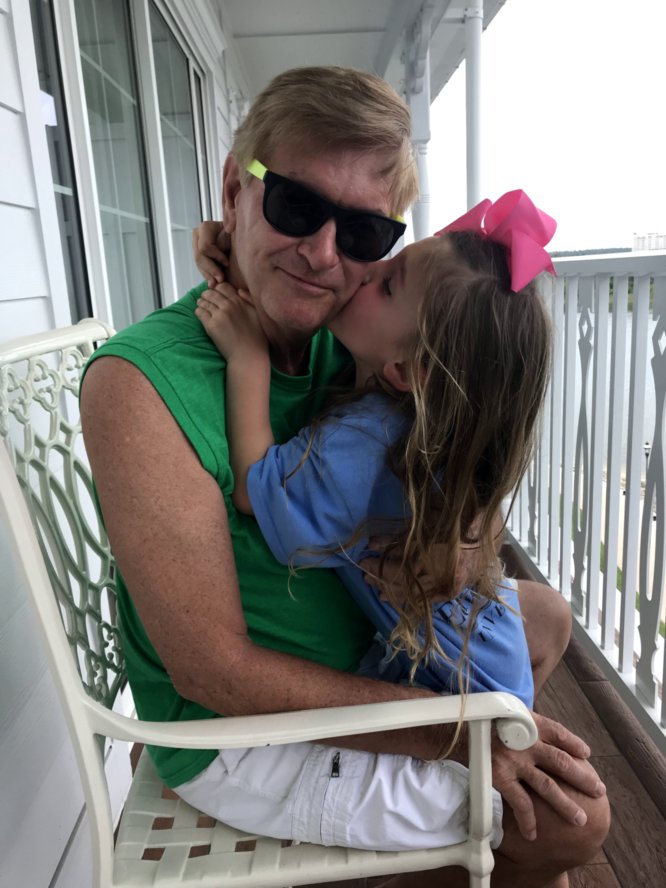 Bobby and I had reservations for Narcoossess that evening, so Emma Kate and I put on some mommy and me dresses for a little photo shoot before dinner.
It was really nice having dinner at our resort and just walking over! As we walked a cast member saw us and gave us a ride on his golf cart.
I always try to be honest with yall, and I must admit we were super disappointed with our dinner. We used to LOVE Narcoossess, but prices have gone way up, and they must have gotten a new chef because the fillet I know and love tasted WAY different and had different sauces etc. It was COVERED in pepper and it was overpowering and just tasted like I was eating forkfuls of it. It was also overcooked which was a bummer. Normally they butterfly it for me and didn't this time, maybe that's why it was overcooked?
My drink was delicious (chocolate martini), and dessert was good. But for the price, the portions are small (Bobby was hungry after) and we won't be back for a while. We love Citrico's too, so we will probbaly go there next time or California Grill.
After dinner we walked around a bit and went and sat by the marina.
We went back to the room and changed, and all headed downstairs for the movie under the stars. This was our first time participating, and thought it was a nice touch that they gave out popcorn.
We left halfway through the movie (we have Monsters Inc. and Emma Kate was getting bored) to go watch the fireworks from the marina. It was pretty crowded and we didn't stay the whole time (my child has the attention span of a flea.)
As we walked back to the villas, we realized the place where you roast marshmallows had an amazing view of the fireworks! This is our plan next time!
It was a great day just relaxing and not having to rush off to a park. I highly recommend doing a day like this if you can!
However the crazy was just about to start for us, as the next day we were headed to Magic Kingdom! Stay tuned for more.
Would you like a free no obligation Disney vacation quote? Email heather@travelwiththemagic.com