Disclosure: This post on Disney's Blizzard Beach is sponsored by Disney, however, all opinions are my own.
After much anticipation, one of Walt Disney World's water parks, Blizzard Beach, has reopened a year after it was shut down due to the global pandemic. I had the opportunity to visit on opening day, and this post will tell you everything you need to know about visiting with the new guidelines in place. Email me at heatherslookingglass@gmail.com if you have any questions!
Like other Disney parks, the first thing you will encounter when you arrive at Disney's Blizzard Beach is the temperature check. It was super quick and easy, and off we went to enter the parks. (Please remember to stay home if you are feeling unwell or have any symptoms of COVID-19. Better to be safe and enjoy the park another day!)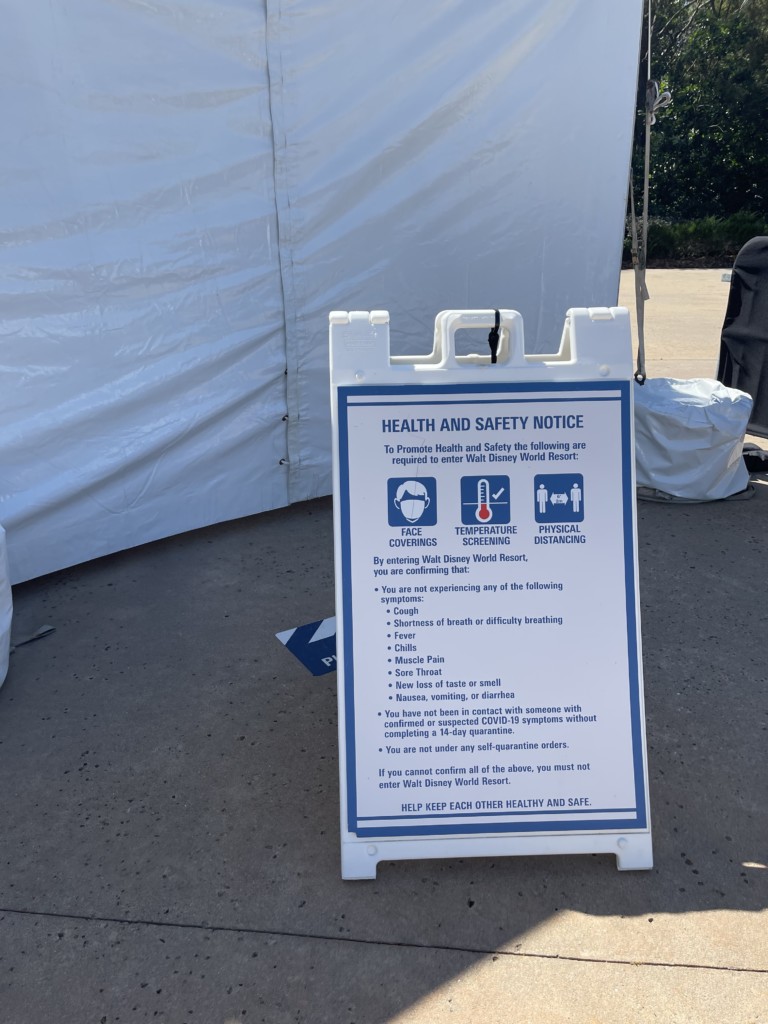 We entered with our magic bands that had tickets on them (no park reservations required as of right now.)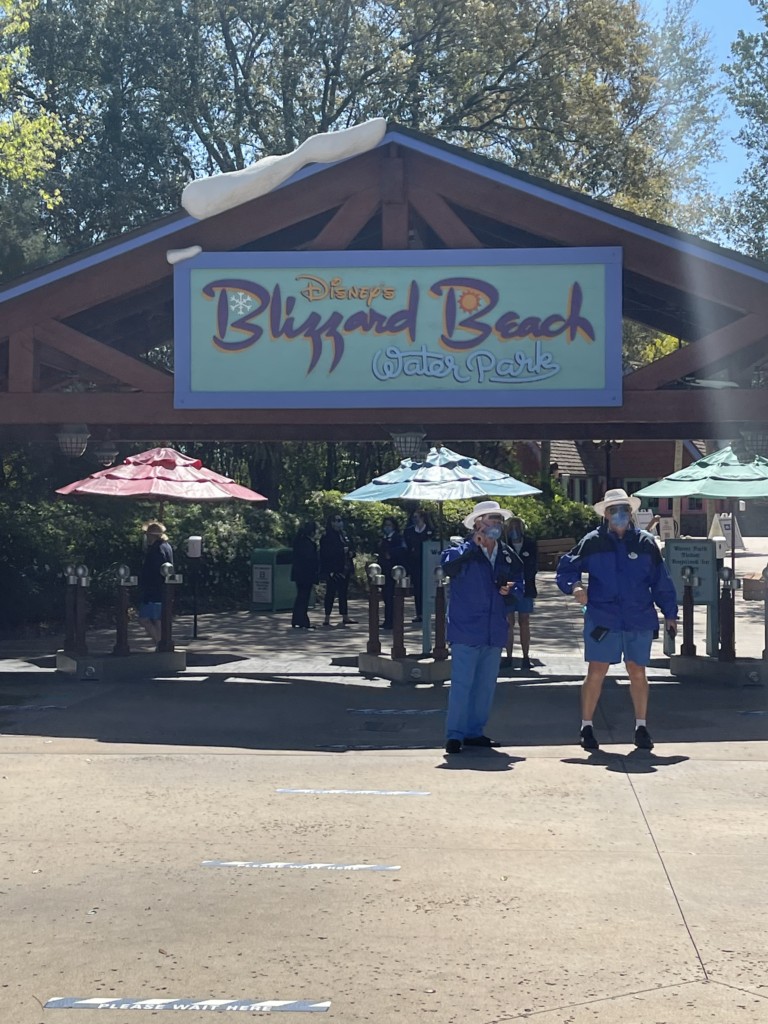 As part of the new protocols, face coverings must be worn upon entering and exiting the park, when at shopping or dining locations (unless actively eating while stationary and social distanced), and in the restrooms/changing rooms. Yes, this was enforced, they had a cast member standing at the entrance to the bathrooms, and at the foot of the bridge going back to the shopping area and exit reminder you to wear a face covering, of course, in a very nice and Disney way.
Pro tip: If you are staying on Disney property you can rent towels for free!
I love this selfie stop, don't miss it after the entrance area, it's a great photo op without having to ask someone else to touch your phone.
Here is how our selfie came out:
We used to head straight for Tike's Peak, but sadly Emma Kate has outgrown that area, although I still think it's SO cool and great for babies-preschoolers. Did you know that Tike's Peak is a scaled down version of Mt. Gushmore?
Instead we headed over to the wave pool to put our stuff down and take a look around. There is plenty of signage reminding you of the protocols.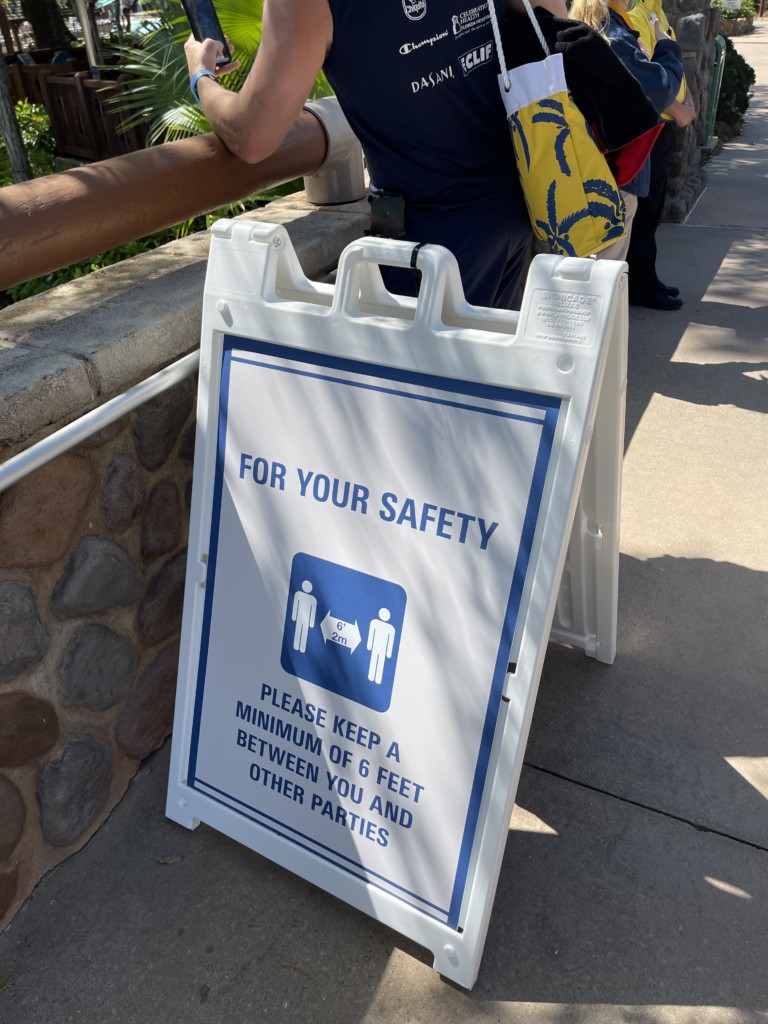 Reminder to not move chairs around!
Pro tip: Pick a place in the shade for your "home base." It gets REALLY hot in Florida and the shade gives you a place to escape from the sun and reapply sunscreen!
Then we headed over to the "big kids" area, the Ski Patrol Training Camp.
Emma Kate is into obstacle courses lately, so she was in LOVE with this area, especially the zip line and net/water course.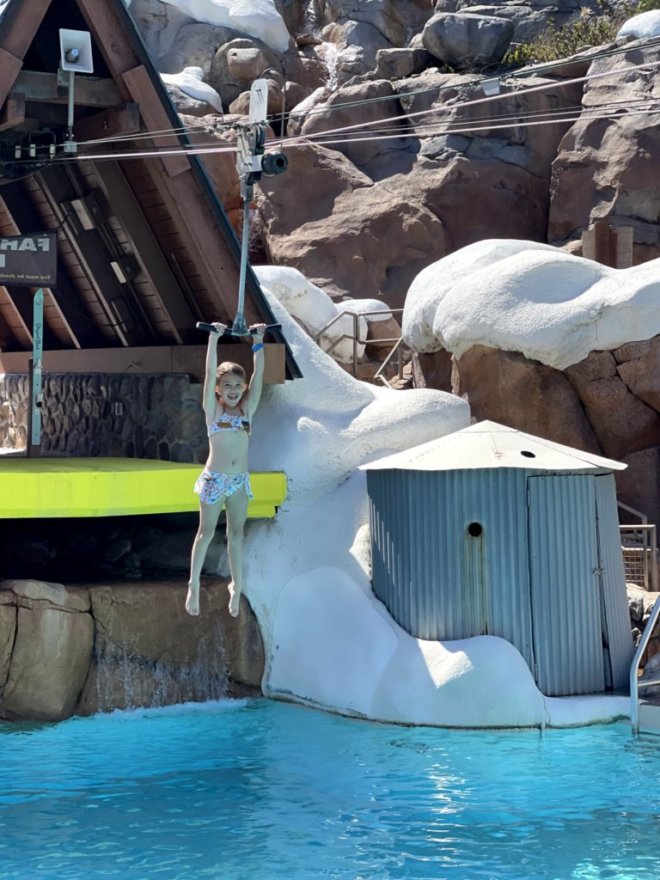 They also have a couple of tube slides and a body slide where you can race others!
We wanted to go snap some pics, so we headed to the wave pool. Don't worry if it's not super warm out, the water is heated to 80 degrees! It was perfect!
Pro tip: Bring water shoes! The concrete gets hot, and wet feet get raw easily!
We wanted to check out the ski lift and ride the family raft ride, Teamboat Springs, so we headed up Mt. Gushmore. Did you know that Teamboat springs is one of the longest family raft rides in the world?
Summit Plummet is also at the top of the mountain, and is 120 feet long! You can reach speeds of up to 65 mph! After a fun ride down, we sanitized (there are stations everywhere!) and headed off to look at food options.
You can now use mobile ordering at 3 of the Blizzard Beach dining locations!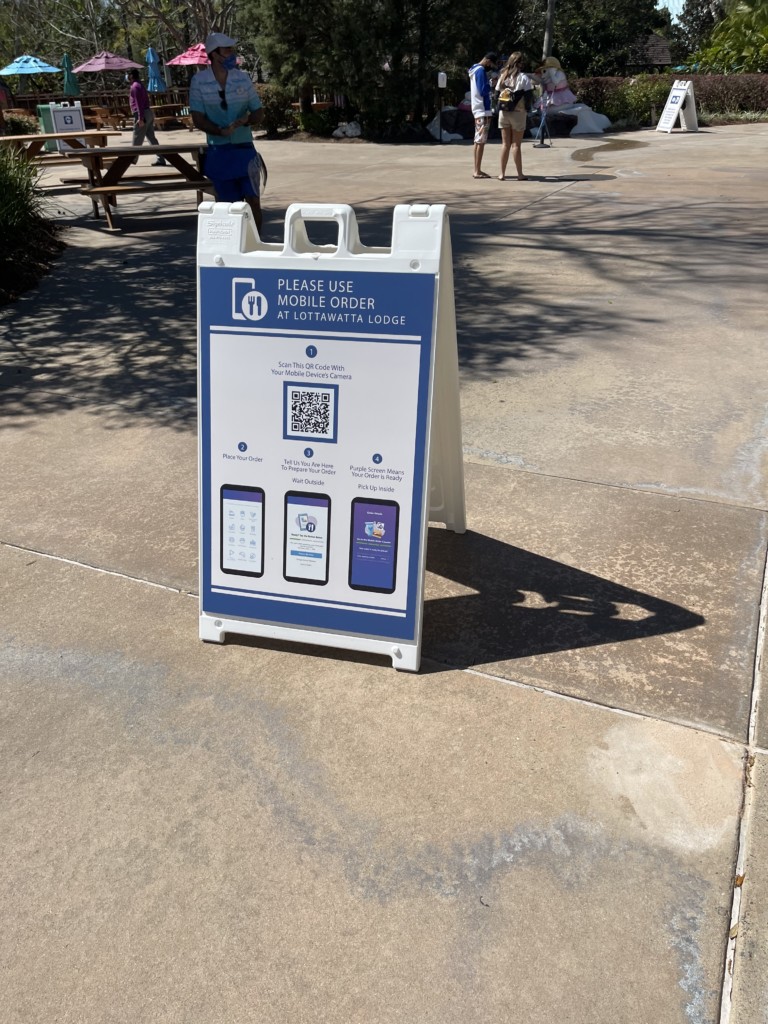 Yes, they have desserts and alcoholic beverages as well (and Joffrey's coffee and the huge donuts!)
Then it was my favorite, lazy river time! Did you know the lazy river here is so long, it takes 20-30 minutes to go all the way around? Don't worry, there are plenty of entry and exit points if you don't want to go the whole way.
In fact, we used it as a mode of transportation! We rode it halfway, got out and enjoyed some water slides, then hopped back on!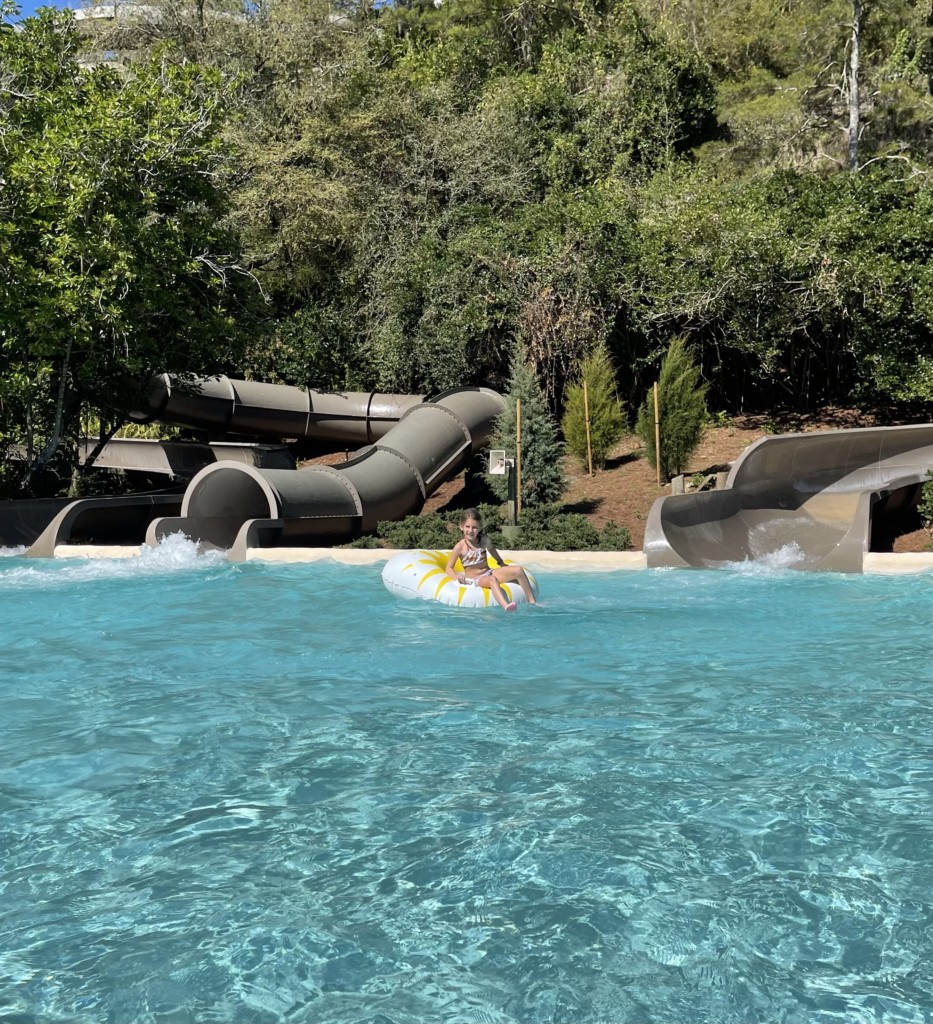 Pro tip: pay attention on the lazy river or you will get a little more wet than you may have bargained for!
Have a little one? No worries, grab one of the small white innertubes that have a solid bottom! (see pic below.)
Reminder, masks are NOT allowed in the water or on the slides!
Looking for a little extra privacy? You can rent one of these private patios for the day!
We ended up back in the wave pool and ultimately at the Ski Patrol Training Camp until we finally had to tell Emma Kate that the park was closing in less than an hour and it was time to go!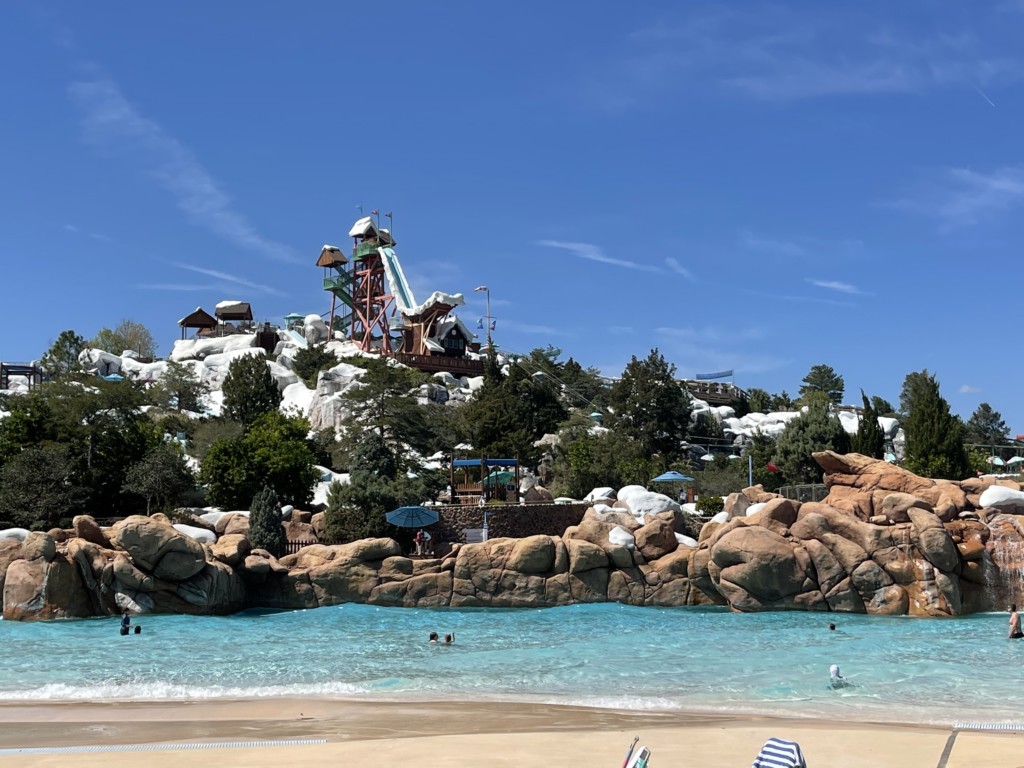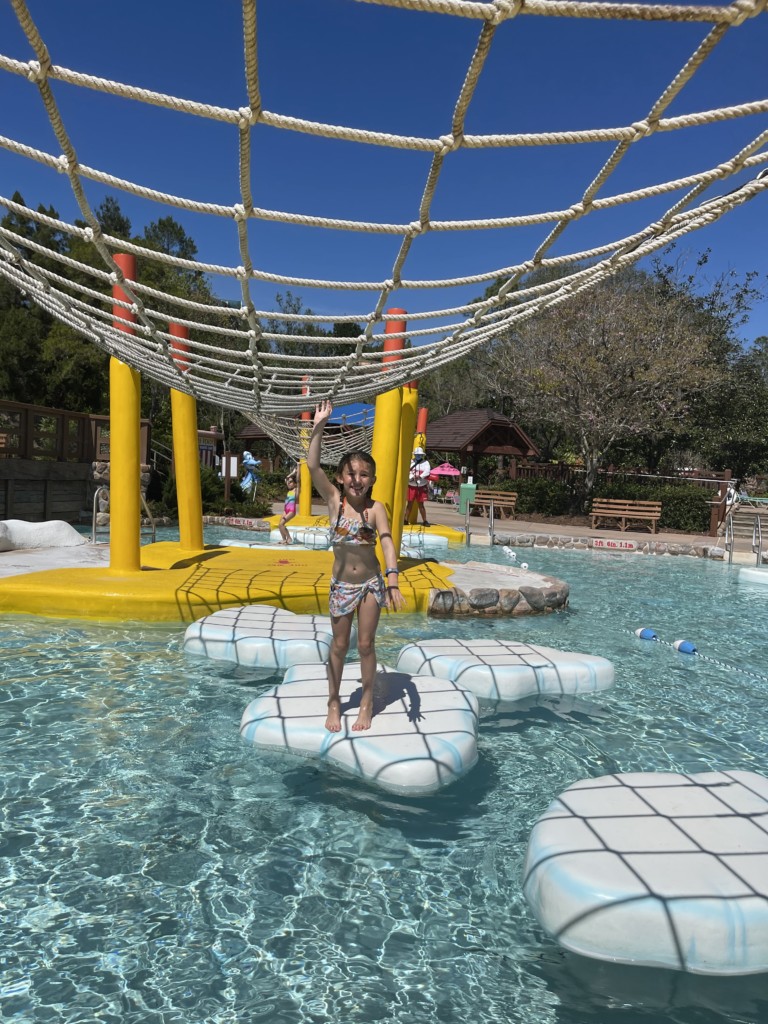 I was so sad to leave, we had the best day, and it made my heart so happy to see the water park open again. Disney had done an excellent job at making everyone feel safe while also making sure you have a great time!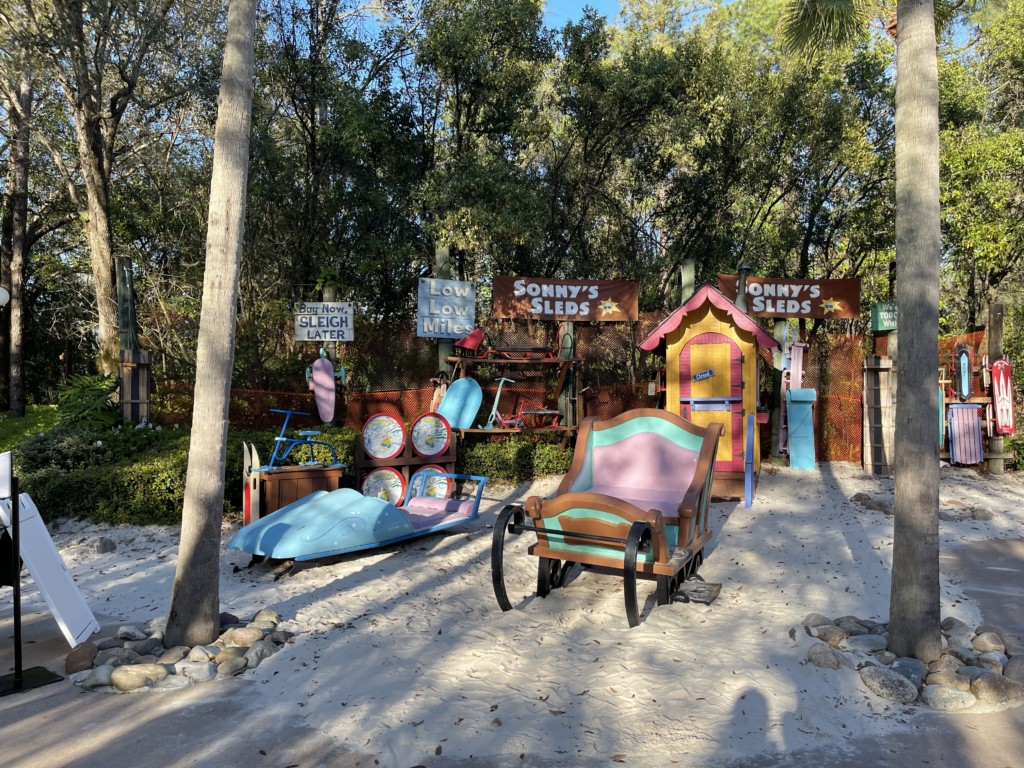 I remember going to Disney's Blizzard Beach as a pre teen when it had only been open a year or so, so it always brings back wonderful vacation memories, and I am so glad I got to make some new ones with my little family.
Ski you later Blizzard Beach, and hopefully it's soon, because I already miss you, (and I know my family does, too!) It was an amazing opening day, and I hope they have many more sunny and bright ones ahead.
For more information on tickets, protocols or directions to Disney's Blizzard Beach, be sure to visit DisneyWorld.com.
Related: 5 Things to do on your Disney arrival day