I left off with us going to bed after a bit of stressful arrival day. The next day, we woke up ready to go to the Magic Kingdom. I couldn't wait to show Emma Kate the castle and my favorite park. We decided to take things slow and let Emma Kate lead the way. I had a couple of fastpasses scheduled, but other than that there was nothing we just "had" to do.
We got to the park right after it opened, and after showing her the castle, headed to Fantasyland.
We walked right on to Winnie the Pooh (she was so fascinated and slightly overwhelmed!) Then we did the little Mermaid, Dumbo, and Peter Pan.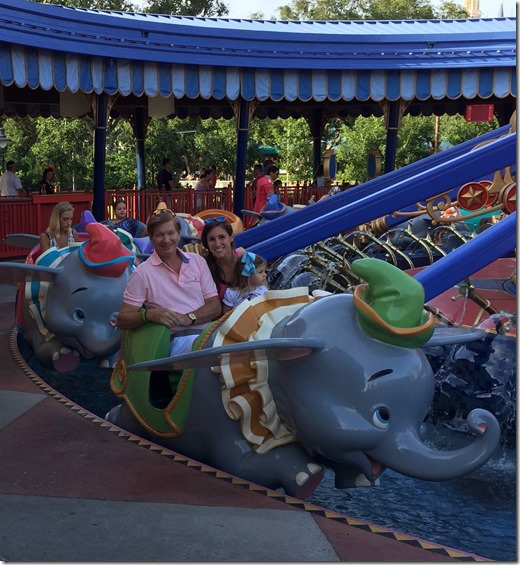 Then we had a fastpass for Enchanted Tales with Belle. My mom and I had done it before, but my dad (and of course EK) had not so I was excited for them to see.
We sat on the front row and watched the little play, and Emma Kate got to get up and meet Belle and get a bookmark. She was really hesitant and didn't smile, but she also didn't cry. I call it a win!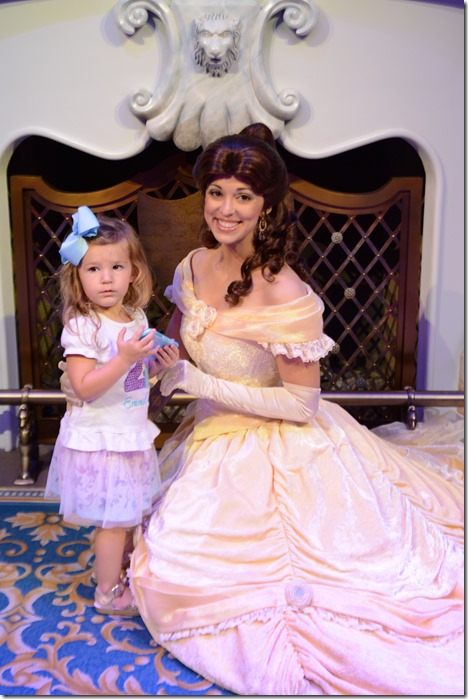 I was so happy Emma Kate's first princess meeting was with my personal favorite!
After seeing Belle, we decided to take a little break and get a snack. Emma Kate and I sat down and hung out in the grassy area in front of the castle while my mom and dad went to Starbucks to get us coffee and and a snack. Emma Kate enjoyed running around this little area that was away from the hustle and bustle.
We sat in the grass and all took a little breather and ate (Emma Kate was again wanting to walk and not hold my hand or sit in the stroller so we had a few meltdowns all before 11:00.)
After our little break, we decided to ride the train and see if Emma Kate would take a nap. She loves Thomas the train and enjoyed being on it, but it stops so much and for such long periods of time we quickly realized this was not going to work. We got off after a couple of stops, and decided to ride the people mover. After this, she was getting super cranky so I told mom and dad to go take a break and I would walk her around in the stroller and see if she would take a nap (she was so tired but fighting it at this point). I headed off from tomorrowland towards fantasyland by way of the walkway near space mountain, and Emma Kate pretty much fell asleep instantly, so I just kept walking. I made it all the way around the park, then stopped at a quiet corner in Liberty square behind the Christmas shop. I sat down on the ground while she slept. aaahhh.
After awhile, my mom texted and said she would come meet me and we could switch spots, that dad was getting a snack in Tomorrowland and I could meet up with him there. So I walked back across the park after she arrived and had some fries with my dad. Soon after I got there, EK was awake so we met with my mom and did Buzz Lightyear. We got stuck on the ride for about ten minutes though! After that we decided to take another break in the grass until the 3:00 parade. This time we sat on the other side of the castle.
Check out Emma Kate putting sunscreen on my dads knees

Bless it.
We made it across the street for the parade and my parents ran into friends from high school! How crazy is that! They ended up chatting during the whole parade and I held Emma Kate up to see. Thankfully I lift weights because holding up a 31 pound child for the whole parade was pretty difficult! But she loved the parade and loved waving to the characters, especially when they waved back!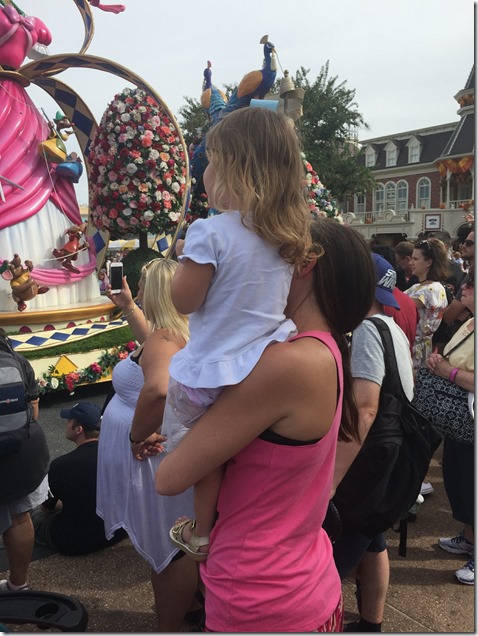 We had a 3:30 reservation at Crystal Palace, so as soon as the parade was over we checked in. I was so curious to see how EK would do with the characters. To sum it up, it took her a little while to warm up to them but then she did really well. Tigger was her favorite.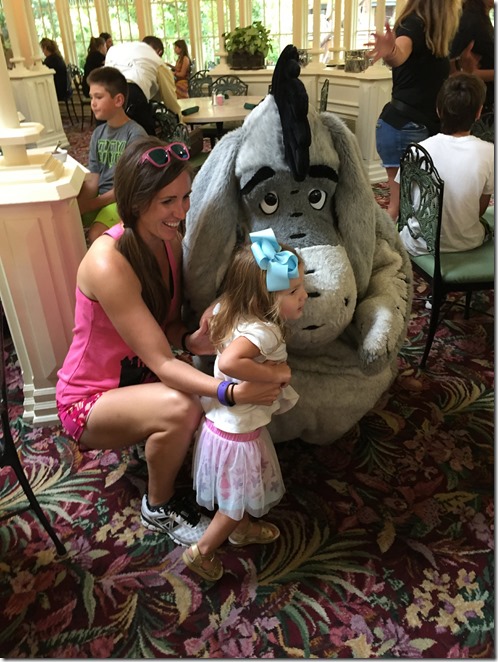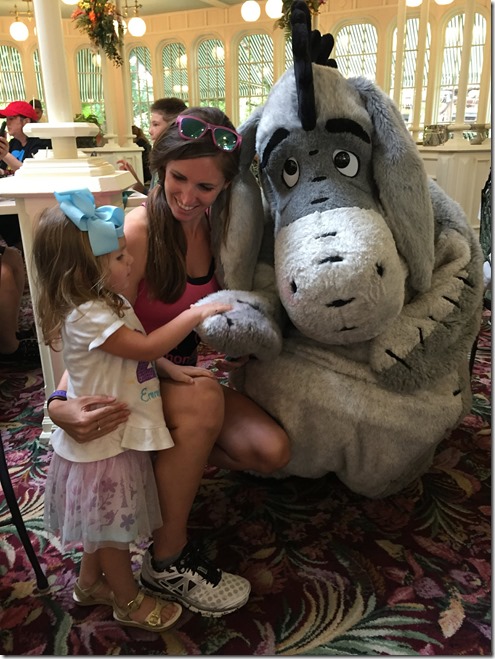 The issue here was that my super active child was over sitting still in her high chair after about seven minutes and wanted to run around the restaurant, which I wouldn't allow. She ended up on the floor of Crystal Palace throwing a complete fit and I immediately picked her up and took her outside. I was really frustrated but tried to remind myself she is two, and is really overwhelmed and probably still wasn't feeling great. I was just tired from chasing her around all day and dealing with the terrible twos. My mom finished eating and came outside to swap with me so I could go eat, but I still didn't get as much as I wanted because I knew she was being difficult outside for my mom and I wanted to hurry up.
After we finished eating, we decided to leave, which Emma Kate did not want to do, so I apologize to anyone who was on Main street when I strapped my child in the stroller and power walked to the front of the park as she screamed. It was super fun for everyone I'm sure.
When we got back, we took EK to the playground right outside out building. We were on the first floor so it was nice to just walk right outside.
The playground is near the water and has a great view of Disney Springs.
I can't remember exactly what we did that evening but I'm guessing just hung out in the room. Our original plan was to go to Hollywood Studios the next day, but since we got a contract on our house the day we left for Disney, we decided it would be best of my dad and I drove to Tampa to meet with my realtor and look at homes because we needed to make on offer on one quickly for all the closing dates to line up. My poor mom would be left with EK by herself, but I am thankful she volunteered so that I could get this handled since we were so close to Tampa!
More on that adventure in the next installment.

QOTD: Did your/do your kids like the characters at Disney?