When I was six months pregnant, I started looking around for photographers for Emma Kate's newborn pictures. I haven't had professional photos done since our wedding, we had the best wedding photographers in nyc. It's just not something we typically spend money on. However, I knew I wanted newborn pictures of our baby, all the ones I have seen are so adorable!
I found Destiny Tillery photography through a Google search of my area, and am so glad that I did! The pictures on her website are just beautiful, her prices were reasonable, and I loved that she had her own studio full of props, headbands, and backdrops.
Once we booked our session, Destiny was great with communicating with me about what I wanted for the session. She told me to bring any props I wanted to use, and we discussed any specific poses that I liked that I had seen on her website or anywhere else. I ended up bringing a Minnie Mouse hat and a Saints headband, and other than that told her to have fun and let her creative juices flow!
Destiny and EK after brushing her hair and getting her posed for her pictures!
Destiny's studio is at her home, and I loved seeing all the things that went into the session to keep my baby happy. The room was warm and dark, she utilized white noise, a hot water bottle, and swaddling so that Emma Kate would sleep through the session. A lot goes into newborn posing, and Destiny took a ton of time with us making sure everything looked just right.
While the photos were being taken, Bobby and I were able to relax on a comfy couch. Destiny even had a basket of snacks and a refrigerator of drinks and coffee for us to enjoy.
A couple of weeks after the session, we set up a time to go look at the proofs. I went back to her studio where she had a flat screen TV on the wall. She had set the photos to music on a slideshow for me to view, and then we discussed photo packages and pricing. It was very laid back and such a great experience!
There are so many great pictures, but I wanted to share some of my favorites!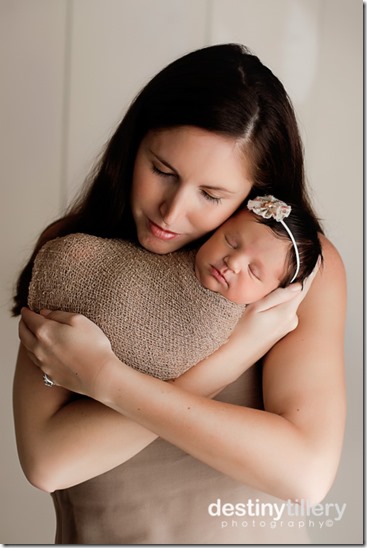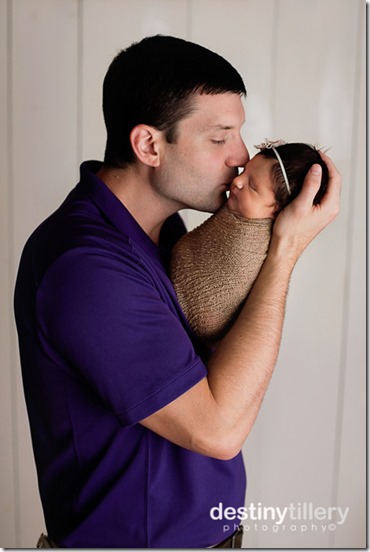 Destiny also does children's photo sessions, holiday sessions, 6 month olds, maternity, etc. I highly recommend her services if you are in the Jackson, MS area, you won't be disappointed! Here is how you can connect with Destiny Tillery:
If you do choose to contact her, be sure to let her know I sent you!
QOTD: Did you do newborn photos? Do you plan to?
Disclosure: I received a discount on my photo package in exchange for my honest review. But really, these photos are awesome!