This post is sponsored by BabbleBoxx
Even though it's still 95 degrees here, I am starting to think cozy thoughts about fall, snuggling up inside with my family, and taking better care of myself as things (hopefully) slow down a little bit. I was so thankful when BabbleBoxx offered to send me a box of self-care help, and now I am going to share details on the goodies with you all!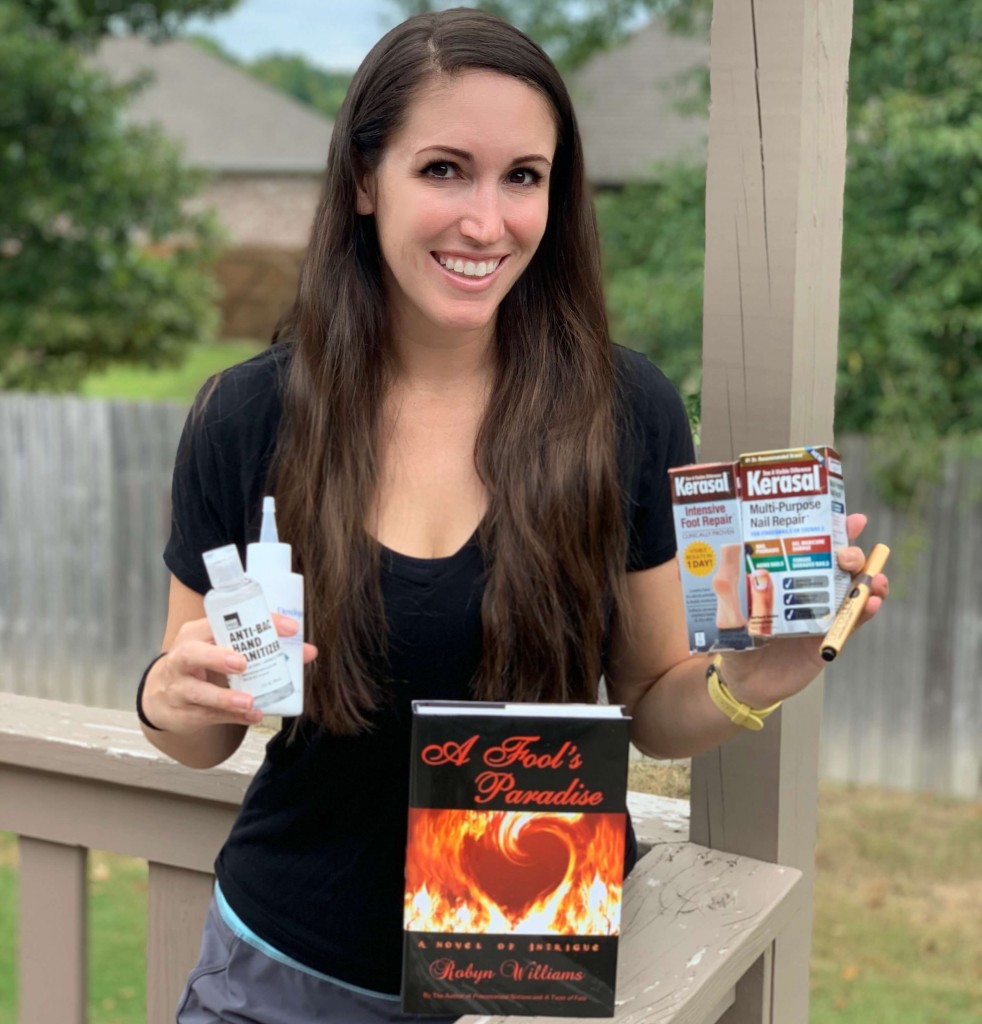 A Fool's Paradise: By Robyn Williams
This book is about Dr. Aaryn Jamison, a prominent African American physician, who meets Jayson Denali, an internationally acclaimed Academy award-winning actor. It's full suspense and plot twists, and the search for fame and fortune. My favorite kind of book! You can pick up A Fool's Paradise ebook for only $4.49 here!

Born Basic Hand Sanitizer
I was really excited to learn that this is a family-owned company. No frills, just hand sanitizer that WORKS and has no gimmicks or flashy packaging. I love it. It doesn't leave my hands sticky and doesn't have a strong alcohol smell. It has a happy medium at 62% alcohol, and is super affordable with multiple size options (3-ounce, 16.9-ounce, and 33-ounce bottles) and can be found exclusively at Target stores.

Nail and Foot Repair from Kerasal
I am SO bad about taking care of my nails and feet. As someone who works out a good bit, both take the brunt of things and look pretty rough. Thankfully, Kerasal is a leading brand in foot care for issues like skin dryness to damage from fungus, aging, or manicures.
The foot repair is clinically proven and promises visible results in just one day. It has an exfoliating moisturizer to hydrate feet while getting rid of dead skin cells.

The multi-purpose nail repair is a paint-on product with a patented formula to improve the appearance of your nails that have been damaged by things like fungus, gel manicures, aging, or nail psoriasis. It reduces discoloration and smoothes out the surface of your nails. It is also #1 doctor recommended. I call that a win!
Grande Cosmetics Lip Plumping Gloss
Who doesn't love beautiful plump lips? I was sent a hydrating lip plumper from Grande Cosmetics and I'm in love! It instantly improves lip volume in 3-5 minutes, AND hydrates dry areas. Also, when you use twice daily for 30 days, you can see an overall increase in lip volume.
Also, when you use the code SELFCARE10, you can save 10% off your purchase at Grande Cosmetics! (valid through 9/30/2020)

E-salon custom hair color
Confession: I am a hair dye virgin. Sure I did temporary highlights like all the cool kids back in the late 90's, but I have never done a full hair dye and I was a little nervous! However, recently at my sister's wedding, my mom was "getting something out of my hair" and realized it was attached…it was a grey hair! She screamed and said she didn't know I had greys and I said: "well mom your whole head is grey so what do you expect!" I knew it was time yall. I made it to 35, but it's time. esalon made things so easy and had amazing step by step directions. It's very affordable, and your hair colorist will formulate a perfect custom shade for you based on your preferences. It's all made to order, nothing is pre mixed!
I wanted to try and get close to my original color but have the color be more even. It's hard to tell from the back, but from the front you can tell it's a little darker (see photo at top of this post) which is perfect for fall!
This fall, be sure to remember self care. After all, you can't help take care of others if you aren't taking care of yourself!