Disclosure: This post may contain affiliate links
We left off part 2 of the road trip with our arrival day at TradeWinds Island Grand. Now it was time for a full day of fun at the resort. Emma Kate went for a walk with me to the lobby to get Starbucks. Then I answered a few work emails while everyone got ready for the beach.
We finally got ready and headed down to the beach. Again, this wagon is CLUTCH! I wish i had gotten one years ago. Here is a link to a very similar one to what we have. Also, check out Bobby's sunburn line. Heh.
We made it down to the beach and got a front row cabana. Cabanas are free, but front row are an upcharge or for VIP guests (noted by different colored wristbands.) Towels are free for use as well! So nice to not have to lug towels, chairs, or an umbrella to the beach!
We hung at the beach for a couple hours, and Bobby did work on his phone. Then it was time for lunch so we headed up to the outdoor restaurant and enjoyed a meal by the water. Then Bobby headed up to the room to work, and Emma Kate hit up the waterslide.
She found a friend to play with on the beach so I relaxed for a bit and did some posting to IG and IG stories.
Bobby came back after a couple hours, and EK wanted to go to the pool, so to the pool we went!
While we were sitting there, I got a message from the PR company asking if we wanted to do a sunset cruise on a sailboat. SURE! Problem was, we needed to be at the dock in an hour. I confirmed we would make it, and we hustled up to the room to shower and change. We actually moved so fast we ended up getting to the dock early. I forgot to put sunscreen on us but thankfully I had some in my bookbag.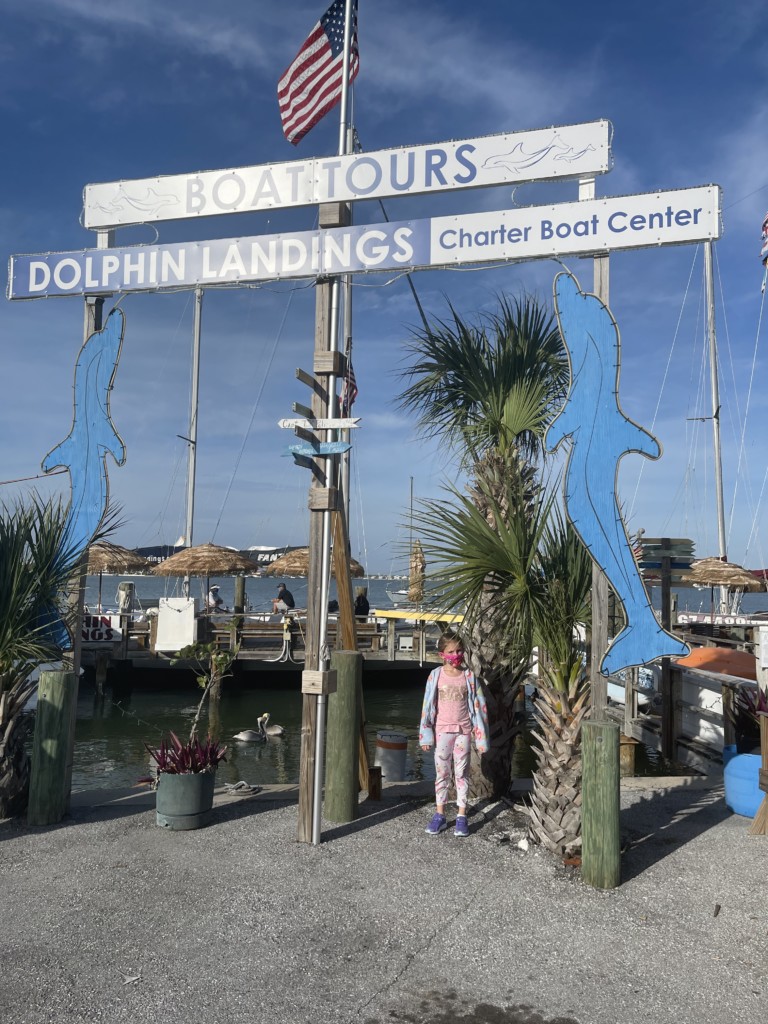 Yall. Those pants. So when we left for Florida, the 10 day forecast showed ONE cooler day the entire time (like 60's) and 70's-80's the rest of the time. So I packed her one pair of pants. Well the weather changed and we had SEVERAL chilly pants so she wore these multiple times. Oops!
The sunset sail was nice, but for EK it got slightly long towards the end. Also, we typically eat dinner about 5-5:30, but we had to be on the boat at 5:15 so we said we would eat after. Well, we were starving! On the way back in after seeing the sunset, Bobby placed a to go order at an Italian place right by the dock. We picked up up after and brought it back to the room and ate it. it was SO good. I'm not sure if it really was, or if we were just that hungry! It was a great way to end the evening. Emma Kate thought we were going home the next day but we had a BIG surprise for her! Check it out on my next post.