Happy November! Just like pretty much every other month this year, October flew. Now it's on to baking and turkeys and Christmas carols and Hallmark movies. Ok, so maybe I have already started watching Hallmark movies. I just can't help it guys. They suck me in to this sappy vortex of holiday cheer. Anyway, before I get completely sucked into the holiday madness, I wanted to recap our Halloween. Now that we live in Tampa, there is TONS to do for Halloween, so we ended up doing 4 events plus the main event Halloween night. Let's take a look:
Friday, Emma Kate's preschool had a parade and trunk or treat. Through a communications mix up (grumble grumble) I didn't know about it until the day before. Thankfully I found out because the first think Emma Kate did was look for me when her class walked out to do the parade. I also would have felt horrible if she was the only one not in a costume. Thankfully the #MomFail was avoided, and she paraded her little heart out and got her first taste of 2017 Halloween candy goodness.
When we got home from school, she was conveniently able to stay in her costume because we had our neighborhood trunk or treat to attend. Emma Kate perfected her manners with "trick or treats" and "thank you's" but was getting confused with the candy part. Some people put it in her basket, some tell her to pick what she wants, so she ended up just grabbing candy herself every time. Oops.
She also got her face painted for the very first time. It was short lived because we went home ten minutes later, took a bath and went to bed, but I'm still so glad we did it because she was SO excited and sat so still while the lady worked. Too cute for words.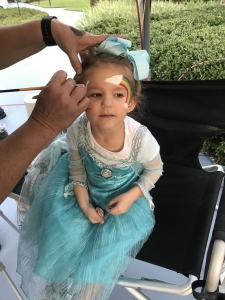 Saturday my parents went with us to a nearby fall festival. They had a trunk or treat, and also businesses had booths set up and also had candy. There was also a carnival but we conveniently skipped that part. I have heard way too many news stories lately of rides breaking down and people falling from them or dying. Anything that can be put up or taken down in a matter of hours is not considered safe in this mama's book. It ended up raining but we stayed anyway. Emma Kate was super cute and brave going form table to table and getting candy.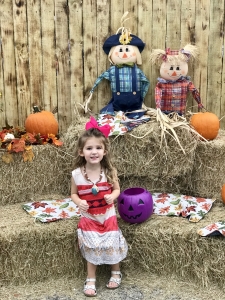 Sunday afternoon we headed to the local outlet mall for another fall festival. Same thing, the businesses had tables selling things and also buckets of candy. Like we really needed more, right? They also had "Disney characters" (I use this term very loosely) wandering about and singing (the incorrect) words to songs from their movies. It was a gorgeous weekend so a perfect one to be out and about though.
Then Tuesday night, the main event. The second I walked into her classroom to pick her up from school she came running over saying "I want to go trick or treating!" I had to convince her to eat dinner and wait until the sun went down, but we were finally dressed and ready to take on the neighborhood. Funny story about this costume…I always assumed she would be Elsa, or Cinderella, or Moana for Halloween since we already have those costumes. Last Thursday she got in the car after school and declared she wanted to be a pumpkin…Say WHAT?!? She was so sweet and serious, so I hurried home, got on Amazon, and praise Jesus for prime. It arrived Monday, and she was a sweet little pumpkin for Halloween.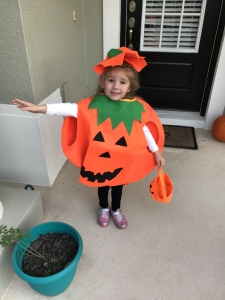 Of course, the first door we go to a teenage boy opens it and jumps out wearing a scary wolf head thing…terrified EK and she didn't want to ring doorbells alone anymore. Thanks kid. She got the hang of which houses to go to ("mommy they don't have lights on so we go to the next one") and wanted to keep going to more and more houses. I'm glad we brought the stroller because she ended up in it some and poor thing got so tired she could barely stand up and fell down several times.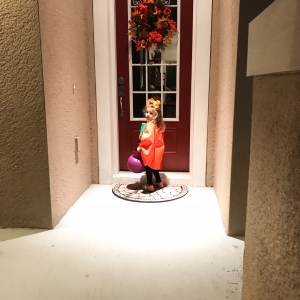 After dumping out her haul and looking at her candy, it was time for bed. She passed out immediately and then wanted candy for breakfast. I was sure to hide most of it while she was at school. Thankfully shes young enough that she won't know!
Bobby and I ended the evening with a tradition, watching Hocus Pocus.
I call Halloween 2017 a huge success, and can't wait to see what kind of fun we can find next year.
QOTD: What did you/your kids dress up as for Halloween?