When I was pregnant, I was contacted by the makers of  the HALO bassinest swivel sleeper. At the time, I had no idea what it was, but was familiar with halo because of their SleepSacks. After doing some research, I decided I needed the bassinest since we were planning on having Emma Kate sleep in our room in the beginning anyway. I was excited to receive the bassinest and get it set up next to our bed.
With its unique dual-swivel design, the Bassinest Swivel Sleeper allows baby to sleep as close as Mom wants – even right next to her in bed. It allows your baby to sleep next to you without the dangers of her actually being IN bed with you. The sides are mesh, so you can see through the wall and check on your baby even while still lying down at night.
It was really easy to assemble, however it is very heavy, so once you get it in place hopefully you won't need to move it! Because of the awesome swivel capability, you can put it right up against your bed and still "swivel" it away easily to get in and out of bed. The height is also adjustable, too so it is level with most beds. The side wall closest to your bed is collapsible, so it's really easy to lean in and pick up baby without having to get up out of your bed.
There is also a front panel that includes a light with two brightness settings, music/sounds, a nursing timer, and a vibration on two different levels (all of these have auto shut off). I cannot tell you how many times in the night I used the nightlight feature. It's just bright enough to check on baby without waking everyone up by turning on a lamp or overhead light.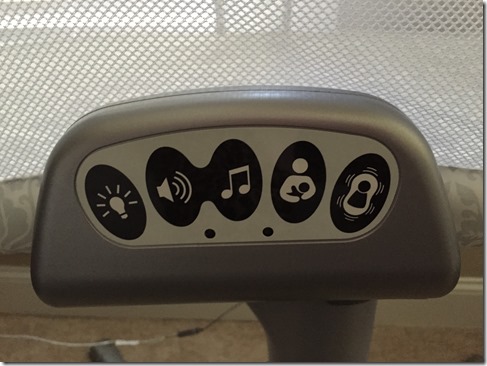 There are also storage pockets so you can put things like pacifiers, burp cloths, etc. within easy reach but also not cluttering up your nightstand.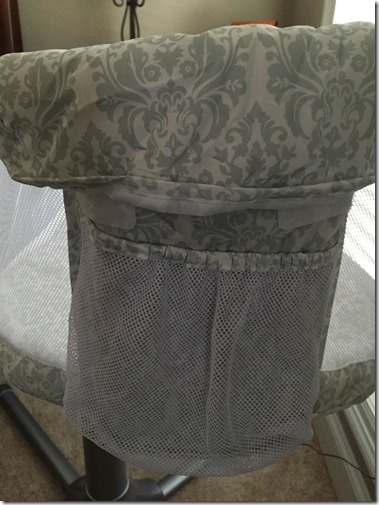 Want more information on the bassinest swivel sleeper? Check out the below video:
The HALO Bassinest swivel sleeper is available for sale at select retailers.
I was also provided with a SleepSack for Emma Kate. She flails her arms and legs so. much. that she was constantly waking herself up from sleep, so this form of swaddling works great for us. Sometimes she fights it at first, but once she calms down it really helps her to feel snug and secure and helps her sleep longer, which this mama loves!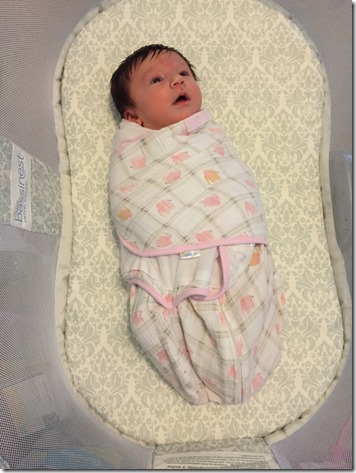 Here are some great tips provided to me for best sleeping practices with an infant:
ALWAYS
Room-share, but don't bed share; the American Academy of Pediatrics recommend against bed sharing as it can lead to an increased risk for accidental suffocation.
Use a crib or bassinet that meets current safety standards with a firm mattress that fits snugly and is covered with only a tight-fitting crib sheet.
Remove all soft bedding and toys from your baby's sleep area (this includes loose blankets, bumpers, pillows and positioners). The American Academy of Pediatrics suggests using a wearable blanket instead of loose blankets to keep your baby warm.
Offer a pacifier when putting baby to sleep. If breastfeeding, introduce pacifier after one month or after breastfeeding has been established.
Breastfeed, if possible, but when finished, put your baby back to sleep in his or her separate safe sleep area alongside your bed.
NEVER
Never put your baby to sleep on any soft surface (adult beds, sofas, chairs, water beds, quilts, sheep skins etc.)
Never dress your baby too warmly for sleep; keep room temperature 68-72 degrees Fahrenheit.
Never allow anyone to smoke around your baby or take your baby into a room or car where someone has recently smoked.
Be sure to follow HALO on
Facebook,
Twitter,
Pinterest, and
Google+.
QOTD: Did your baby sleep in your room at first? Do you/did you swaddle your baby?
Disclosure: I was provided with product for this review, however all opinions are my own.