This post is sponsored by BabbleBoxx.com on behalf of Healthy Choice

My days are pretty hectic, with multiple jobs, a house to keep up and clean, a four year old to take care of, errands to run, and the list goes on and on. One thing I do NOT have time for is recipes that take forever. I am pretty health conscious when it comes to my eating choices, so I want something with lots of nutrients that will help keep me full and energized through my day.
Lucky for me, Healthy Choice launched four morning Power Bowls to help with my exact meal time predicaments. I love the bowl format, and they are quick and easy, and taste delicious to boot. Each of the bowls contain purposeful ingredients for a good for you meal of leafy greens, proteins, ancient grains and steel cut oats. (yum yum!)
I tried the Unwrapped Burrito Scramble, which is made up of turkey sausage with egg whites, black beans and vegetables served on top of steel cut oats, farro, buckwheat and red quinoa with a spicy tomatillo sauce. I normally wouldn't have thought to combine all of these ingredients, but it had a great flavor that kept me full until lunch. It had a bit of a kick to it, but I liked it a lot. I was running late one morning (what's new) and knew I didn't have time to cook a big meal before an appointment, so this was a great way to fill up with a quick protien breakfast and it fit perfectly in my on the go lifestyle. These would also be perfect for someone who works at an office to take along with them and heat up for a nutricious lunch!
Healthy Choice also launched vegan and vegetarian Power Bowls with bold and exotic flavor combinations, including 10-16 grams of protein and 7-16 grams of fiber in each bowl. Personally, I struggle to get enough protein in my body during the day, so this was a great way to add some in!
I tried the White Bean & Feta Salad – white kidney beans with kale, chard & spinach served on top of brown & red rice, red quinoa and black barley with a red wine vinaigrette topped with feta cheese, dried cranberries & roasted pepitas. Each flavor features a combination of vegetables, legumes and whole grains. A great option for my vegan and vegetarian friends looking for on the go meals packed with nutrients and flavor! I really liked the feta cheese and red wine vinaigrette. Yum yum!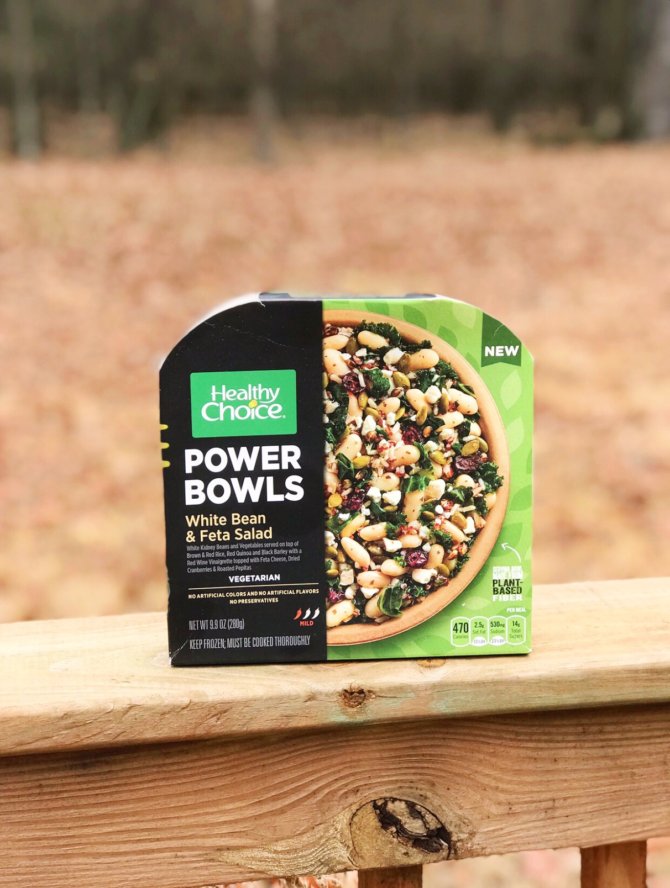 I love that each ingredient matters in Healthy Choice Power Bowls, and all of the bowls have a base mixture of whole grains like red quinoa and whole grain barley, leafy greens like kale, chard and spinach, and proteins.