Disclosure: I was provided with a free stay at Margaritaville Island Hotel Pigeon Forge, however, all opinions are my own.
As a child, I remember my family taking me up to the mountains on several occasions. We had a camper and spent a lot of time in North Georgia and Tennessee. When we had the opportunity to visit Pigeon Forge this summer, I couldn't wait to show Emma Kate the mountains for the first time and experience things like I did as a little girl.
We had the pleasure of being hosted by Margaritaville Island Hotel, and let me tell you, we were so blown away!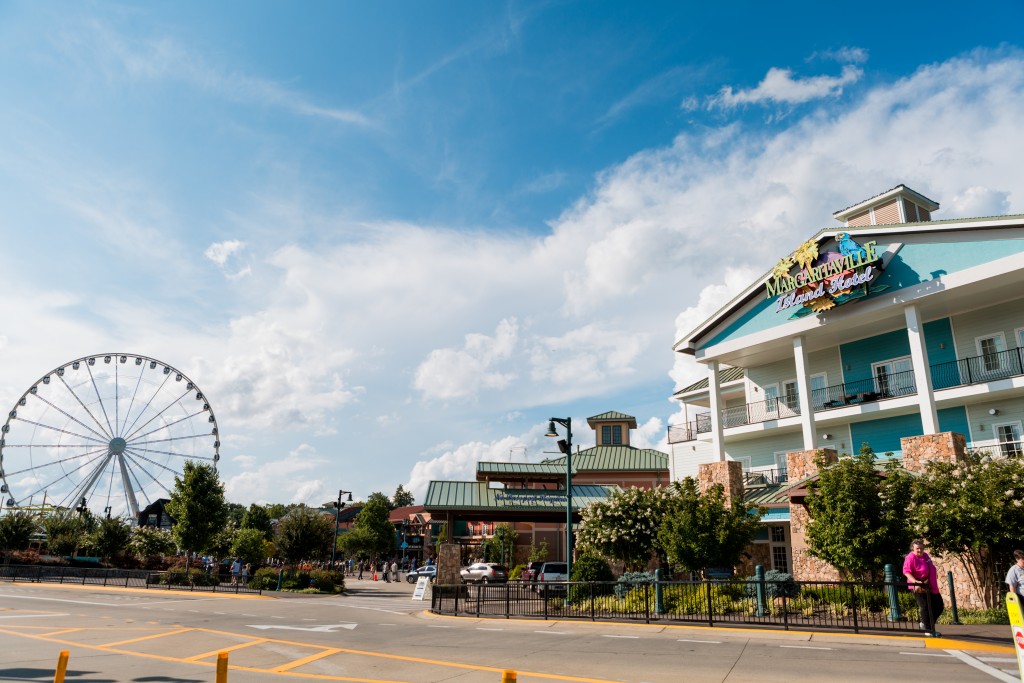 Location
First up, the location. This colorful hotel is located on The Island, which honestly, meant nothing to me until I got there and understood how important this was. If you aren't familiar with Pigeon Forge, most of the main "attractions" are located on one long strip of road. The Island is smack dab in the middle and is a destination in itself. It has dining, shopping, rides, games, dancing fountains, and more. The Margaritaville Island Hotel is located at the entrance to the island, so you can walk to so many things from the hotel, which was awesome and convenient. The first evening after we checked in, we dumped off our stuff in our room and immediately went for a walk around the island. (8-hour car ride, hello!) This became a nightly routine and we loved getting ice cream, people watching, and Emma Kate's favorite, visiting the candy shop.
My favorite was sitting and watching the beautiful dancing fountains which were steps from our hotel. In fact, some rooms even face the fountains and you can watch from your balcony!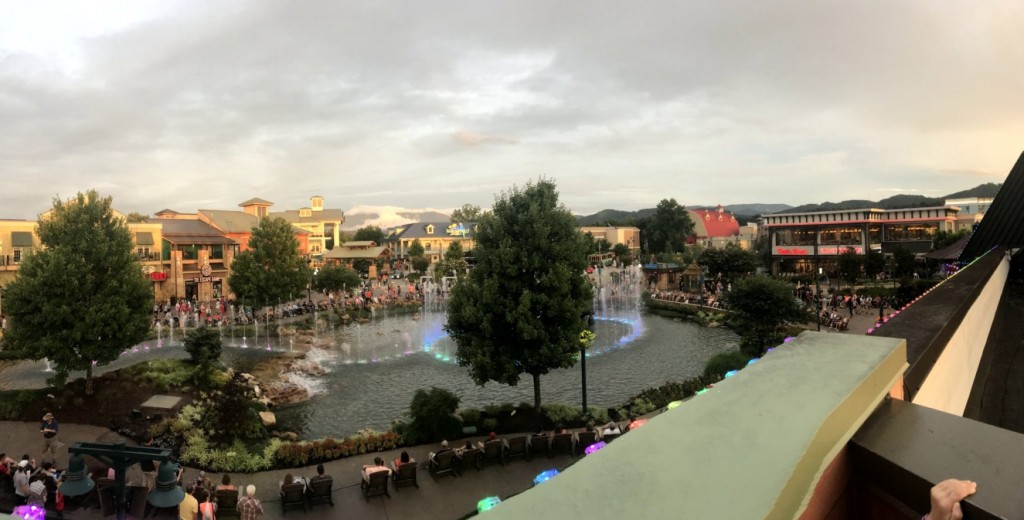 Rooms
Speaking of which way rooms faced, if you want a more quiet location, you can get a room that faces the river, see below.
Our room faced out over the front of the resort, so we had beautiful mountain views, as well as a view of the ferris wheel!
Not only were the views from our room amazing, but the room itself was top notch. We had a presidential suite, and it was amazing to have so much space and stretch out a bit. The couch below folded out into a bed for Emma Kate. There were two tv's, two closets, a balcony with seating, and even a fireplace!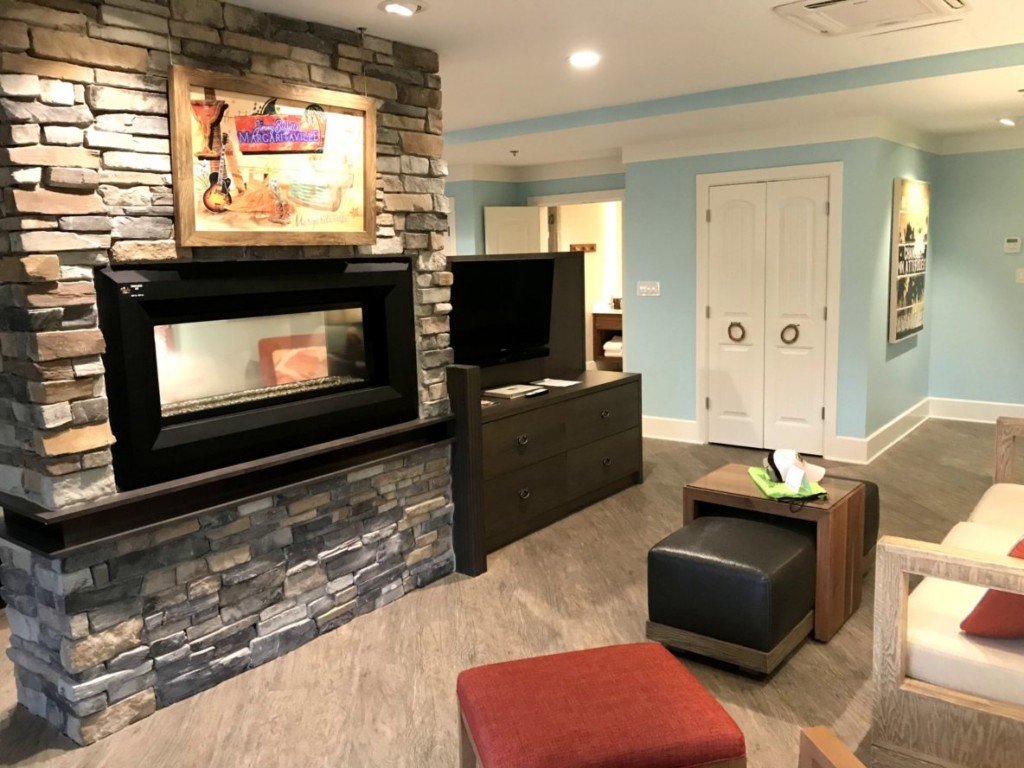 We had a comfy king bed, and yes on the back wall, that would be a bar! Coffee, mini-fridge, water, microwave, and even our own frozen concoction maker. LOVE.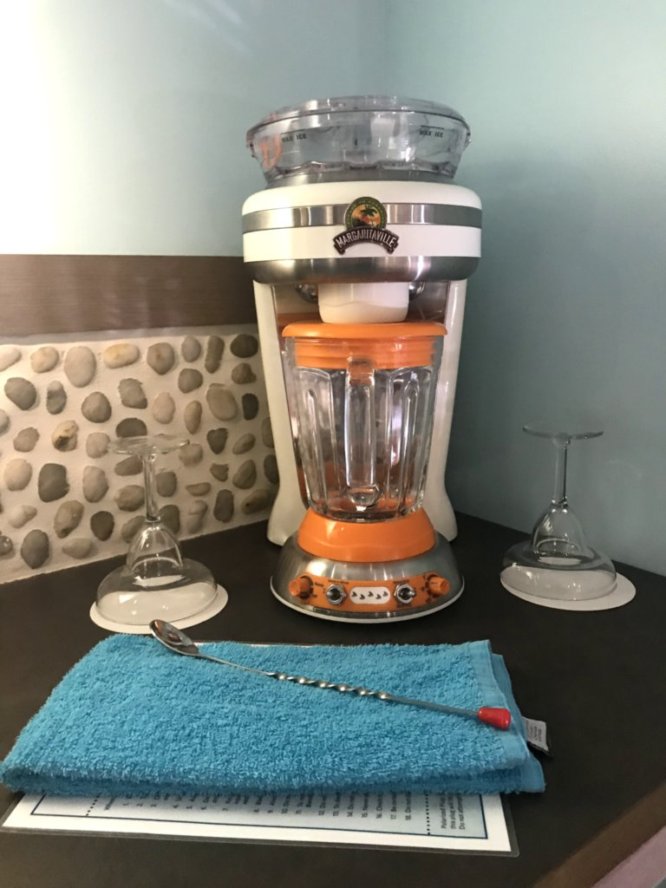 It's five o'clock somewhere, right?
We loved the bright and tropical vibe, which truly made us feel like we were on vacation.
The bathroom was huge and the shower even had one of those amazing rain shower heads on it.
We loved sitting out on our balcony every chance we got and could have stayed at the hotel way more than four days!
Related: Room tour video can be found here.
Hotel Amenities
There was more than just the room and location to love though, the hotel had a lot of other great amenities such as a workout room, and even a rooftop pool. You heard me right, a rooftop pool with mountains on one side and the ferris wheel on the other. It. was. awesome.
The cabanas in the below photo were for rent, too. They had the cutest decorations.
No rooftop pool would be complete without a pool bar, and this one had quite a large menu with food as well.
Clearly, Emma Kate didn't have any fun. Heh.
Related: Family fun things to do in Pigeon Forge
Downstairs, the lobby is absolutely stunning and leaves a great first impression.
There is a great coffee shop right off the lobby, and be sure to visit Max, he's an adorable bird that will dance for you. Seriously.
On the other side of the lobby is a bar that overlooks the river and has an outdoor patio spot. (Open to the public.)
Don't forget about cornhole and the firepit out front! So many fun little spots to be found!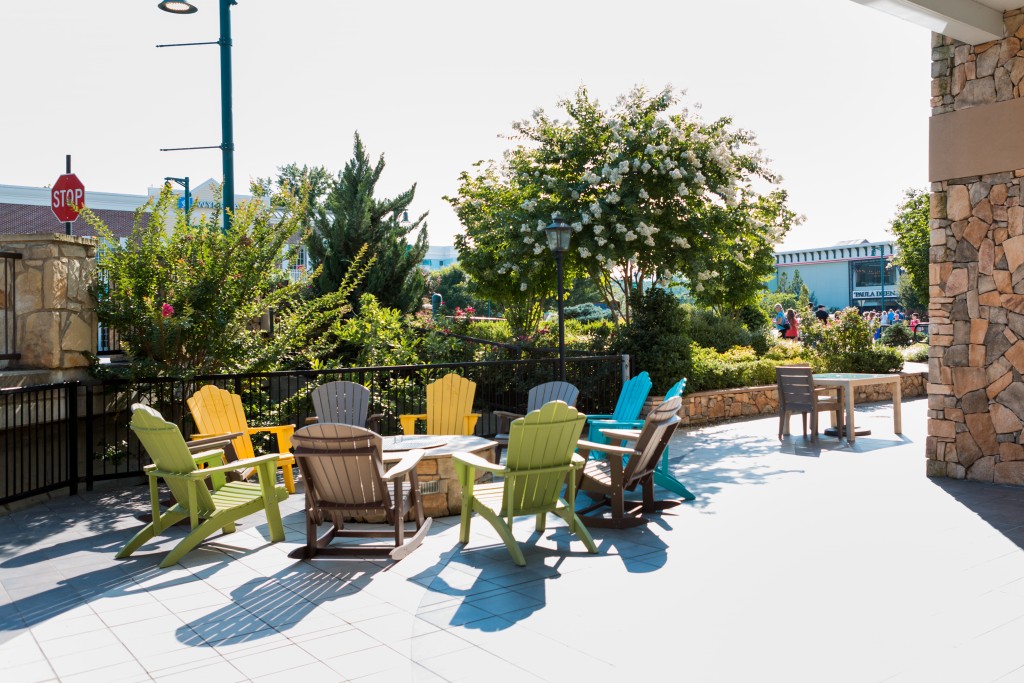 We had an absolute blast and would come back here again in a heartbeat. The location can't be beat, there is so much family-friendly fun, and it's close to all the other Pigeon Forge and Gatlinburg attractions. A huge thank you to Margaritaville Island Hotel for hosting us on our trip, and we hope to see you soon!
Want to see a video recap of our time at the hotel? Check out this link and be sure to subscribe on YouTube or watch the embedded version below:
A huge thank you to Westland Farms Studio for meeting with us and taking family photos around the hotel. She was so great to work with and we had a blast!