I know I usually do my weekend recap on Monday, but because of the holiday I decided to lump it all into the "weekend" even though I had to work yesterday.
Saturday morning I got up and went for a run in my favorite neighborhood. When I arrived there were SO many cars and I forgot it was the weekend of the triathlon! Bobby did this one last year and we had a lot of fun. I had to figure out some logistics so I wouldn't get in the way of the race, but I ran 4.5 miles. I realized very quickly that I am going to have to start running much earlier. It was super hot and humid at 9:00!
As soon as I got in from the run, Bobby told me our employee (who was supposed to be at work in 30 minutes) called in sick. I told Bobby I would go in, so I jumped in the shower and headed to the yogurt shop. Saturday afternoon we hung around the house, and Sunday morning we went to church. Also, big girl wants to sit in a regular chair now which has made mealtime interesting.
We only had one service at church because of the holiday, and I swear everyone in my town was at the beach. The preacher even made a joke about it! Longing for the sand and waves, I put on my swimsuit and played outside in the water with Emma Kate. It's the same thing, right?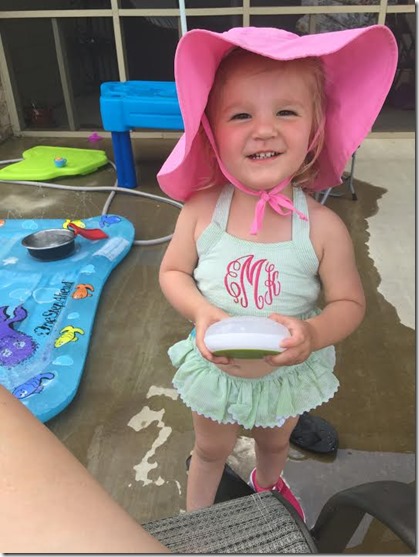 It was really hot and I ended up in the shade. Don't worry, we both had on sunscreen!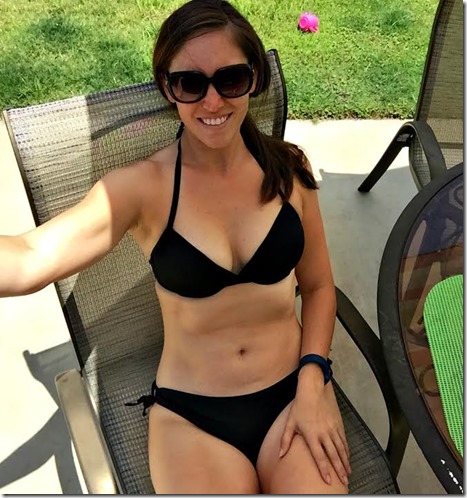 Sunday evening Bobby grilled some chicken and we made enough to eat Monday, too. Monday morning, I got up and went for a three mile run before going into the shop. I again volunteered myself so I could get out of the house for a bit.
Monday afternoon I did some super fun exciting cleaning, work on the computer, and blogging stuff. I know I am going to be all thrown off this week with what day it is! Have a great TUESDAY everyone.
QOTD: What did you do this weekend? if you went to the beach, just don't answer.