Disclosure: I was invited on a media trip to Walt Disney World and the ESPN Wide World of Sports, however, all opinions are my own.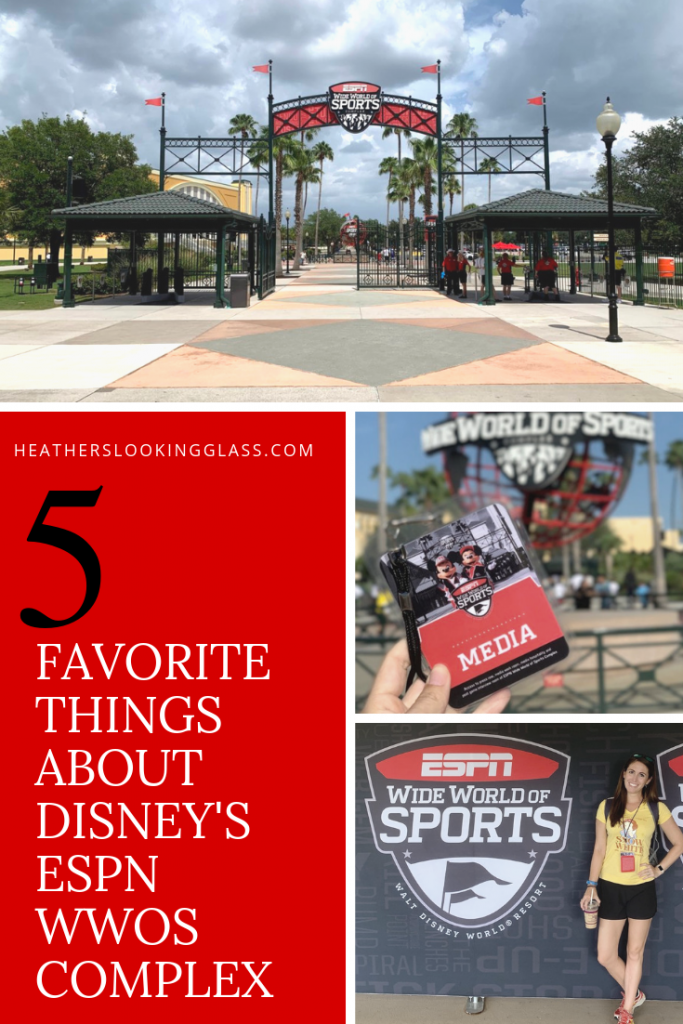 On a recent media trip to Walt Disney World, I had the opportunity to visit the ESPN Wide World of Sports Complex. I have been here many times for runDisney and other events, but this time I learned about some new (and new to me) things that I thought were very cool, so I decided to make a list of my five favorite things at the complex. I bet some of these you didn't know about either!
This is a very recent addition, but you can now get the same great coffee, donuts, and more that you get around the Disney parks at the ESPN WWOS complex, too! It's right smack in the middle of all the buildings at the main part of the complex, you can't miss it. We were treated to iced coffee and a donut the size of my head (which was DELICIOUS!)
2.) 4 Rivers concessions:
If you are a central Florida local, then you already probably know and love the 4 Rivers family and brand. I was introduced to their delicious BBQ when we moved to Tampa, so when I heard they were catering lunch I was super excited! I found out they have an all-new concept that is in the new arena, 4 Rivers Cantina. Say goodbye to boring old hamburgers and hot dogs at your kids next sporting event, this stuff is AMAZING! Plus, the family and brand does so much philanthropic work, I love supporting them and their mission.
3.) Photoshoot for athletes:
This is not something new, but it's still one of my favorite and the coolest things at the sports complex. This service is two-fold, and has so many options! You can pay Game Day Photos to take photos of your child or team while they are participating in their games or tournaments at the sports complex. So cool right? That way you can just sit back and enjoy the game without having to worry about capturing those memories. There is also a studio where you can do a photoshoot and have your athletes face put on a basketball, blanket, ornament, or the cover of ESPN magazine like me. Heh.
4.) IdeaSport Soccer Academy:
Yes, I did get to show off my (lack of) soccer skills, but did you know that there is a soccer academy at the sports complex? They offer world-class soccer training for ages 5-18. There are programs for different age groups, as well as camps!
They have amazing coaches, and your kiddos get to play at the best facility around! They have optimal group sizes, on-site first air trainers, hydration stations, and more. Check out their website for more information.
5.) runDisney events and expos:
Of course, I had to add in something that is near and dear to my heart, runDisney events, and expos. I have been visiting the sports complex before every race I have run with Disney since 2010. Walking up and feeling the excitement of all the other runners, getting to shop cool merchandise and pick up your bib and shirt are some of my most fun memories of a race weekend. Now that Emma Kate does the kids races, the ESPN WWOS complex takes on even more meaning as she has run several of the kids dashes on the track.
The ESPN Wide World of Sports Complex has so much to see and do, so make sure you check the schedule the next time you are in town! Check out the below video to see more from my day at ESPN Wide World of Sports as well as other spots we visited during the media event.