I am a die hard football fan (shocker, I know). I have posted many times in the past about my love for the game, even when my team isn't doing so well….like right now. But I think that is what makes a TRUE fan right? My parents both grew up in New Orleans, and I was raised in the area as well. As you can very well guess, I am a tried and true, in my blood, New Orleans Saints fan. Oh, we have had some bad years, but that doesn't stop me from cheering for my boys in black and gold, or from wearing my favorite Saints gear all over town.
Believe it or not, I don't always wear running clothes and yoga pants, and that is particularly true on game day.
I remember in the not so distant past when women were forced to wear men's game day gear, or be forced to shop in the kids section (guilty!) Adorable women's football gear did not exist, but thankfully that isn't the case anymore! NFLshop.com has a great selection of fan gear, from dressed down, to heading out on the town, to going to a game day party or tailgate. They have a huge stylish women's selection which I loved browsing through.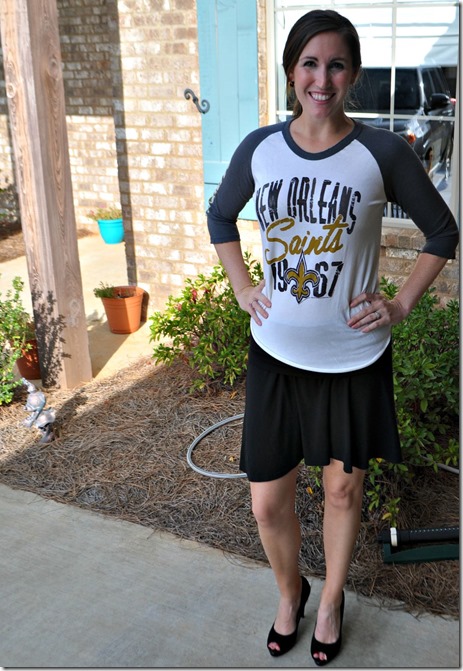 Sometimes we watch the game alone at home (I think I embarrass my husband in public with my screaming and ranting), and sometimes we go to a family members home, a party, or a sports bar. We have been on vacation many times and had to seek out the nearest sports bar just so I could watch the game.
Of course, no girl wants to wear the same outfits over and over, so having a closet full of gear to wear no matter the weather or how dressed up or dressed down the occasion is very important. For instance, the year the Saints won the Super bowl everyone wore their game day gear to church. It was hysterical but also so much fun. I of course dressed up my outfit that day! It's fun to take things up a notch instead of just wearing jeans and a t-shirt on game day. I love to pair a typically dressed-down shirt with a skirt and heels to jazz things up a bit.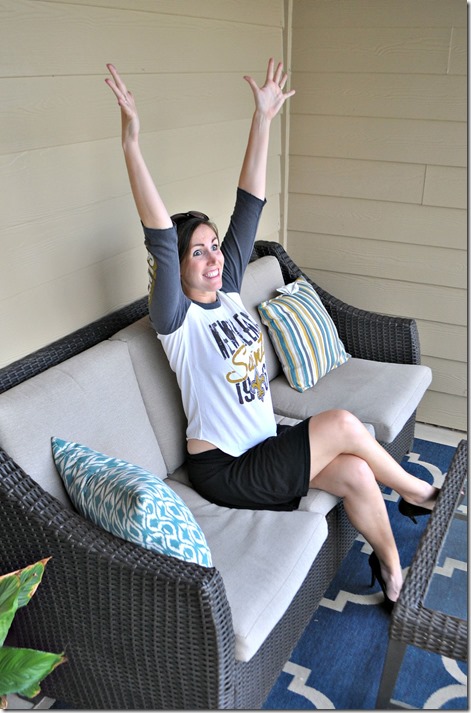 Another fun thing to do is to take a more decorative or "statement" shirt, and pair it with jeans and heels. I am all about cute wedges! In New Orleans, bling, glitter, and gold are all very important and can be found on a lot of clothing, so an adorable shirt like the one below doesn't need something fancy on bottom to take away from it, so skinny jeans work great to dress it down a bit.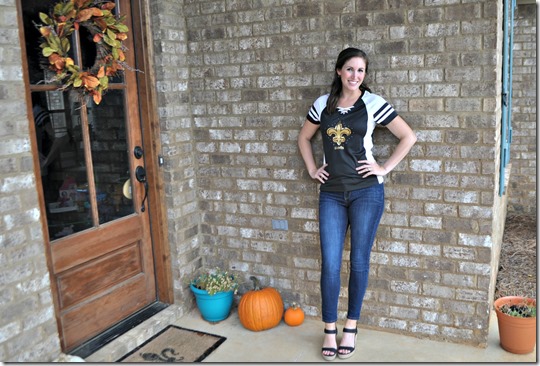 I LOVE the laces on the v-neck of the this shirt, it's so fun and perfect for game day. What, you don't think I can grill?
We still have a lot more football to play my friends. So what if the Saints are 0-3, we can still come back, right?
If you are looking for great gear to support your favorite team, be sure to check out the stylish selection for the next game day at NFLshop.com.
QOTD: What is your favorite thing to wear to watch football? How is your team doing?